What's Next For The SPDR S&P 500 ETF? (NYSE:SPY)
As we head into this week the futures market is selling off and overseas markets appear to be reacting in part to the US market's negative close on Friday. While my site tends to focus on portfolio strategies, I also have an affinity for analyzing and trading the S&P 500 ETF (NYSE:SPY). So, taking a look at the bigger picture for (NYSE:SPY), what is next?
Looking at the 3 year weekly chart below, I have drawn two different sets of Fibonacci retracement levels. One set (yellow lines) is from the high in October 2007 to March 2009. In April we nearly touched the 61.8% retracement level of $122.98 and since then (NYSE:SPY) has sold off significantly. The "flash crash" week sent (NYSE:SPY) through the 50% retracement level so the next potential stop on the longer term could be the 38.2% level at $101.64.
Using a shorter time frame, from the low of March 2009 to the "high" in late April 2010 of $122.12, we can see some additional support/resistance levels. Three weeks ago we closed within 2 pennies of the 23.6% retracement level of $109.14. Now that it has been breached the next potential target support level is the 38.2% level at $101.10.
The Euro's Demise Has Been Set in Motion: Are you protected?
"Nationalism will emerge. Healthier countries will not see fit to spend their hard earned money to bail out their less responsible neighbors."
CLICK HERE
to get your Free E-Book, "Why It's Curtains for the Euro"
You will notice that the 38.2% levels on both a longer and shorter time frame are in the $101.10-$101.64 price level. This could serve as a key level if we sell off this week and into options expiration week. If volatility spikes early this week I may look to sell another (NYSE:SPY) June credit put spread in the 100-101 range, however, longer term it looks like it is shaping up to be a bearish summer so any long entries should be done with a margin of error and with nimble fingers.
On a shorter timeframe, I would watch the 105 level on (NYSE:SPY) early this week which corresponds to the "flash crash" low on May 6th and has served as a support level on two occasions since then. Support failure at 105 could mean a quick drop to 101.xx.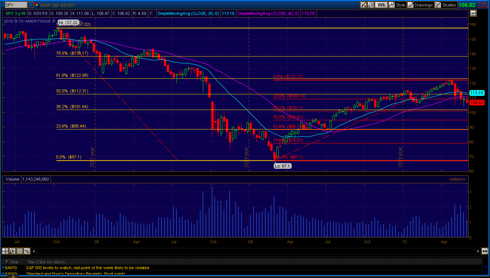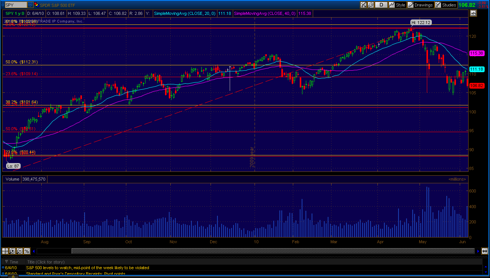 Written By Scott from Scott's Investments
I am an independent investor blogging at Scott's Investments (http://scottsinvestments.blogspot.com/). My site focuses on consolidating and tracking free online investment resources for the public with an emphasis on ETFs, portfolio/trading strategies, and macroeconomics.
Disclosure: SPY option positions: Short Jun 105 Put, Long Jun 104 Put. Short June 116 Call, Long June 117 Call.