Market Opportunity: A Great Trade Is Setting Up In The S&P 500 ETF (SPY, SDS, SH, SSO, TNA, TZA, IWM)
Scott Pluschau: Let's look at SPY, the S&P 500 exchange traded trust (NYSE:SPY). I think we're at a favorable trade location to go either long or short. How can that be? Because to me trading is not about prediction, it's about the reward to risk ratio. Looking at a daily chart of SPY, I see a consolidation range between 126 and 130, which I noted with a blue rectangle. Any trades inside this rectangle in my opinion are guessing when it comes to "trading". I don't think it is wise to focus on being right in your judgment for the direction of the index, but rather the focus should be on probabilities.
I would like to discuss both the short trade and the long trade opportunity, but for today let's look only at the buying opportunity that I see is presenting itself.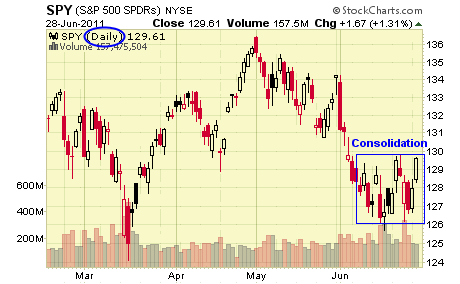 The Euro's Demise Has Been Set in Motion: Are you protected?
"Nationalism will emerge. Healthier countries will not see fit to spend their hard earned money to bail out their less responsible neighbors."
CLICK HERE
to get your Free E-Book, "Why It's Curtains for the Euro"
What is consolidation? Consolidation is an equilibrium that represents a balance between supply and demand. These patterns give good fuel for breakouts. Why? Every trader who has been bearish or sold since June 6th is going to be wrong on a breakout from this balance area to the upside.  Every trader who sold their long position inside this range in hopes of buying lower are now likely to feel as if they are losing money and will probably be itching to get back in before it's too late and have to pay up further. That is an awful feeling to be bullish on an index, and watch it take off without you. Traders who are leveraged with a short position should also be covering to cut their losses as well since with each tick higher the actual P&L starts to go from red to neon red, and the pressure to buy and to close out their losing trade catapults prices even higher. The professionals sense this and pour it on so they can of course take their profits from those who are squeezed and capitulating at higher and higher prices. Then you get to see it reverse after you just bought. The pro's take no prisoners.
Has this happened to you? Unfortunately it has been part of the learning process for probably every trader who ever lived and I am not afraid to raise my hand. This is why my entry strategy is now based first on identifying the market condition, and then finding a favorable trade location, otherwise I am doing nothing. There is no guarantee of what is likely to happen, but when it comes to "trading" and probabilities, being on the wrong side of a setup like this one enough times will probably blow up a trading account eventually.
If the breakout fizzles, you can close out your trade with "minimal damage" provided you understand position sizing in relation to your account size and you have the discipline to honor your initial stop loss.  There is nothing wrong with being stopped out on a sharp reaction, you can always get back in again on the next breakout, or wait for another trade setup. Small losses are a cost of doing business. Ruinous losses are the big problem.
Using swing rule to target an exit in this scenario would be the width of the rectangle or approximately 4 points for profit.
Let's look at a similar setup back in late February and early March of this year.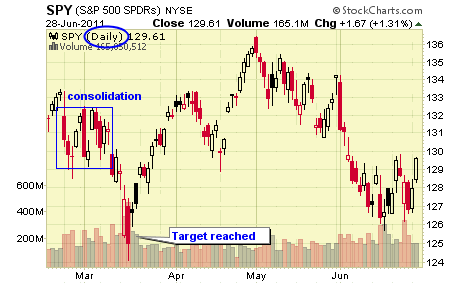 The chart shows a prior consolidation range with the blue rectangle. The target of the width of that rectangle on the break down from this range was completed. It is of course easy to see it now looking back, but a quick eye only comes with experience.  Entry is the easy part when it comes to trading.  When to exit is the hard part. These trades do not always work out, but over time executing a trade plan that is valid will lead to a trading system with positive expectancy in the long run.
Part II tomorrow will cover the short trade opportunity if it still exists.
Related ETFs: SPDR S&P 500 ETF (NYSE:SPY), ProShares UltraShort S&P500 ETF (NYSE:SDS), ProShares Short S&P500 ETF (NYSE:SH), ProShares Ultra S&P500 ETF (NYSE:SSO), Direxion Daily Small Cap Bull 3X Shares (NYSE:TNA), Direxion Daily Small Cap Bear 3X Shares (NYSE:TZA), iShares Russell 2000 Index ETF (NYSE:IWM).
In full disclosure I have no position in SPY at this time.
Comments are welcome at scott.pluschau@etfdigest.com
Written By Scott Pluschau From ETF Digest  
Scott was a financial advisor with Citi. His technical analysis report was recently featured by Dr. Marc Faber on the Nasdaq Composite Index in his June 1, 2011 Gloom Boom & Doom report. Scott earned his degree in Accounting and Taxation from Pace University. He lives in Long Island with his wife Ilona, daughter Olivia and new baby Henry.
ETF Digest writes a subscription newsletter focused on technical analysis of exchange-traded funds. ETF Digest was founded in 2001 and was among the very first to see the need for a publication that provided individual investors with information and advice on ETF investing.  Even if you're not a fan of chart analysis, ETF Digest provides insight and commentary into which global markets are "working" and why.