Low QE2 Volume & Inside Day Point To More Downside Ahead In The Markets (TLT, TIP, SLV, SPY, TBT)
Chris Ciovacco: The media likes to imply the Fed is on the verge of cranking up QE3. Here is Reuters take on Wednesday's Fed statement and press conference:
The Federal Reserve is prepared to take further steps to help an economy that is "close to faltering," Fed chairman Ben Bernanke said on Tuesday in his bleakest assessment yet of the fragile U.S. recovery.
While QE-friendly ETFs were lifted with the market's tide on Wednesday, many of them experienced gains on low volume.  The table below shows some of the biggest gainers in the wake of QE2, followed by Wednesday's volume and average daily volume.  On Wednesday, big institutions were not buying stocks or the idea the Fed is on the verge of QE3.
The Euro's Demise Has Been Set in Motion: Are you protected?
"Nationalism will emerge. Healthier countries will not see fit to spend their hard earned money to bail out their less responsible neighbors."
CLICK HERE
to get your Free E-Book, "Why It's Curtains for the Euro"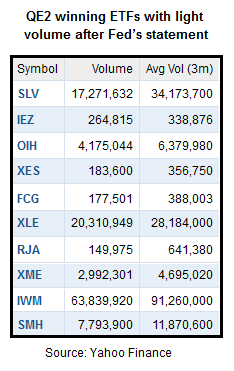 As we mentioned on November 2, the ratio of Treasuries (NYSE:TLT) to TIPS (NYSE:TIP) indicates fears of deflation continue to outweigh concerns about imminent inflation, which means the market questions the impact of additional Fed intervention.
An inside day occurs when a market trades within the high and low range of the previous day.  The S&P 500 (NYSE:SPY) had an inside day on Wednesday.  While inside days are not the most reliable signal, they can be followed by a continuation of the previous move.  With strong down days on Monday and Tuesday, followed by an inside day, we may see weakness on Thursday.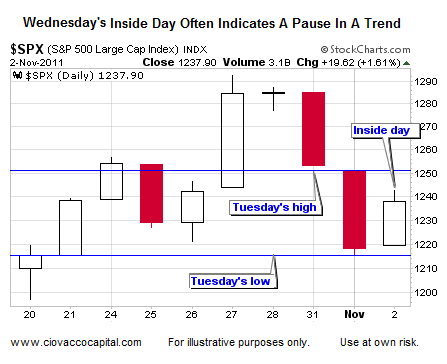 The silver ETF (NYSE:SLV) has yet to recapture its 22-week moving average, which also leans toward deflationary outcomes.  More information can be found in this October 20 article.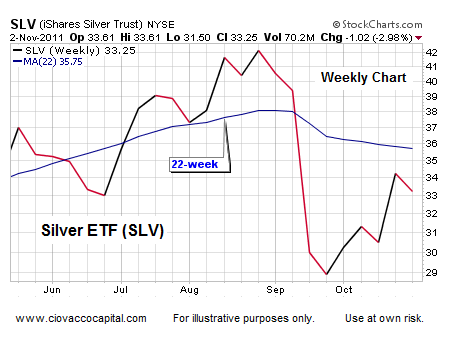 Written By Chris Ciovacco From Ciovacco Capital Management, LLC
Chris Ciovacco began his investment career with Morgan Stanley in Atlanta in 1994. With a focus on global macro investing, Chris uses both fundamental and technical analysis to assist in managing risk while  looking for growth opportunities around the globe in all asset classes.  If you are looking for an independent money manager or financial advisor, Ciovacco Capital is worth a look. Chris  graduated from Georgia Tech with Highest Honors earning a degree in Industrial  and Systems Engineering in 1990. His experience in the professional  ranks began in 1985 as he began working as a co-op for IBM in Atlanta.
Ciovacco Capital Management, LLC (CCM) is an independent money management firm serving clients nationwide. By utilizing extensive research, disciplined risk management techniques, and a globally diversified  approach, CCM prudently manages investments for individuals and business owners. Our focus is on principal protection and purchasing  power preservation in an ever-changing global investment climate.