Higher Prices & Lower Demand Is A Formula For Disaster In Copper ETFs (JJC, CU, COPX, CPER, CUPM)
David Gillie:  Copper has often been regarded as a measure of economic growth. It is also the driving force of the Base Metals sector.  In the 2nd half of 2010, copper had a significant run up on the Dollar decline from QE2 and China stockpiling copper for anticipated future grown. However, in the August selloff last year, copper was hit much harder than the overall market with questions of a decline in China's growth and potential double dip into recession. Despite the market's historic run up the 1st quarter of 2012, copper has not kept pace with the overall market. In fact, copper has lagged the rally ever since it began in October last year. 
Copper's biggest market is wiring and plumbing in construction. Although we've seen a run up in the homebuilder stocks, we haven't seen the construction and sales data to support it. This morning's Case-Schiller report will get a media story of "met expectations" but the expectation was a drop of 3.8% which is down from the previous report of a drop of 4.1%. This not encouraging data as the post-WWII U.S. economy has largely been dependent of construction. 
A new flush of QE as signaled by the Fed yesterday may give copper prices a lift on a Dollar decline, but has little effect on the demand for copper. Higher prices and lower demand is a formula for disaster in copper. 

The Euro's Demise Has Been Set in Motion: Are you protected?
"Nationalism will emerge. Healthier countries will not see fit to spend their hard earned money to bail out their less responsible neighbors."
CLICK HERE
to get your Free E-Book, "Why It's Curtains for the Euro"
iPath Dow Jones Copper Total Return Sub-Index ETN (NYSEARCA:JJC) is an ETN tracking copper futures:
During a "nothing can go wrong" week in the market, copper had a decline of 4/10ths of a percent. Not a good sign.
Average volume is down from last year and the current relative volume is only 2/3rds of this weak volume. 
Current price finds it adrift in the middle of the range just under $50.00. 
Technicals on copper offer little encouragement.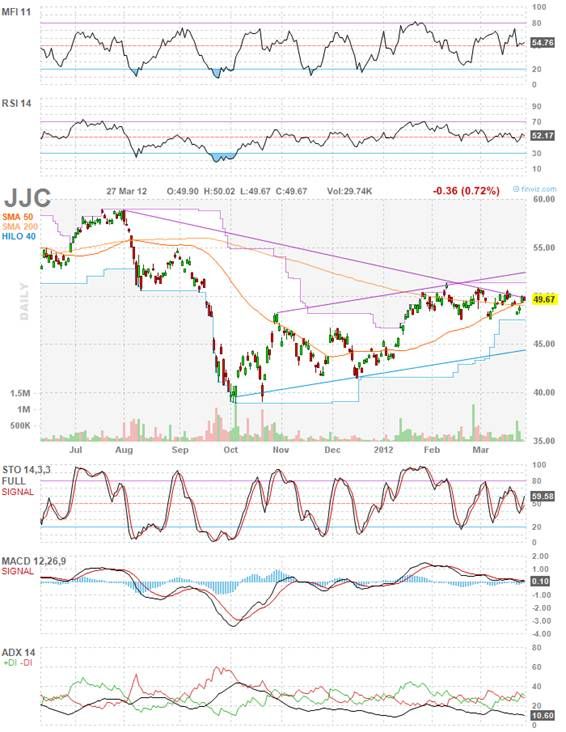 The most glaring indication of copper's future is yesterday's volume. While the market was in a state of euphoria over the mention of another round of QE, copper garnered virtually no attention. As a commodity, it should have rallied on the expectation of a decline in the Dollar. 
Since its high in February, copper has now printed lower lows three times. At each of these failures of trend line resistance, it has had a hard gap down. It is now at that same resistance level, and shows very little probability of having the strength to break out. Weakness in JJC is further confirmed by the Relative Strength Index achieving lower highs all through 2012 even with a rise in Price. The MACD has been in decline during this period as well, without the histogram having marked a single positive bar. 
There are two positive aspects on the chart. JJC has been able to hold support around the $48.00 level. Also, the 50 day moving average is crossing above the 200 day moving average forming a "Golden Cross". Although the golden cross is a bullish signal, is hasn't always proven to be an actual mover of the position. We did see some volume in front of this crossover, but that dissipated quickly and we're now back to weakness. 
Trend lines have formed a long term descending wedge and there is a smaller descending wedge formation inside of that over the past three months. These are bearish patterns and will likely result is a price drop on JJC. 
JJC is signaling a sell and this would also hold true for base metals sector ETFs with copper holdings. 
Related: iPath Pure Beta Copper (NYSEARCA:CUPM), United States Copper Index (NYSEARCA:CPER), iPath Dow Jones Copper Total Return Sub-Index ETN (NYSEARCA:JJC), Global X Copper Miners (NYSEARCA:COPX), First Trust ISE Global Copper Index (NASDAQ:CU).
Written By David Gillie For The ETF Digest  Disclosure: At the time of writing, I have no position in JJC.
ETF Digest writes a subscription newsletter focused on technical analysis of exchange-traded funds.  ETF Digest was founded in 2001 and was among the very first to see the  need for a publication that provided individual investors with  information and advice on ETF investing. Even if you're not a fan of  chart analysis, ETF Digest provides insight and commentary into which global markets are "working" and why.