How You're Getting Fooled By Inflation (GLD, SLV, IAU, UUP, AGQ)
Kevin McElroy: The good news is that stocks are up. You don't have to read the newspaper very closely or listen to the shills on TV or radio to come to this realization.
And unless you were unlucky enough to back up the truck during the highs of 2000 or 2007, you're probably sitting on decent percentage gains in your stock positions.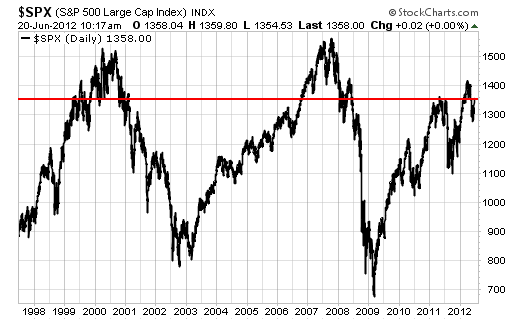 The Euro's Demise Has Been Set in Motion: Are you protected?
"Nationalism will emerge. Healthier countries will not see fit to spend their hard earned money to bail out their less responsible neighbors."
CLICK HERE
to get your Free E-Book, "Why It's Curtains for the Euro"
It's been tough to buy stocks over the past 15 years and not be in the black.
But what's the real story? Stock charts don't calculate for inflation. The chart above of the S&P 500 only gives us an idea of our potential percentage gains BEFORE inflation.
If this chart were inflation adjusted, it would look much, much different.
Let's say you had the good sense to put $1,000 into the S&P 500 in 1998, when it sat at 900.
Today, that $1,000 investment would be worth close to $1,500 – a solid 50% gain in 15 years. Not bad. That's an annualized gain of just under 3% – which today looks pretty darn attractive.
However, if you account for inflation, you're barely in the black. $1,500 today is worth about $1,060 in 1998 dollars. So your 50% gain has been whittled back to a 6% gain after inflation.
But hold on. It gets worse…
Because if you sell your $1,500 position today, you'll be taxed at the capital gains rate of at least 15%.
15% of your $500 gain is $75. Now your $1000 investment is only worth $1425 after taxes (assuming you don't pay more – which you probably do).
$1,425 in 1998 dollars only comes to $1,010 and change.
There go your profits, because after taxes your real gain is whittled back to $10 in 1998 dollars – or just a 1% gain on your initial investment!
That's pretty amazing if you consider that, on paper, you supposedly have a 50% gain.
It also underscores how easy it is for the thieves in Washington to rob every single person who holds dollars – and how most people will never notice, let alone voice their anger.
And imagine how much further real assets like gold (NYSEARCA:GLD) and silver (NYSEARCA:SLV) will rise as more and more people wake up poorer every day – even though their bank statement and brokerage account says they're richer.
Outrage will force them to turn to the safety of precious metals – just as it has turned you and me. Because you can only break in to someone's house and steal their possessions so many times before they buy a better lock for the door. Gold (NYSEARCA:IAU) and silver (NYSEARCA:AGQ) are a better lock than the dollar (NYSEARCA:UUP).
Invest accordingly.
Written By Kevin McElroy From Wyatt Research
Kevin McElroy is a top rated commodity researcher and analyst specialist at Wyatt Investment Research, with a targeted focus on short and long term investment opportunities. He has worked in the investment publishing field for over three years alongside some of the world's leading commodity traders and analysts. He takes the     complex futures and options trading strategies from the floors of the Nymex and  the CBOT, uniquely combines them with economic trends and positions his recommendations in a way that any investor, from a straight long-term buy and hold investor to a sophisticated day trader can easily understand, implement, and profit.
Kevin constantly finds unique ways to profit from the "real stuff" like oil, gold, iron, corn – the energy, money, goods and food that the world constantly needs more of.  Kevin is the daily editor to Resource Prospector and a contributor to Energy World Profits and Global Commodity .