4 Reasons Technology Stocks Look Tired (XLK)
Chris Ciovacco: While we can envision technology stocks making another push higher, we sold our position in the Technology SPDR ETF (NYSEARCA:XLK) based on the four reasons below:
1. According to a recent Bloomberg story, growth prospects for technology companies may be more limited than in the past:
U.S. technology companies have pushed their dividends to the highest level on record, a signal to investors that profit growth in the industry is slowing. While bulls say bigger dividends are a sign of confidence after 11 straight quarters of rising earnings in the industry left companies with ample funds to compensate shareholders, bears say boosting payouts shows chief executive officers are running out of ways to use their cash.
The Euro's Demise Has Been Set in Motion: Are you protected?
"Nationalism will emerge. Healthier countries will not see fit to spend their hard earned money to bail out their less responsible neighbors."
CLICK HERE
to get your Free E-Book, "Why It's Curtains for the Euro"
2. A negative divergence tells us upside momentum is waning. The last high in the ratio of tech-to-stocks (XLK:$SPX) came with negative divergences in both daily RSI and MACD. You can see the divergences by comparing the slope line A (price) to the indicators (B and C). Similar bullish divergences highlighted in July helped us participate in a recent rally in oil (NYSEARCA:USO) and oil stocks (NYSEARCA:OIH).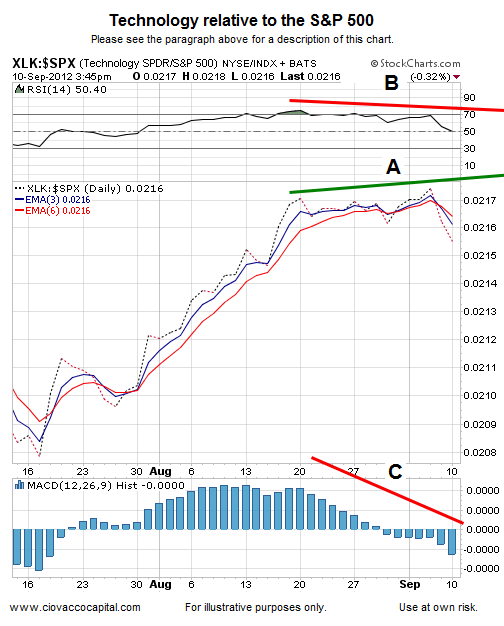 3. Tech stocks have come a long way off the early June lows.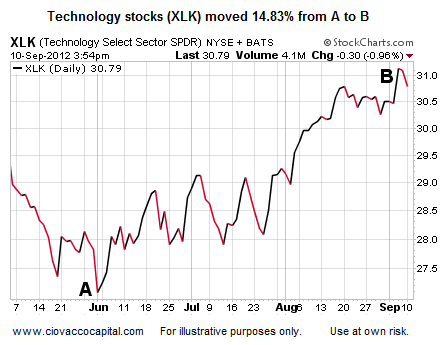 4. Even if technology pushes higher, we believe there are better risk-reward opportunities. We remain bullish, but materials (NYSEARCA:XLB), commodities (NYSEARCA:DBC), and precious metals (NYSEARCA:GLD) may be better positioned for what appears to be never-ending central bank intervention.
Written By Chris Ciovacco From Ciovacco Capital Management, LLC
Chris Ciovacco began his investment career with Morgan Stanley in Atlanta in 1994. With a focus on global macro investing, Chris uses both fundamental and technical analysis to assist in managing risk while looking for growth opportunities around the globe in all asset classes. If you are looking for an independent money manager or financial advisor, Ciovacco Capital is worth a look. Chris graduated from Georgia Tech with Highest Honors earning a degree in Industrial and Systems Engineering in 1990. His experience in the professional ranks began in 1985 as he began working as a co-op for IBM in Atlanta.
Ciovacco Capital Management, LLC (CCM) is an independent money management firm serving clients nationwide. By utilizing extensive research, disciplined risk management techniques, and a globally diversified approach, CCM prudently manages investments for individuals and businessowners. Our focus is on principal protection and purchasing  power preservation in an ever-changing global investment climate.