Looking For Clues Before The Fed Minutes
Przemyslaw Radomski, CFA: Without a doubt, markets are waiting for the release of minutes from the Fed's July policy meeting for clues on the timing of stimulus tapering. The U.S. central bank has said it would begin scaling back its $85 billion in monthly bond purchases this year if the economy recovers as expected. But Fed officials are not in consensus on whether they should cut back from September on as expected by the markets.
Speculation that the U.S. central bank is poised to begin tapering its stimulus as early as September is generally positive for the dollar and negative for precious metals. What impact could the Fed minutes have on further prices of gold and the entire precious metal sector? Let's see what the markets think.
We examine the US Dollar Index chart and the copper chart to see if there's anything on the horizon that could drive gold prices higher or lower in the nearest future (charts courtesy by http://stockcharts.com).
Have you ever wondered how billionaires continue to get RICHER, while the rest of the world is struggling?
"I study billionaires for a living. To be more specific, I study how these investors generate such huge and consistent profits in the stock markets -- year-in and year-out."
CLICK HERE
to get your Free E-Book, "The Little Black Book Of Billionaires Secrets"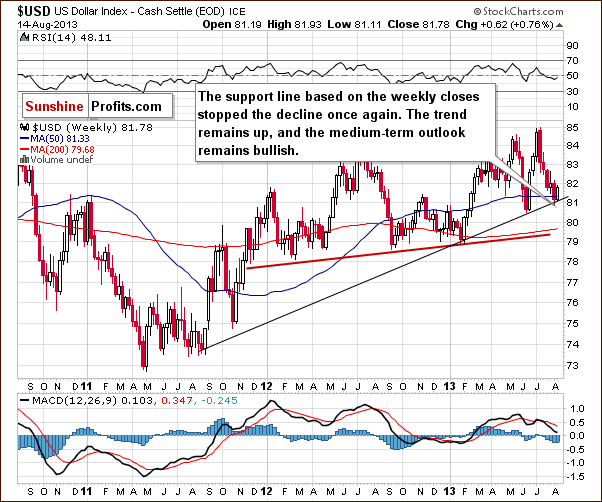 In our essay on gold and the dollar on August 9, 2013 we wrote:
(…) The recent declines took the index to the medium-term support line (currently close to the 81 level). Keep in mind that this strong support line stopped the decline in June (it was not even reached) and encouraged buyers to act, which resulted in a sharp rally in the following days.
As you see on the weekly chart, we saw a similar situation in the previous week. The dollar jumped from the medium-term support line and climbed up above the 50-week moving average. However, this improvement didn't last long and the USD Index declined once again in the recent days. Despite this downward movement, the previously mentioned medium-term support line stopped the decline and the dollar remains above it.
From this perspective, the medium-term uptrend is not threatened, and the situation remains bullish. Therefore we can expect the dollar to strengthen further in the coming weeks. It seems that it will rally sooner rather than later, fueling declines in the precious metals market.
Once we know the current situation in the USD Index and its implications for the precious metals sector, let's turn to the next interesting chart.