Federal Reserve, Dow Jones Industrial Average and Gold
Matt Machaj: In the previous article we have seen how Federal Reserve's balance sheet grew in the last few years. Now let us look how this growth coincided with increases on the stock market: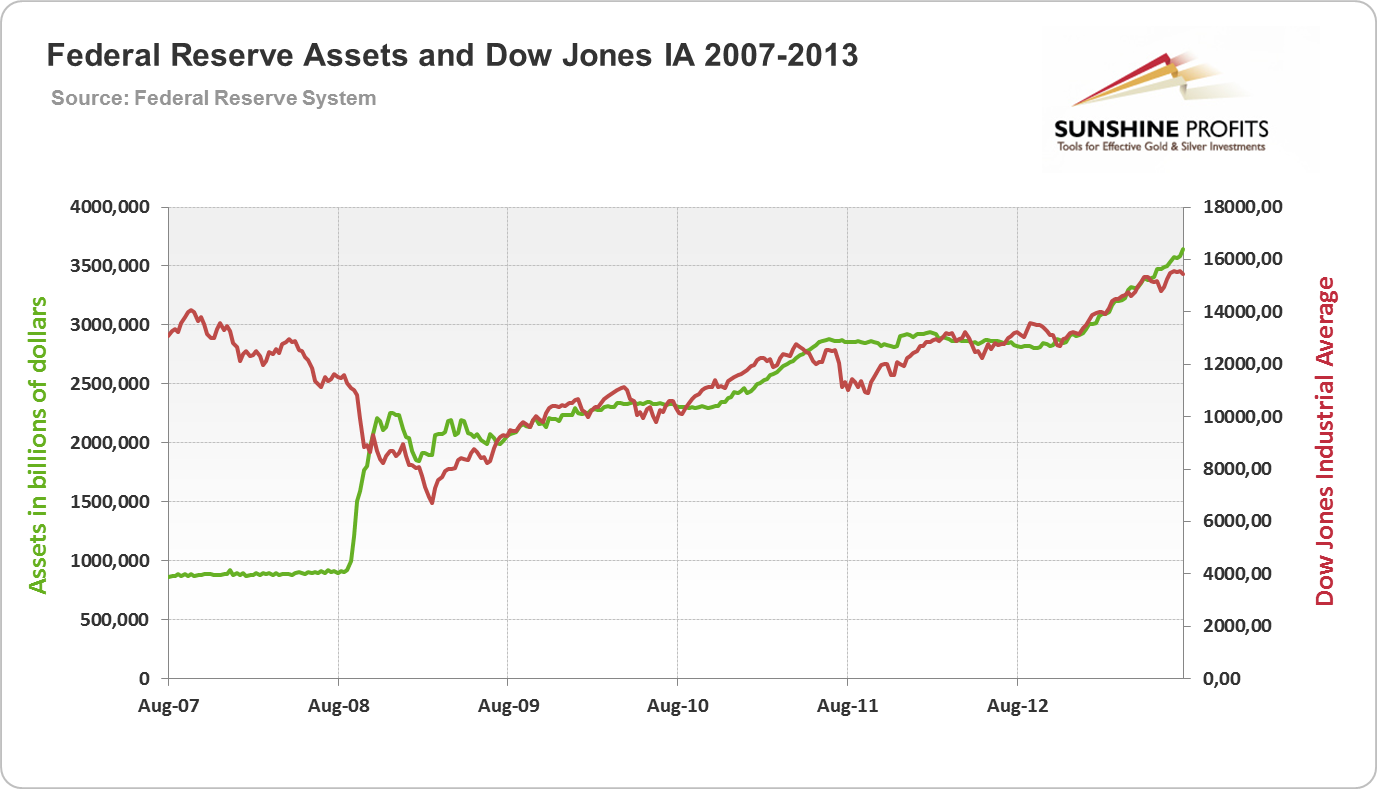 When you look at the above graph it would seem almost gratuitous to ask if there is a relationship between the Dow Jones Industrial Average (INDEXDJX:.DJI) and the Fed's balance sheet. You don't need to be a technical analyst to see that there is indeed a relationship. Both grew at the same time, but this does not necessarily imply that the Fed is solely or even mostly responsible for the growth in the stock market. Nevertheless, its influence on the index can hardly be exaggerated. Part of the stock market's growth may be due to natural market recovery, part caused by the interventionist policies (notice that the growth in the value of balance sheet is not associated with the growth with market value of assets, since they are not marked to market; that is the value of assets held is not adjusted to current market value like in the case of market institutions).
Have you ever wondered how billionaires continue to get RICHER, while the rest of the world is struggling?
"I study billionaires for a living. To be more specific, I study how these investors generate such huge and consistent profits in the stock markets -- year-in and year-out."
CLICK HERE
to get your Free E-Book, "The Little Black Book Of Billionaires Secrets"
Why is this relevant? It tells us the strength of the dollar system, or actually the strength of the foundation upon which it stands. To put it technically – the economy needs investment demand to grow, or even more simply, it needs money to grow. The sources of that money can be various and the sustainability of growth depends on what those sources are. The best possible source of money to grow is to get money by saving it – that's the natural capital accumulation, which allows the diversion of funds from pure consumption to financing investment activities. Another possible, but unsustainable way, is to have a bank credit expansion to finance growth through debt). This is what has happened after 2001, the economy grew because banks created massive amounts of credit. The end result of this bubble was predictable from the start to many. There was such huge amount of mal-investments that even the banks themselves got into trouble.