Dow Jones Industrial Average: 1929/2014 Stock Market Crash Correlation Charts
Thomas Carreno: Perhaps you have seen or heard about the 1929 2014 correlation chart that has received quite a bit of publicity recently (Tom Demark and Mcclellan) It has been fascinating to see the market action as measured by the Dow Jones Industrial Average (INDEXDJX:.DJI) follow the 1929 parallel very closely in terms of the number of days of each decline and advance leg and also the percentages.
I have calculated that the percent magnitudes of each leg in the current market is about HALF of what occurred in 1929. So if history repeats we should be on the verge of an approximate 22% drop from the February 14th, 2014 high in the DJIA to the ultimate low.
Right now we are in a very critical trading zone where the DJIA absolutely MUST conform to a few price rules starting next week. If it does not start to follow the below mentioned rules very very closely then the entire crash/panic scenario starts to become highly doubtful.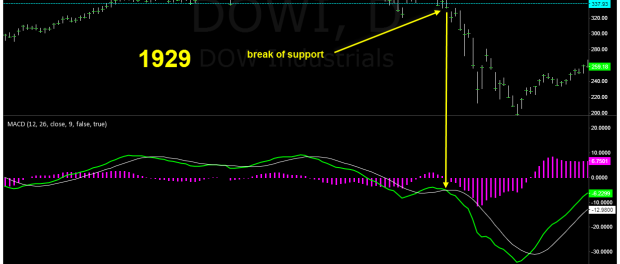 1929 Price Chart
In summary here are the rules. Starting next week the DJIA absolutely cannot trade higher than 16,176 on a closing basis (We must trade down on Tuesday in the DJIA. Monday February 17th, 2014 is Presidents Day holiday so stock exchanges are closed Monday).
The DJIA should start to trade down next week and start to show some strong weakness right from the get go. Ideally the weakness should occur almost every day next week.
The trigger for the pattern similarity to truly engage is a move below 15,700 in the DJIA. 15,700 marks a very key support zone and if it is broken could start to trigger a panic similar to the 1929 correlation pattern. Note that in both charts below the two horizontal blue lines in both time frames marking critical support and resistance.