Are Utility Stocks Really Safe In Bear Markets?
Chris Ciovacco: Ideal Candidates For Retirement Investing, Right?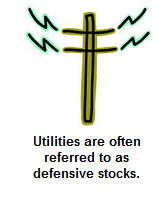 With the stock market extended and recently having experienced some renewed volatility, you may have seen calls to move into "safe" utility stocks. It is common to see utilities described as they were in a June 2014 InvestorPlace article:
Have you ever wondered how billionaires continue to get RICHER, while the rest of the world is struggling?
"I study billionaires for a living. To be more specific, I study how these investors generate such huge and consistent profits in the stock markets -- year-in and year-out."
CLICK HERE
to get your Free E-Book, "The Little Black Book Of Billionaires Secrets"
Utilities are often a go-to asset class for those in retirement, as the sector provides plenty of big income opportunities. After all, consumers, businesses and municipalities still need to power their operations and cool their homes, even in tough economic times. Water still needs to flow and electricity hums through power lines. Ultimately, utilities' stable cash flows and recession-resistant nature make them ideal candidates for investing during retirement.
While utilities do have real world advantages during a recession over more economically-sensitive businesses, that does not necessarily mean utility stocks will perform well during a recession/bear market. Therefore, it is prudent to ask:
Did utility stocks help investors protect their wealth during the 2008 financial crisis?
You can decide. The table below shows the bear market (2007-2009) performance of numerous utility stocks that are often paired with the terms defensive, stable, and conservative.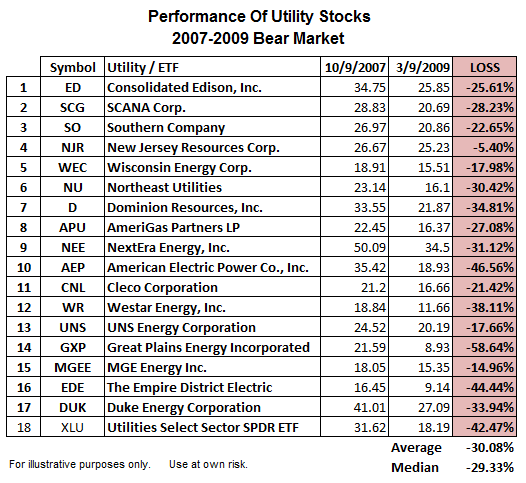 Steady Dividend Does Not Mean Safe Stock
A recent Kiplinger's article described utilities this way:
For steady, albeit modest, growth and above-average dividend yields, it's still hard to top utilities.
Investors should not confuse the benefits of a "steady" dividend with a low-risk investment.