SolarCity Corp (SCTY): What Could Boost Shares Even Further
Galileo Russell: Last month, SolarCity Corp (NASDAQ:SCTY) agreed to acquire solar-panel manufacturer Silevo for $200 million. The acquisition may be the best thing to happen to SolarCity since the company completed its IPO in late 2012.
SolarCity was a Wall Street darling for the first 15 months after it went public in December 2012, rising more than 1,000% from its $8 IPO price. Since then, the stock has pulled back dramatically, falling 24% since late February. Perhaps the Silevo purchase will be just the thing to jolt some life back into SolarCity.
Until it acquired Silevo, SolarCity was a rooftop-leasing company and panel installer, marketing and installing packages of solar panels to businesses and consumers. SolarCity is very good at this, and has rapidly grown its market share over the past several years to become the dominant player in U.S. solar.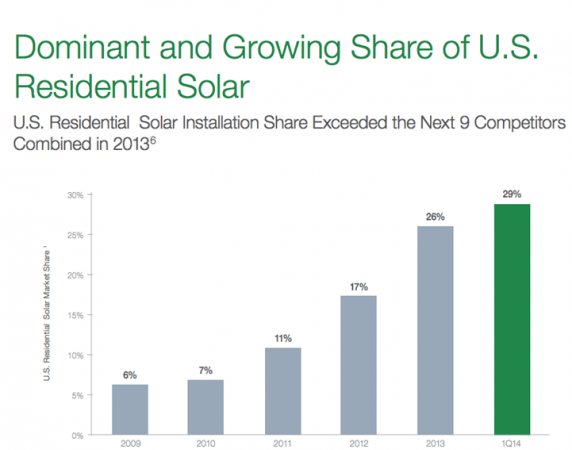 Source: SolarCity
With Silevo, SolarCity will now be able to manufacture the solar panels themselves. The acquisition seems like a natural evolution of the company's long-term business plan.
When SolarCity was buying panels from other manufacturers, it was forced to either sacrifice the quality of the panels it was purchasing for the sake of profit, or lose money by spending more on quality panels. Now that the company will be able to build its own panels, it should be able to do both.
SolarCity has essentially cut out the middle man.
By using advanced panels from Silevo, SolarCity will be able to offer its services to an even wider variety of consumers. The company's goal is to make solar panels affordable to a wider swath of the U.S. population, many of whom heretofore have not been able to afford it.
The incremental margin improvements that SolarCity will reap from its Silevo deal will allow the company to sell its solar panels at lower prices, and thus provide their customers with a cheap alternative to their current energy provider.