Chinese Steel Overcapacity Hurting Industry
Tony Daltorio:  With workers locked out at a Allegheny Technologies (NYSE:ATI) plant less than a mile from my home in western Pennsylvania, I'm sensitive to what is happening in the steel industry.
And right now, things don't look good. For example, the U.S. benchmark hot rolled coil index is down 22% so far in 2015, to $467 a ton.
Conditions for the steel industry are poor globally. Demand for steel is weakening in emerging markets like China. And supply from China, the world's largest steel-producing country, has not declined.
Have you ever wondered how billionaires continue to get RICHER, while the rest of the world is struggling?
"I study billionaires for a living. To be more specific, I study how these investors generate such huge and consistent profits in the stock markets -- year-in and year-out."
CLICK HERE
to get your Free E-Book, "The Little Black Book Of Billionaires Secrets"
The result?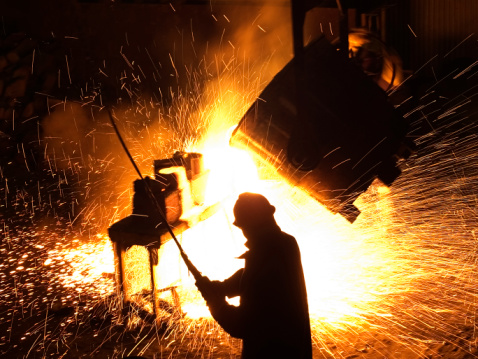 More steel exports from China to a world with already too much steel.
Demand Falling
The world's biggest steel maker by market share, ArcelorMittal (NYSE:MT), recently cut its forecast for steel demand growth in 2015 to zero. Arcelor said that demand actually picked up a bit in Europe and the U.S. But it said demand in emerging markets "remains weak."
In particular, it said the Chinese market "had deteriorated significantly." The company's chairman, Lakshmi Mittal, told the Financial Times that "China has been kind of a surprise, that it is so down."
This slack demand in China feeds through directly into problems for other steel makers around the world.
You see, nearly half of China's steel makers are losing money. But they keep producing and selling steel at what Mittal calls "not market prices." Even the Xinhua News Agency is talking about a "deep supply glut."
Chinese Steel Supply Unending
Estimates for expected steel exports from China this year are about 100 million metric tons. That is up from just 53 million tons in 2013.
At its current pace, China's steel exports would overtake Japan's total steel production sometime next year. Japan is the world's No. 2 steel maker.

The devaluation of the yuan, although small, only added to steel's woes. Producers immediately used the cheaper currency to lower the export price for steel once again.
The U.S. is a prime destination for steel because prices for steel here, although down, are still $100 higher than in Europe and $200 higher than in Asia.
Nucor (NYSE:NUE) is among a number of steel companies filing anti-dumping suits with the government against China and others. Other steel companies have joined in the suits, including Arcelor Mittal, U.S. Steel (NYSE:X), AK Steel Holding Corp. (NYSE:AKS) and Steel Dynamics (NASDAQ:STLD).
A lawyer for Nucor, Alan Price, hit the nail on the head when he told Reuters, "China has built massive excess capacity in steel." And he got the solution right too when he said China needs to shut some of those loss-making plants down.
But that's where politics comes in. The Communist Party wants to stay in power. Having massive unemployment in a major industry is not a way to remain popular.