so it seems not too far away from this round number target.
Apple Inc. has clearly been a monster of a stock and maybe the 'lead bubble stock' of the current bull run.  It its seemingly unstoppable with growth prospects outstanding products and brand strength that would seem to be second to none.
What will stop Apple Inc. or at least slow it down ? Inflation? Competition?  I really do not know.  But I do know that Apple Inc. is rapidly approaching the key top channel line of the long term price chart.
I think most traders and technical analysts will agree that until Apple Inc. shows signs of serious topping, the market is unlikely to go through a 'real' correction.  We need Apple Inc. to top out or slow its upside progress before the market can start to weaken more significantly and persistently.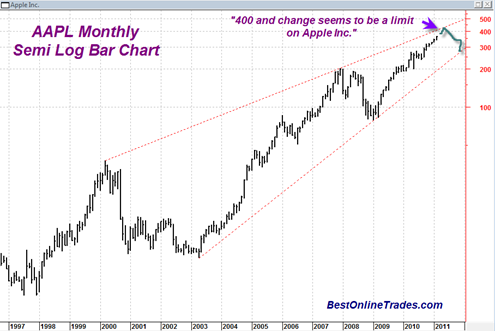 It looks as though Apple Inc. is about to do a final surge right into the 400 dollar price range and probably push slightly higher than that at first.  Keep in mind that the above price chart is on the monthly scale so each price bar represents one full month.
Assuming Apple Inc. (NASDAQ:AAPL) pushes up into the 400 dollar range there are a few possibilities.  One possibility is that the price reverses quickly and dramatically within only 1 months time and then starts a quick correction to 300 range.
Another possibility is that the stock 'hugs' the top channel line for several months before finally giving up, similar to the way it did in late 2007.
The last possibility is that Apple goes into overdrive mode and breaks UP and THROUGH the top channel line evading any bearish signal.  This seems like a remote possibility but it is important to be aware of it.  Sometimes top boundary channel lines are broken through as a stock goes parabolic up through it.
My take is that we see Apple Inc. hug the top channel line for several months before turning down.  What 'news' will create that type of turn is unknown.  Interestingly the time frame on a meeting with the top channel line works well with the mid June 2011 8.6 year Marty Armstrong cycle turning point.  Given the current strength of this stock I would be quite willing to just let it trickle up right into the mid June 2011 time frame for best possible odds of identifying the real turn.
Related ETF to Watch:  The PowerShares QQQ ETF (NASDAQ:QQQQ) which tracks the Nasdaq 100 and maintains a whopping 19.74% of its holdings in Apple's (AAPL) stock is a very liquid and high profile ETF to keep an eye on.
Written By Thomas Carreno From Best Online Trades 
I started Best Online Trades because I really enjoy trading and I also enjoy writing about trading.  Writing about trading or trading strategies helps transfer thoughts that would otherwise stay in 'theory' and helps move them to more concrete form for me. And hopefully along the way you will pick up something useful as well.  BestOnlineTrades covers many different aspects of trading, from commodities to stocks, from indices to ETF's.