What do I mean by other currencies? Well, as Mr. Gartman says, "If you buy gold, by definition you have gone short of the U.S. dollar."
Now, I'm as bearish on the dollar as anyone over the long term, but just like no bull market goes up in a straight line, no bear market drops straight through the floor.
And right now, the dollar is absolutely in the gutter – even relative to other at-least-as-crappy currencies like the Euro or the Yen.
Here's a one year chart of the dollar index – which plots the exchange rate of the dollar against a basket of other (fiat) currencies.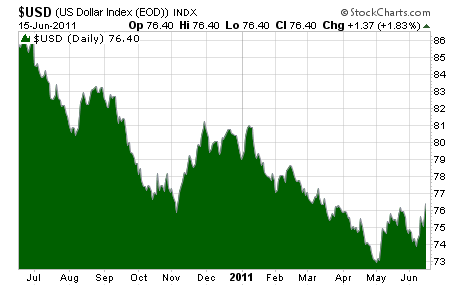 Is the dollar so much worse than the Euro, the Yen, the British Pound, etc.?
Maybe – but it's due for a bounce. Well, in fact it's already bounced from May lows.
So, if you "go short the dollar" today, you're betting that the dollar will fall further against these other currencies, which for the past month or so pits you against the trend.
So, in order to swim with the tide while investing in gold, Gartman recommends building a position in other currencies.
How? Well, here's the recommendation, straight from the horse's mouth:
"If you bought $100,000 worth of the gold ETF [(NYSE:GLD)], you would sell $100,000 worth of the euro ETF [(NYSE: FXE)]. And essentially what you have done is construct gold in euro terms.
If you bought $75,000 worth of the gold ETF and sold $25,000 worth of the yen ETF [(NYSE: FXY)], sold $25,000 worth of the euro ETF, sold $25,000 worth of the sterling ETF [(NYSE: FXB)], then you've effectively created gold in all of those other currencies. You've created a gold position not in U.S. dollars."
Definitely a unique idea. It puts you in gold, but scrubs out any position you have in dollars – short or long.
Right now, it doesn't make sense to necessarily go long dollars – for trillions of obvious reasons. But I wouldn't go short the dollar right now either. One of my goals as an investor right now is to try to avoid the dollar altogether. I don't want any exposure.
I don't want to own Treasury bonds or have too much money sitting in my checking account. I don't want too much access to dollars at all – and I think that kind of dollar aversion will be a trend we see more and more of as our creditors wake up to the fact that the dollar is a poisonous asset.
So while I would still recommend buying physical gold (I just bought some last month), I'm interested in Gartman's technique of scrubbing the dollar out of the equation.
If you have any unique ideas on how to invest in gold, please send them my way at editorial@resourceprospector.com.
Good investing,
Written By Kevin McElroy From Wyatt Research
Kevin McElroy is a top rated commodity researcher and analyst specialist at Wyatt Investment Research, with a targeted focus on short and long term investment opportunities.  He has worked in the investment publishing field for over three years alongside some of the world's leading commodity traders and analysts.  He takes the complex futures and options trading strategies from the floors of the Nymex and the CBOT, uniquely combines them with economic trends and positions his recommendations in a way that any investor, from a straight long-term buy and hold investor to a sophisticated day trader can easily understand, implement, and profit.   
Kevin constantly finds unique ways to profit from the "real stuff" like oil, gold, iron, corn – the energy, money, goods and food that the world constantly needs more of.  Kevin is the daily editor to Resource Prospector and a contributor to Energy World Profits and Global Commodity Investing.