looks like a 50 50 proposition in either direction.  But after looking at the QQQ, it makes me think the market is already saying it has rejected the lows today based on volume and price. 
Look at the chart below to see what I am talking about.  This is basically what market analysis boils down to, volume and price. 
We today tested a very important previous March 13, 2011 high volume swing on 63% less volume and then closed back up inside the range.  That is a bullish spring based on volume and says the bottom is in.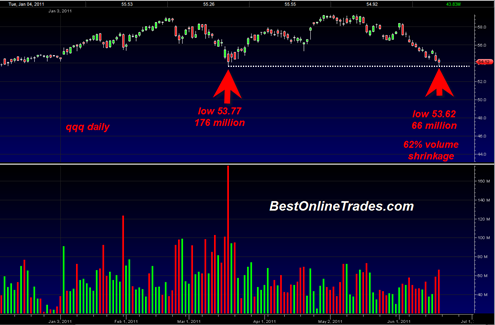 The 'trade' here is a stop loss at 53.70 on the QQQ. And then going long sometime tomorrow during the day assuming the market is able to hold up reasonably and show that it wants to get a northward reaction off of this spring. 
The only problem with the above analysis is that todays reversal hammer and volume rejection was done with a less than ideal looking reversal hammer.  The bottoming tail on today's reversal hammer is short and there was no real flush out today. 
It would have been much more ideal to see a very long bottoming tail and reversal hammer today. 
Whether or not that factor leads to a failure of this volume rejection is unknown.  But if we ignore the candlestick appearance today, we still have a volume and price rejection.. Lets see what kind of follow through (or not) the market shows tomorrow.
Related Tickers: Technology Select Sector SPDR ETF (NYSE:XLK), Vanguard Information Technology ETF (NYSE:VGT), POWERSHARES QQQ TR SER 1 (NASDAQ:QQQ), ProShares Ultra QQQ ETF (NYSE:QLD), ProShares UltraShort QQQ ETF (NYSE:QID), Apple Inc. (NASDAQ:AAPL).
Written By Thomas Carreno From Best Online Trades 
I started 
Best Online Trades
because I really enjoy trading and I also enjoy writing about trading.  Writing about trading or trading strategies helps transfer thoughts that would otherwise stay in 'theory' and helps move them to more concrete form for me. And hopefully along the way you will pick up something useful as well. 
BestOnlineTrades
covers many different aspects of trading, from commodities to stocks, from indices to ETF's.