Metals Investor: Don't Ignore This Silver Trend (SLV, PSLV, AGQ, SIVR, ZSL)
Share This Article

---
Ian Wyatt:  The time to buy silver is now. In just over two months, silver prices have plummeted approximately 30 percent from their high. As a result, silver stocks have fallen hard. The iShares Silver Trust (NYSE:SLV) is off 28 percent since peaking in late April.
---
The commodities exchanges have increased the margin requirements for speculators trying to buy silver futures. And silver prices have been stagnant, trading range-bound ever since.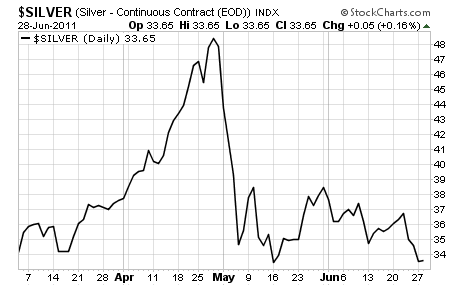 It seems as though everything is lining up for silver prices to fall further. Yet, as a contrarian, it is under these conditions where it makes the most sense to buy silver and silver related stocks.
That may seem to defy logic given silver is retesting its May lows. But, remember back in late April when everyone was talking about silver doubling by the end of the summer to $100 an ounce. Silver was trading at a historical high and everyone, including myself, was bullish on the precious metal.
***Today, we have almost the exact opposite condition in silver. As a result, silver stocks are beginning to look attractive.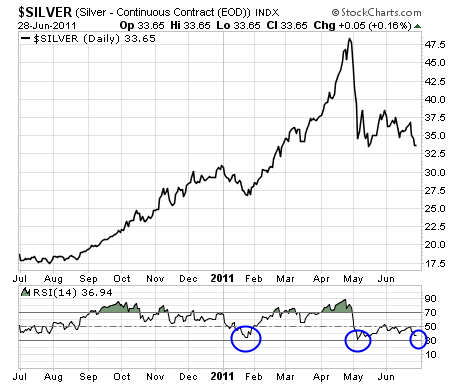 The RSI (14) is once again approaching its most oversold reading in over a year. The last two times silver pushed to an oversold level this low it rebounded almost instantly.
Of course, silver stocks can get more oversold, especially if the overall stock market continues to suffer. In fact, the RSI (14) indicator doesn't officially generate a buy signal until it dips below 30. It could take a few more days for that to occur.
But there is no doubt that we are getting closer to bargain-basement levels here for some of the best names in the sector.
If you're a long term silver bull, (as I am) then you should be looking at this underperformance in the silver majors as a buying opportunity.
My colleague Jason Cimpl is taking advantage of this opportunity. Yesterday, he released a brand new research report on the five precious metals stocks to buy today. You can read all about this report by clicking here now. It's called "Top 5 Gold and Silver Trades for Summer 2011."
Jason is a technical analyst by trade, and he's looking at gold and silver on that basis. He thinks precious metals stocks will outperform for the rest of the summer.
For me, I think that anytime you can buy the largest "blue-chip" type companies in a given sector at a discount to their fundamental trend, you should back up the truck. And my long term thesis is that gold and silver will likely double or triple in price before this bull market in precious metals is over.
So the wind is at your back, and with Jason's technical prowess, you know you're getting a good buy price.
I hope you'll take a look at Jason's research. It's the type of to-the-point investment research that can really cut through all the noise in the market.
Related ETFs:  Sprott Physical Silver Trust (NYSE:PSLV), ProShares Ultra Silver (NYSE:AGQ), ETFS Physical Silver Shares (NYSE:SIVR),  ProShares UltraShort Silver (NYSE:ZSL),  iShares Silver Trust (NYSE:SLV).
Written By Ian Wyatt From Small Cap Investor
Wyatt Investment Research is led by founder Ian Wyatt, who serves as Publisher and Chief Investment Strategist. Our team also includes a group of talented research analysts and editors who aim to uncover great investments and present those investment ideas to our growing group of loyal subscribers.
Ian Wyatt is an active investor, a well-regarded investment expert and an Internet entrepreneur. He is the Chief Investment Strategist at Wyatt Investment Research, and plays a leading role in each of the company's investment newsletters and trading services. As a well-regarded market expert, Ian has written for Marketwatch, Zacks Investment Research, Seeking Alpha, Yahoo! Finance and The Burlington Free Press. He has been interviewed or quoted in articles in well-known publications including AOL Finance Blogging Stocks, Kiplinger's Personal Finance Magazine, Barron Magazine, Barrons.com, Forbes.com, The Dick Davis Digest, The Dick Davis Income Digest, The Wall Street Transcript, TheStockAdvisors.com, Money Show Digest, The New Jersey Star Ledger, The Wisconsin State Journal and The Seattle Times.
---
Read Next
---
Most Popular
---
From Our Partners
---