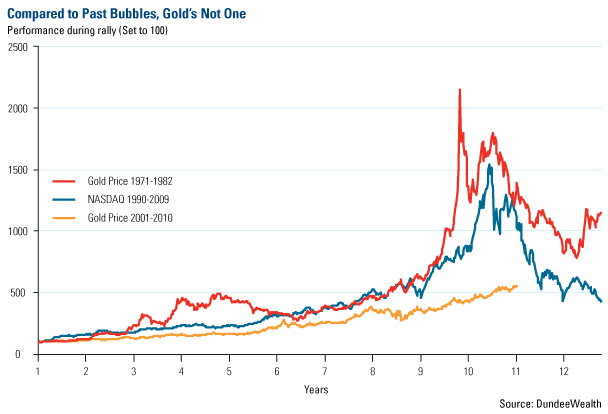 What kind of performance can we realistically expect for gold companies to see when we do enter the mania phase?
It's tough to find historical data on gold companies during the 1970s. Most of them are gone. The rest have been gobbled up or sliced apart into completely different companies.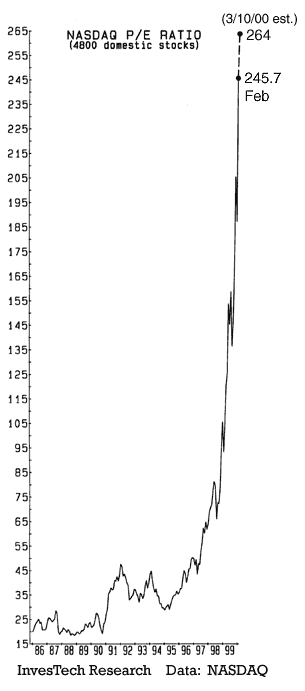 We do have a frame of reference for the internet bubble. You might remember that time as a period when everyone had a hot stock tip. Everyone was up hundreds of percent, or more, on companies like Cisco and Intel.
Shares of these companies entered the stratosphere of price-to-earnings as everyone HAD to own them. This excitement and mania put what I call a "scarcity premium" on shares – sending Cisco shares to sell for more than 188 times earnings at the height of the dot-com bubble.
And remember, Cisco was one of the major companies in the Nasdaq back then. There were plenty of companies with no earnings, or negligible earnings. Some of them were decent businesses with some promise, but many were glorified boiler rooms with a 4 digit ticker symbol.
So while a Nasdaq blue chip like Cisco traded at 188 times earnings, the average pe ratio for the whole Nasdaq exchange was off the charts – at over 250 shortly before the bubble burst.
That's the power of a mania stage.
Obviously, buying a company that sells for more than 100 times earnings is suicidal. But today, you can still pick up shares of some really great gold companies for less than 25 times earnings.
The biggest and most boring of these companies, Barrick Gold (NYSE: ABX) sells for less than 15 times earnings. I'm not a big fan of Barrick because it has somewhat limited growth potential even compared to most other gold majors and nearly all gold mid-tier producers.
But when the mania stage takes a hold of Barrick gold, you'll have every cab driver and hairdresser you meet telling you how they've allocated 33% of their portfolio into safe majors like Barrick.
I don't know if Barrick will sell for more than 188 times earnings, as Cisco did in 2000, but it gives you a frame of reference for where we are in for before the end of this bull market for gold and gold companies.
Related ETFs: SPDR Gold ETF (NYSE:GLD), Market Vectors Gold Miners ETF (NYSE:GDX), Market Vectors Junior Gold Miners ETF (NYSE:GDXJ),  iShares COMEX Gold Trust (NYSE:IAU), PowerShares DB Gold Double Short ETN (NYSE:DZZ).
Written By Kevin McElroy From Wyatt Research
Kevin McElroy is a top rated commodity researcher and analyst specialist at Wyatt Investment Research, with a targeted focus on short and long term investment opportunities.  He has worked in the investment publishing field for over three years alongside some of the world's leading commodity traders and analysts.  He takes the complex futures and options trading strategies from the floors of the Nymex and the CBOT, uniquely combines them with economic trends and positions his recommendations in a way that any investor, from a straight long-term buy and hold investor to a sophisticated day trader can easily understand, implement, and profit.   
Kevin constantly finds unique ways to profit from the "real stuff" like oil, gold, iron, corn – the energy, money, goods and food that the world constantly needs more of.  Kevin is the daily editor to Resource Prospector and a contributor to Energy World Profits and Global Commodity Investing.