sentiment, and still-elevated Italian bond yields.  The negative implications of a 10-year Italian bond yielding 7% were outlined at the 00:29 and 13:00 marks of a December 18 video.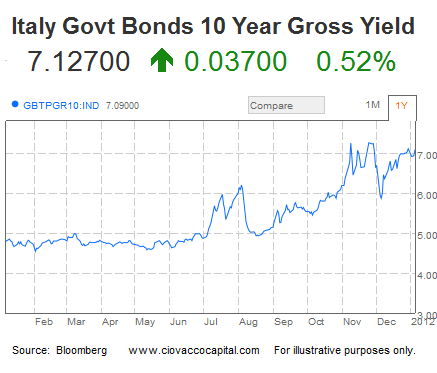 UBS created an interesting chart using the Juglar cycle, Kitchin cycle, and Dow Jones Industrial Average. According to Wikipedia:
The Kitchin cycle is a short business cycle of about 40 months discovered in the 1920s by Joseph Kitchin.  The Juglar cycle is a fixed investment cycle of 7 to 11 years identified in 1862 by Clement Juglar.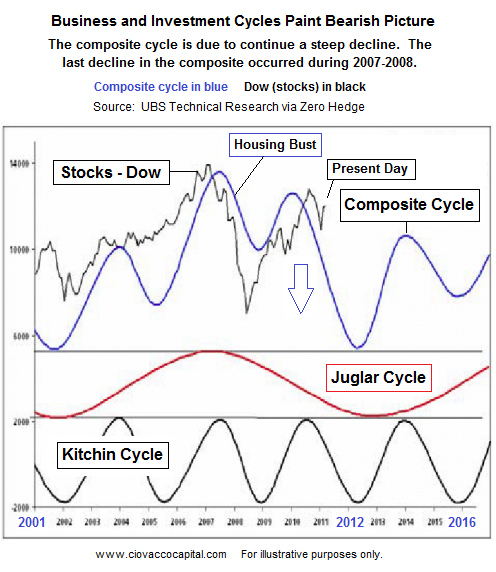 Investors tend to get overly bullish near market tops and overly pessimistic near market bottoms.  The latest AAII sentiment survey aligns with the idea of a probable peak occurring between 1,285 and 1,340 on the S&P 500 (NYSEARCA:SPY).  Bearish sentiment fell to the lowest level in roughly a year.  Bullish sentiment rose to the highest level since early February 11, 2011; the S&P 500 peaked a week later (see below).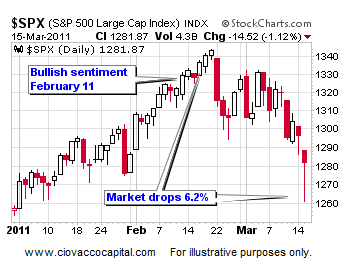 Written By Chris Ciovacco From Ciovacco Capital Management, LLC
Chris Ciovacco began his investment career with Morgan Stanley in Atlanta in 1994. With a focus on global macro investing, Chris uses both fundamental and technical analysis to assist in managing risk while looking for growth opportunities around the globe in all asset classes. If you are looking for an independent money manager or financial  advisor, Ciovacco Capital is worth a look. Chris  graduated from Georgia  Tech with Highest Honors earning a degree in Industrial and Systems Engineering in 1990. His experience in the professional ranks began in 1985 as he began working as a co-op for IBM in Atlanta.
Ciovacco Capital Management, LLC (CCM) is an independent money management firm serving clients nationwide. By utilizing extensive research, disciplined risk management techniques, and a globally diversified approach, CCM prudently manages investments for individuals and business owners. Our focus is on principal protection and purchasing  power preservation in an ever-changing global investment climate.