jewelry. In recent years gold and silver have also become popular with investors and traders since the advent of ETFs.
Palladium is a precious metal used to make white gold, and it has industrial qualities like gold and silver, but it is not quite as popular. Like gold and silver, palladium can be traded on the futures markets, but there is also an ETF with the ETFs Physical Palladium ETF (NYSEArca:PALL). Keep in mind PALL only averages approximately 120,000 shares a day so this is not the best intra-day trading ETF.
Let's take a look at the chart.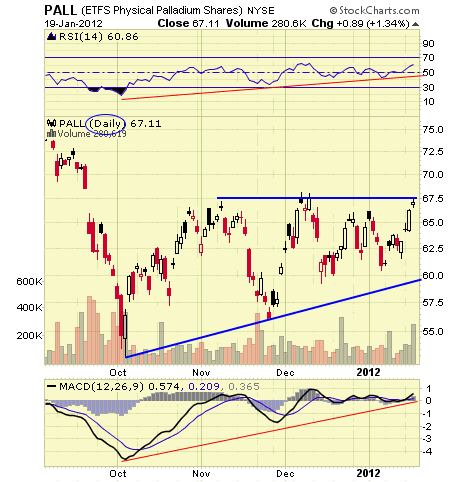 PALL has steadily been rising and it's approaching a prior resistance level. Any breakout from here and the path of least resistance will be higher. Why is the path of least resistance higher? There hasn't been any recent buying up above this price level for many months, where holders of PALL might have been looking to sell and get their losses back. That would have been potential supply that demand would have to absorb, putting pressure on price. There has been strong demand, and that can be seen by the rising trendline off the lows in October 2011.
This pattern of a horizontal resistance level and a rising trendline is known as an "Ascending Triangle". All of the demand in this ascending triangle pattern should offer strong support after a breakout. Any supply above this price level is likely to initially be profit taking, or short sellers looking for a high price to average down. This might cause a throwback to the breakout point, enticing short sellers, but without a catalyst to bring in further supply, it usually doesn't last for long when demand has been so strong.
The RSI indicator and the MACD oscillator have both been showing increasing momentum within this pricing pattern, and this can lead to a strong breakout. I want to see the breakout on confirming volume before committing to a position.
When you compare the chart in palladium to both gold and silver you can see that both the SPDR Gold Trust (NYSEArca:GLD) and iShares Silver Trust (NYSEArca:SLV) made another low in December I marked with blue ovals, and are not near their highs they made in November that I drew with a blue trend line. PALL is showing "relative strength" among the precious metals. The fastest horse doesn't always win the race, but it's a good idea to keep betting on them.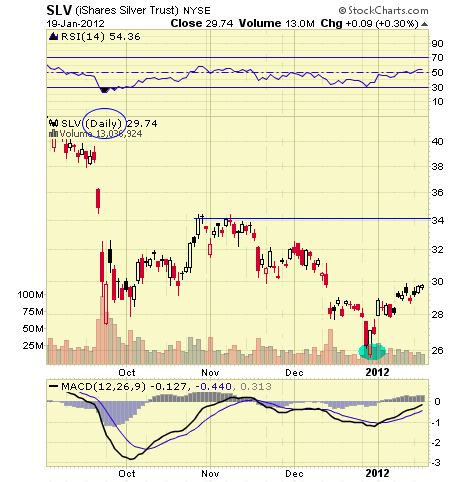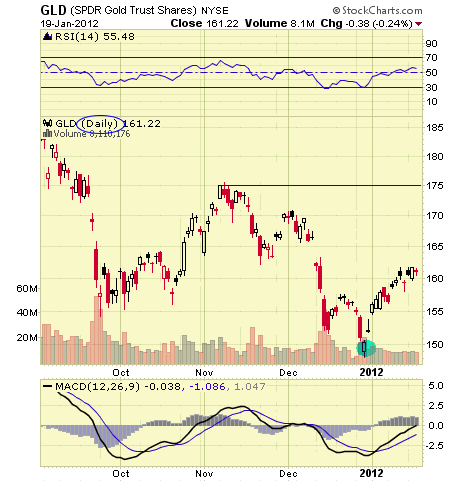 In full disclosure, I have no position in PALL at this time.
Related: Physical Platinum Shares Fund (NYSEArca:PPLT), ETFS White Metals Basket Trust (NYSEArca:WITE).
Written By Scott Pluschau From ETF Digest
Scott was a financial advisor with Citi. His technical analysis  report was recently featured by Dr. Marc Faber on the Nasdaq Composite  Index in his June 1, 2011 Gloom Boom & Doom report. Scott earned his  degree in Accounting and Taxation from Pace University. He lives in  Long Island with his wife Ilona, daughter Olivia and new baby Henry.
ETF Digest writes a subscription newsletter focused on technical analysis of exchange-traded funds.  ETF Digest was founded in 2001 and was among the very first to see the  need for a publication that provided  individual investors with  information and advice on ETF investing.   Even if you're not a fan of chart analysis, ETF Digest provides insight  and commentary into which global markets are "working" and why.