The VIX (NYSEArca:VXX) recently hit its lowest level since July 2011.
Hedge fund S&P 500 (NYSEArca:SPY) optimism is the highest since July 2011.
Put/Call ratios five day average was recently the lowest since July 2011.
Extreme levels of optimism can be a contrary indicator for asset prices. A logical question is how did July 2011 investors make out?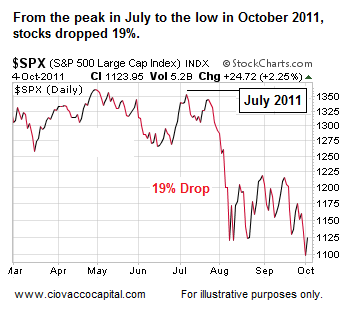 A few more nuggets from the video – newsletter writers have the highest level of optimism since April 2011.  How did that work out?  Not well – the 2011 market peak was made on April 28.  Mutual fund managers are more bullish on stocks (NYSEArca:SSO) today than anytime since April 2010; the S&P 500 (NYSEArca:SH) dropped 17% from the April 2010 highs to the July 2010 lows. The full video from TrimTabs is below – notice the reference to what is driving the markets at the 2:43 mark (hint: money printing).
After you click play, use the button in the lower-right corner of the video player to view in full-screen mode. Hit Esc to exit full-screen mode.

Written By Chris Ciovacco From Ciovacco Capital Management, LLC
Chris Ciovacco began his investment career with Morgan Stanley in Atlanta in 1994. With a focus on global macro investing, Chris uses both fundamental and technical analysis to assist in managing risk while looking for growth opportunities around the globe in all asset classes. If you are looking for an independent money manager or financial advisor, Ciovacco Capital is worth a look. Chris graduated from Georgia Tech with Highest Honors earning a degree in Industrial and Systems Engineering in 1990. His experience in the professional ranks began in 1985 as he began working as a co-op for IBM in Atlanta.
Ciovacco Capital Management, LLC (CCM) is an independent money management firm serving clients nationwide. By utilizing extensive research, disciplined risk management techniques, and a globally diversified approach, CCM prudently manages investments for individuals and business owners. Our focus is on principal protection and purchasing  power preservation in an ever-changing global investment climate.