more than follow the overall market trend.
The S&P 500 is showing signs of exhaustion in its rally from December. All of the major tech sector ETFs are overbought, more so than the S&P 500 ETF (NYSEArca:SPY).
You can't look at tech without looking at Apple. Technology Select Sector SPDR (NYSEArca:XLK), iShares DJ U.S. Tech Sector ETF (NYSEArca:IYW), and Nasdaq 100 ETF (NASDAQ:QQQ) are weighted 15.7%, 17.7% and 15.3% respectively in Apple (NASDAQ:AAPL). Yes, The Nasdaq 100 ETF (NASDAQ:QQQ) is that heavily weighted in AAPL, and nine of its top ten holdings are in the tech sector. Therefore, it behooves us to take a quick look at AAPL before we get into our tech sector ETF.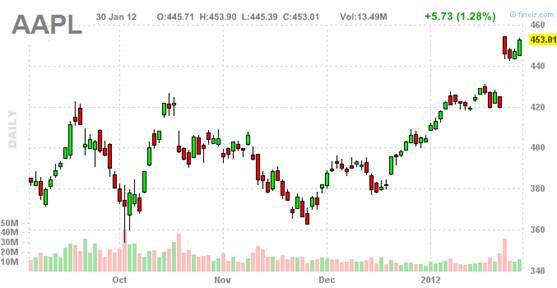 Most noteworthy is AAPL recently reported a stellar quarter and experienced a gap up overnight from $420 to $450. However, it hasn't gained a new high since and is looking back on a significant gap. We saw this same gap up in October which was followed by selling. Additionally, AAPL is at the upper trend line resistance and 0.32% from the 52 week high resistance. With diminished volume, a breakout above these resistance levels is unlikely.
SPDR Technology Select Sector (NYSEArca:XLK) is the most highly traded of the tech sector ETFs.
The "top holdings" listed in the table above comprise of almost half of the holdings in XLK. All of these companies had their earnings report from January 19th to the 26th. Meaning there's little left in XLK for a fundamental upside surprise.  [Apple (NASDAQ:AAPL), IBM (NYSE:IBM), Microsoft (NASDAQ:MSFT), AT&T (NYSE:T), Google (NASDAQ:GOOG), Intel (NASDAQ:INTC)]
Turning to XLK's performance, its past month's gains were only slight more than its entire year's gain. Looking at the major sectors of tech, financials, energy, consumer and materials tech is the most overbought with the exception of materials (largely due to swings in precious metals). Tech is due for a pullback.
Nothing tells the story of supply and demand better than the Money Flow Index. Demand through January for XLK was at exceedingly high levels, however declining over the past several trading sessions. Other indicators confirm the declining demands: the RSI hit its previous high before the August selloff and has begun to retreat. Stochastics are rolling over from an extended overbought period. The MACD signal line is about to make a bearish crossover and the histogram looks to be heading into negative territory. Our +/- directional Indicator at the bottom of the chart shows positive direction has rolled over from a high and negative direction has just turned upward.
Everything on this chart shows a tiring trend about to decline. The question is, how far?
We have an ascending triangle formation by the upper and lower trend lines. Generally, this indicates less and less sellers as the lower trend line ascends and is typically a bullish pattern. From the lows in August, the lower trend line was established by the late September low. That lower trend line was tested again at the December low and proved true. On the upper trend line established from the July highs we have only had one major test at the October highs.
Although, price may appear to have broken out of the ascending triangle pattern, we may not have a true breakout but rather an over extension based entirely on AAPL's earnings. The pattern is still wide and typically would have another test of the lower trend line before a true breakout. Additionally, a true break would not have an array of declining indicators.
So, to answer the question of "how far?" a retest of the lower trend line would likely be just north of $25.25 (based on trend line trajectory and rate of change). That price level would also have the support of the 200 day moving average. A bounce off the lower trend line could spring XLK into a true breakout of the $26.50 level.
XLK isn't far away from its pre-crash, October '07 high of $28. If anything is going to go into new realms of an all time high, it will be tech. Keep your eye on Apple. As Apple goes, so goes tech.
Disclosure: I currently have no position in XLK.
Written By David Gillie For The ETF Digest
ETF Digest writes a subscription newsletter focused on technical   analysis of exchange-traded funds.  ETF Digest was founded in 2001 and   was among the very first to see the  need for a publication that   provided individual investors with  information and advice on ETF investing.  Even if you're not a fan of  chart analysis, ETF Digest   provides insight and commentary into which  global markets are  "working"  and why.