than 14.74.  As of February 7, 2012 the XLF closed at 14.66 and traded as high as 14.71.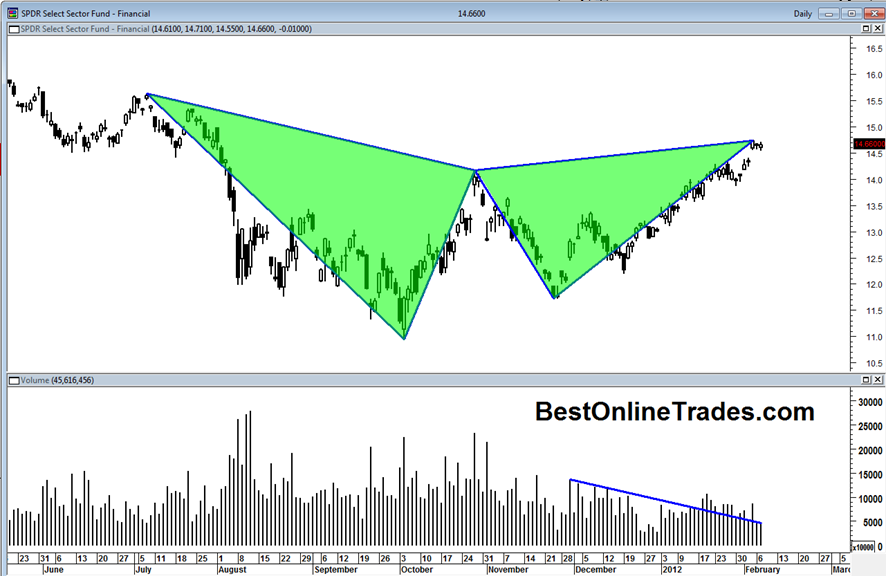 Note the declining volume trend that coincides with the right portion of the pattern.  This supports the case of the pattern being valid.
Currently the other market indices are trading higher with dramatic low volatility momentum and moving into extreme overbought territory.  Sometimes the selling out of gartley bearish butterfly patterns can be very dramatic and very fast.  Ideally heavy selling would begin to occur at the latest by the end of this week, otherwise we might have to conclude that the above gartley sell pattern is not going to be valid at this time.
Related: Financial Sector ETF (NYSEArca:XLF), Direxion Daily Financial Bull 3X Shares ETF (NYSEArca:FAS),  ProShares UltraShort Financials ETF (NYSEArca:SKF),  Direxion Daily Financial Bear 3X Shares ETF (NYSEArca:FAZ), ProShares Ultra Financials (NYSEArca:UYG).
Written By Thomas Carreno From Best Online Trades
I started
Best Online Trades
because I really enjoy trading and I also enjoy writing about trading. Writing about trading or trading strategies helps transfer thoughts that would otherwise stay in 'theory' and helps move them to more concrete form for me. And hopefully along the way you will pick up something useful as well. 
BestOnlineTrades
covers many different aspects of trading, from commodities to stocks, from indices to ETF's.