financial services, and pharmaceutical industries to become one of the richest Asian nations. In GDP per capita terms, Singapore ranks either 3rd or 4th wealthiest in the world (depending on whom you ask) behind Qatar and Luxembourg.
It's registered steady – if not explosive – growth over the last decade, rising steadily from a GDP of $91 billion in 2001 to 2010's impressive $208 billion, although it did reach an almost unprecedented 14.4% growth rate from 2009 to 2010. Because of its lack of natural resources, further growth in Singapore will hinge on how quickly the global economy recovers. Growth projections for 2012 range from 1-3% and will rely heavily on how the Eurozone performs.
There are two ETFs focused on Singapore: the popular iShares MSCI Singapore Index Fund (NYSEARCA:EWS), with $1.55 billion in net assets and an average daily volume of 1.8 million; and the newer, less-popular Small-Cap variation, the iShares MSCI Singapore Small-Cap Index Fund, which has net assets of just $2.96 million and a measly average daily volume of 1475 shares per day. This article will focus on EWS.
According to iShares, EWS "seeks to provide investment results that correspond generally to the price and yield performance, before fees and expenses, of publicly traded securities in the Singaporean equity market, as measured by the MSCI Singapore Index."
As previously mentioned, Singapore is something a of a regional banking and finance hub, so it should come as little surprise that the fund is very heavily concentrated in Financials with a 45.27% allocation, followed by Industrials (25.87%) and Telecommunications (11.38%). EWS is also heavily concentrated with regards to individual companies, with its ten highest holdings accounting for 64% of the fund. Its top three holdings are DBS Group Holdings LTD (10.77%), Singapore Telecom LTD (10.66%), and United Overseas Bank (9.56%). It should also be noted the country also has a large and busy harbor which serves as a central transit point for shipping traffic for the region's exporting internationally.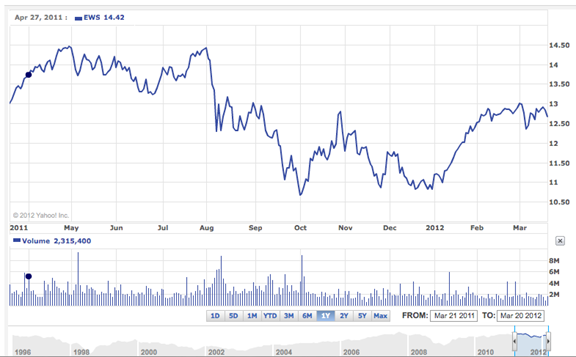 At $12.70 EWS is down nearly $2.00 from its 52 week high of $14.61, but year-to-date has made some strong gains.
Written By David Fry From ETF Digest
David is founder and publisher of ETF Digest and best selling book author of Create Your Own ETF Hedge Fund, A DIY Strategy for Private Wealth Management published by Wiley Finance in 2008.  In July of  2009, Fry was named in the ETF Hall of Fame as one of the Top 25  people who revolutionized the ETF industry and guided ETF investing from its conception to widespread acceptance among all breeds of investors. Fry founded the ETF Digest in 2001 and was among the very first to see the need for an online publication that provided  individual investors and financial professionals with trading tools, market information and actionable advice on ETF investing. ETF  Digest was recently ranked 9th in the Top 100 ETF websites from Alexa on exchange traded funds. Dave Fry has devoted over 35 years to the business of trading and  portfolio management. He is registered as an  arbitrator with the  Financial Industry Regulatory Authority (FINRA)  and the National Futures Association (NFA).