to be a seriously overlooked problem, its ticker symbol. After kicking the can down the road for what must have been countless meetings and conference calls, the marketing and PR people can finally claim a small victory now that Banco Santander has indicated it will change the NYSE ticker symbol of its American Depositary Shares from "STD" to "SAN" effective at the commencement of trading on June 14, 2012.
In the meantime, traders continue to favor STD puts and puts from Spain's second largest bank, Banco Bilbao Vizcaya Argentaria (NYSE:BBVA), both of which have a more liquid options market than that of Spain's ETF (NYSEARCA:EWP).
The top chart below shows put activity (red columns in bottom section of graph) ramping up in STD over the course of the last two weeks or so. The lower chart, however, puts recent options activity in the context of the August-October peak in the sovereign debt crisis, with a graphic that dates from July 1, 2011 and shows peak put activity (28.791 contracts per day) and implied volatility (111) dating from the week of August 4 – August 11, 2012.
As far as options traders are concerned, the current situation, while fraught with potential land mines, still pales in comparison to the challenges on the horizon six months ago.
Of course a new ticker won't help address the underlying problems facing Banco Santander and Spain as a whole, but at least it might cut down on the snickers…
[VIX and More occasionally tilts at humor.  For more on these efforts, check out posts with the "lighter side" label.]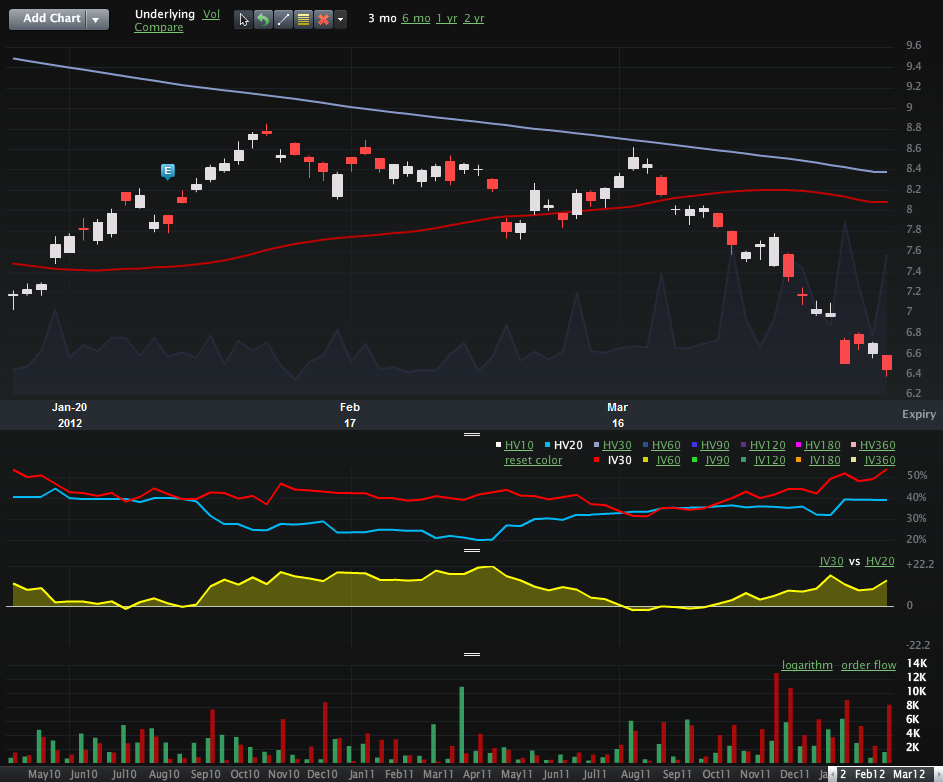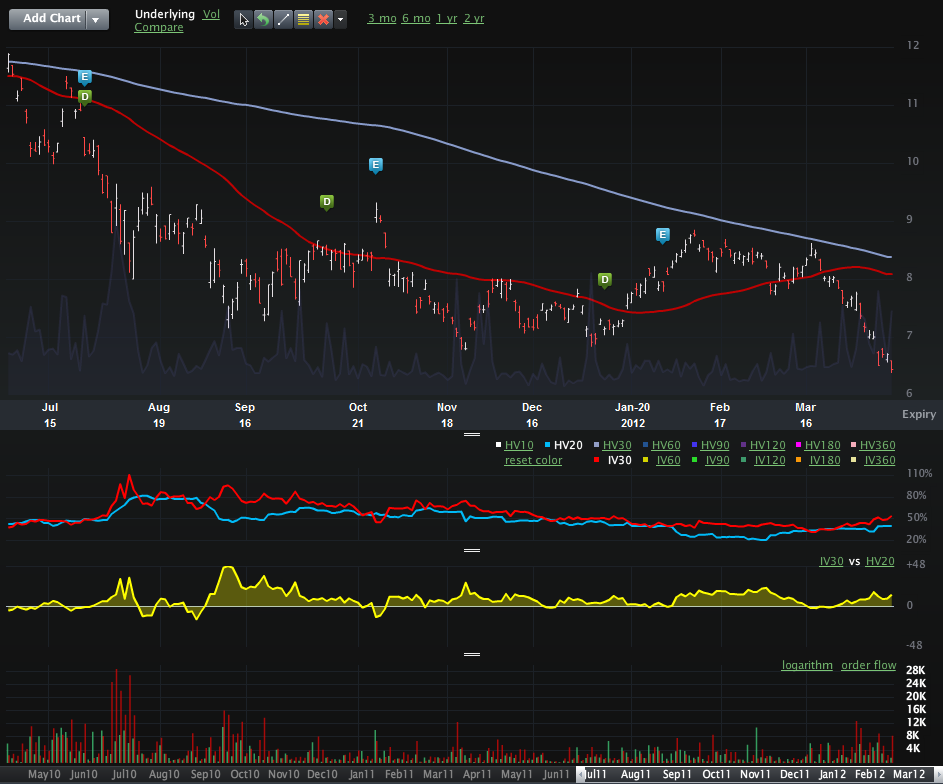 [source(s): LivevolPro.com]
Disclosure(s): short STD and BBVA at time of writing
Written By Bill Luby From The VIX and More   
Bill is a private investor who also authors the VIX and More (http://vixandmore.blogspot.com/) blog and an investment newsletter from just north of San Francisco.  His  research and trading interests focus on volatility, market sentiment, technical analysis, and ETFs. Prior to becoming a full-time  investor, Bill was a businessstrategy consultant for two decades and advised clients across a broad range of industries on issues such as strategy  formulation, strategy implementation, and metrics. When not trading or blogging, he can often be found running, hiking, and kayaking in Northern California.  Bill  has a BA from Stanford University and an MBA from Carnegie-Mellon University.