For China the culprit was Q1 GDP growth of only 8.1%, which was down from 8.9% in Q4 2011 and well short of the 9.0% whisper number that made the rounds in the day leading up to Friday's announcement. In fact, once could certainly argue that it was China's GDP whisper number that was the main catalyst for Thursday's big rally that was essentially reversed on Friday.
The chart of the week below shows the performance of SPDR S&P 500 ETF (NYSEARCA:SPY) as well as country ETFs for Spain (NYSEARCA:EWP), Italy (NYSEARCA:EWI) and China (NYSEARCA:FXI) since stocks put in a top two weeks ago tomorrow. The chart shows that while SPY has been declining, country ETFs for Spain and Italy have been falling approximately three times as quickly as their American counterparts. And China? Well, don't blame China for the woes in the U.S. stock market. While U.S. stocks have been selling off, the performance of the popular iShares FTSE/Xinhua China 25 Index, FXI, has managed to post a 0.9% gain.
[As a side note, about a year ago I discontinued the Chart of the Week, an extremely popular feature in this space since its launch in 2008, as my posting had become sporadic. Going forward I hope to be able to continue my recent regular posting and make this a weekly feature that not only shines a light on key developments of the past week, but also has some archival value as well.]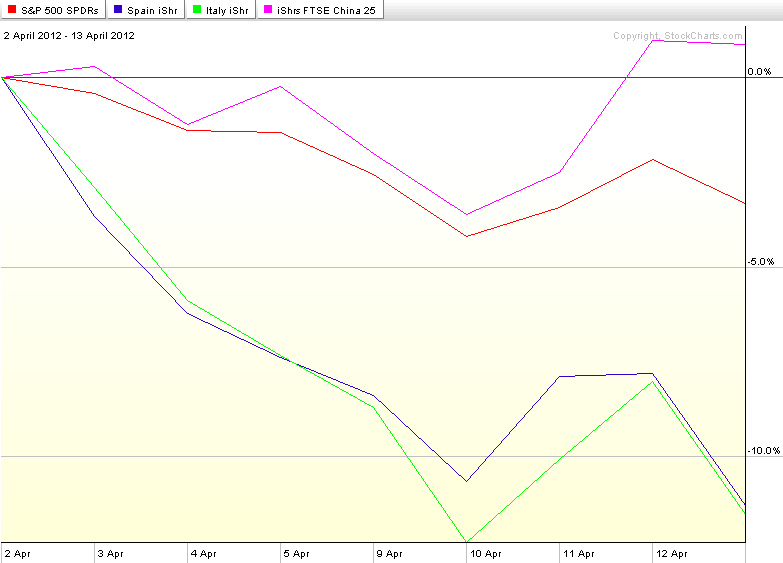 [source(s): StockCharts.com]
Disclosure(s): none
Written By Bill Luby From The VIX and More   
Bill is a private investor who also authors the VIX and More (http://vixandmore.blogspot.com/) blog and an investment newsletter from just north of San Francisco.  His  research and trading interests focus on volatility, market sentiment, technical analysis, and ETFs. Prior to becoming a full-time  investor, Bill was a businessstrategy consultant for two decades and advised clients across a broad range of industries on issues such as strategy  formulation, strategy implementation, and metrics. When not trading or blogging, he can often be found running, hiking, and kayaking in Northern California.  Bill  has a BA from Stanford University and an MBA from Carnegie-Mellon University.