Below is a summary table of the similar markets study described below. We found eighty-one weekly cases with similar historical profiles to the present market. Looking out eight to twelve months, in 89%-91% of the historical cases, the S&P (NYSEARCA:SPY) was higher with an average gain between 10.38% (eight months) and 24.57% (twelve months). The risk-reward ratios were favorable looking out on all time horizons, but especially so between three and twelve months.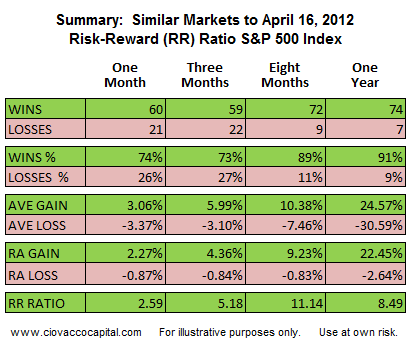 The SMM compares current daily, weekly, and monthly 80-20 Correction Index values with historical values. The model also identifies periods with similar Bull Market Sustainability Index (BMSI) readings. We ran the model early this morning. The results lean toward favorable outcomes over the next 12 to 36 months.
The periods that were most frequent in terms of similarity to the present day clustered in 1991-1993 and 2004-2006. As shown below, both periods offered very favorable long-term results for investors.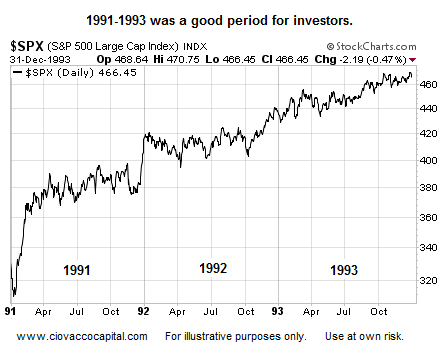 We are collecting data for all the periods identified in order to calculate risk-reward ratios for markets similar to what we have today. We will post the results when they are available on Short Takes.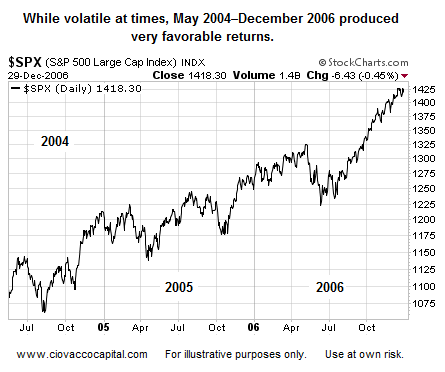 It should be noted that mid-October 1987 was identified as one of the similar periods. The '87 crash began on October 5 with a bottom coming on October 19. From a longer-term perspective, October 19 was a good day to invest, but October 5 was a terrible day to commit new capital.
If the situation in Europe (NYSEARCA:VGK) can resolve itself in a somewhat orderly manner, it is reasonable to believe in a more favorable environment since Europe (NYSEARCA:IEV) has been a drag on the markets for over two years. If the situation in Europe unravels again, it is very difficult to envision bullish outcomes.
Written By Chris Ciovacco From Ciovacco Capital Management, LLC
Chris Ciovacco began his investment career with Morgan Stanley in Atlanta in 1994. With a focus on global macro investing, Chris uses both fundamental and technical analysis to assist in managing risk while looking for growth opportunities around the globe in all asset classes. If you are looking for an independent money manager or financial advisor, Ciovacco Capital is worth a look. Chris graduated from Georgia Tech with Highest Honors earning a degree in Industrial and Systems Engineering in 1990. His experience in the professional ranks began in 1985 as he began working as a co-op for IBM in Atlanta.
Ciovacco Capital Management, LLC (CCM) is an independent money management firm serving clients nationwide. By utilizing extensive research, disciplined risk management techniques, and a globally diversified approach, CCM prudently manages investments for individuals and businessowners. Our focus is on principal protection and purchasing  power preservation in an ever-changing global investment climate.