down when deflationary/default fears pick up, commodities offer a good way to monitor the health of the markets.
Selling in May has worked quite well the last two years. Therefore, a comparison of 2012 to the past two years is a worthwhile exercise. The chart below shows a weekly chart of the S&P 500 (NYSEARCA:SPY) (top portion) and commodities (CRB Index) in the middle. The orange arrows point out the peaks in 2010 and 2011. The red vertical lines allow us to compare the S&P 500, CRB Index, and the two technical indicators, MACD and RSI. Detailed remarks can be found below the chart relative to the other notations.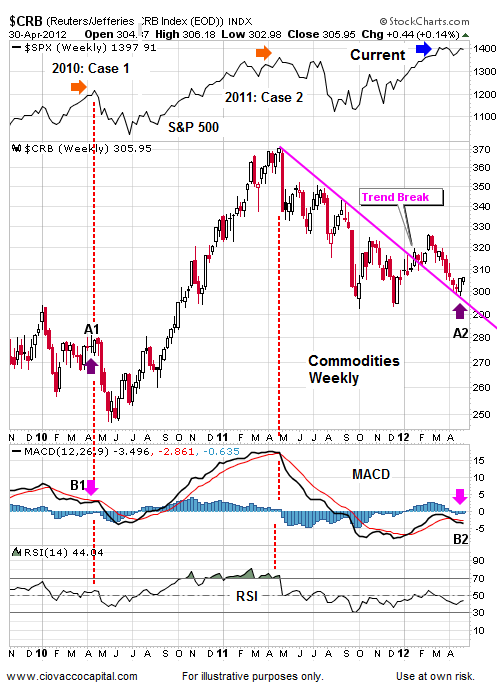 The main takeaways from the chart above:
Using MACD and RSI, 2010 appears to be much more similar to the present day than 2011.
The two candlestick formations above the purple arrows (near A1 and A2) have a similar "bullish engulfing" look. The pattern was a head fake for commodities in 2010, which is something we need to be mindful of in 2012.
In 2010, MACD failed to experience a bullish cross (near B1/pink arrow), which occurs when the black line moves above the red line. Therefore, if we experience a bullish MACD cross in 2012, it would be a good sign for risk assets. MACD at B2/2012 still looks similar to B1/2010, which is a yellow flag for risk in the present day.
A good way to use RSI is any move above 57 during the week is a bullish signal – a weekly close over 55 is also bullish. Anything below those figures is worthy of some skepticism. RSI, as of Monday's close, sat at 44 or still in neutral territory.
The recent break above the pink trendline by the CRB Index and the subsequent support shown by the same trendline gives the commodity bulls some hope.
Based on our market models, the bulls remain in control, but they look vulnerable. Numerous weekly charts have weak MACDs, an indication of slowing momentum. There is nothing wrong with a MACD slowdown, but the margin for error to reach more concerning MACD levels is somewhat thin. [Related: S&P 500 Index (INDEXSP:.INX)]
Written By Chris Ciovacco From Ciovacco Capital Management, LLC
Chris Ciovacco began his investment career with Morgan Stanley in Atlanta in 1994. With a focus on global macro investing, Chris uses both fundamental and technical analysis to assist in managing risk while looking for growth opportunities around the globe in all asset classes. If you are looking for an independent money manager or financial advisor, Ciovacco Capital is worth a look. Chris graduated from Georgia Tech with Highest Honors earning a degree in Industrial and Systems Engineering in 1990. His experience in the professional ranks began in 1985 as he began working as a co-op for IBM in Atlanta.
Ciovacco Capital Management, LLC (CCM) is an independent money management firm serving clients nationwide. By utilizing extensive research, disciplined risk management techniques, and a globally diversified approach, CCM prudently manages investments for individuals and businessowners. Our focus is on principal protection and purchasing  power preservation in an ever-changing global investment climate.