weakness followed three weeks later (see B). Technology stocks have seen renewed weakness since early September (see C), which may foreshadow a stock market correction (price moving toward D).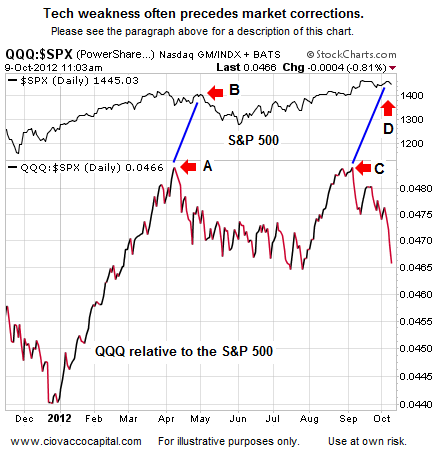 Apple Shares and Quality Taking A Hit
Apple has been the darling of the technology sector, but has struggled recently. From Breakout:
Shares of Apple (NASDAQ:AAPL) are under pressure again today, now down nearly 9% from its intraday high of $705.07 on September 21 —the day the iPhone 5 went on sale. The largest stock in the world is now more than 3% below its 50-day moving average of $658, despite more leaks about an iPad mini.
From a fundamental perspective, Apple may have a tough time sustaining what has been outstanding product momentum. Some question if the trend can continue without Steve Jobs. From ZDNet:
Content producer Jeanne Wong said Apple seems to be "very vulnerable" without Jobs. "It's like all the other companies become bolder to attack Apple," she said, pointing to the Apple-Samsung legal war which was "brewing before but is now a full-on battle". Wong added that the quality of Apple products seem to have dropped since iPhone 4S and "iPhone 5 just sounded terrible". "Previously with Jobs, you won't hear such bad malfunctions going on like Maps. Jobs always had really strict quality control and now that seems to be missing," she said. "People are still buying because the fever is still on but with competitors stepping up, Apple is going to need to buck up. How can they launch products when there are so many kinks to iron out?" Wong added.
Tech Shorts vs. Long Stocks
If we knew the market was on the verge of a correction, it is logical that we would prefer to be short rather than long (own stocks). If short ETFs, such as PSQ, are gaining strength relative to the S&P 500, it tells us the odds of a correction are increasing.
Although the chart below looks complex, the concepts are easy to understand if we review them in isolation. When the ratio of short tech (NYSEARCA:PSQ) to the S&P 500 is rising, shorts are gaining strength relative to the general market. After point F below, the S&P 500 dropped 108 points. Point F coincided with a bullish trend change for PSQ relative to the S&P 500. Step one for a bullish change in trend is the violation of a trendline (see above 1A). Step two requires a higher low (see 2A). Step three takes place when a higher high is made (to the right of 3A). Unfortunately for the bulls, the ratio of PSQ/S&P 500 is once again trying to complete the same three steps (see 1B, 2B, and 3B).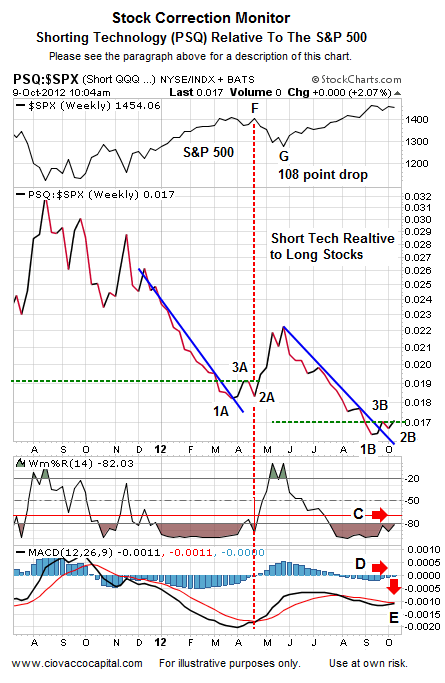 Bearish Signals To Monitor
The odds of a stock market correction will increase if four things happen this week on the ratio chart above:
The ratio completes step 3B by making a higher high, or moving above the dotted-green line.
Williams %R, or momentum, clears the red line at point C.
MACD Histogram (blue bars) breaks into positive territory near D.
MACD experiences a bullish crossover (black > red above E).
The PSQ/S&P 500 chart above is a weekly chart and is as of 10 AM EDT Tuesday. Intraweek moves are less important than how the chart looks as of Friday's close. A weekly chart can "repair" itself during the week.
Correction Likely To Be Followed By Higher Highs
While there are numerous yellow flags waving for risk assets currently, red flags signaling a major stock market top are not in place. The video below covers longer-term trends that still point to reflation-induced higher highs before year-end:
Market breadth confirmed the recent highs (1:29 mark).
The ratio of SPY/SH remains in a bullish trend (6:19 mark).
Silver's performance relative to bonds points to fears of inflation (10:30 mark).
Stocks have performed well relative to the VIX (15:38 mark).
The stock (NYSEARCA:SPY) / bond (NYSEARCA:TLT) ratio remained healthy as of October 5.
Keep in mind, the charts in the video below are as of the close on Friday, October 5. Even in the face of "risk-off" this week, the video can provide valuable "what to look for" information.
After you click play, use the button in the lower-right corner of the video player to view in full-screen mode. Hit Esc to exit full-screen mode.


We entered this week with an above-average cash position. Should the yellow flags continue to warn of a possible multi-week correction, we are more apt to hedge our long positions vs. running for the exits at full speed. One possible defensive chess move is to use PSQ as a correction hedge.
Written By Chris Ciovacco From Ciovacco Capital Management, LLC
Chris Ciovacco began his investment career with Morgan Stanley in Atlanta in 1994. With a focus on global macro investing, Chris uses both fundamental and technical analysis to assist in managing risk while looking for growth opportunities around the globe in all asset classes. If you are looking for an independent money manager or financial advisor, Ciovacco Capital is worth a look. Chris graduated from Georgia Tech with Highest Honors earning a degree in Industrial and Systems Engineering in 1990. His experience in the professional ranks began in 1985 as he began working as a co-op for IBM in Atlanta.
Ciovacco Capital Management, LLC (CCM) is an independent money management firm serving clients nationwide. By utilizing extensive research, disciplined risk management techniques, and a globally diversified approach, CCM prudently manages investments for individuals and businessowners. Our focus is on principal protection and purchasing  power preservation in an ever-changing global investment climate.