and silver, it seems that it was really the case.
Before moving on to the silver market and its technical details, let's discuss the idea of verifying if gold held in New York is as pure as it should be.
Recently, Germany's federal auditor has told the Bundesbank to do spot checks to ensure the world's second-largest gold reserves really are safe in vaults in New York, London and Paris. Germany holds much of its 3,400 tons of pure gold – worth an estimated 143 billion euros (US$187 billion) – with partner central banks abroad. There have been conspiracy theories and rumors claiming that Germany's gold bars may have been stolen or replaced.
Initially, the Bundesbank rejected the demand, arguing, "The scope of the checks that [the federal court of auditors] wants does not correspond to the usual practices among central banks. …There are no doubts about the integrity and the reputation of these foreign depositories."
The Bundesbank has now agreed to fly 50 tons of the deposited gold from New York back to Germany every year where it will be melted down to test the overall purity before being re-cast into standard gold bars.
That sounds like a very reasonable thing to do, until you realize that it could be the best way to access otherwise virtually inaccessible gold bars. During the transport, melting and re-casting processes the overall purity could drop due to "technical reasons". Of course there is no proof that this would be used by the Powers That Be…
Some two-thirds of Germany's gold reserves, worth $190 billion, are being kept in the vaults of the U.S. Federal Reserve, the Bank of France and the Bank of England since post-World War II, when Germany was concerned about a possible land war with the former Soviet Bloc.
One wonders if Germany's move to repatriate its gold reserves might make the financial markets even more nervous about the fate of the Euro. Is the Bundesbank telling us what we already know – that gold and silver are real money?
You do have some physical gold and silver as suggested in our portfolio structure report, right?
Let's now move on to today's technical part, which is dedicated entirely to silver and silver mining stocks, as we believe that these markets (especially the latter) provide exceptional investment opportunities – we have already mentioned that in the last week's essay. We'll start with the iShares Silver Trust (NYSEARCA:SLV) short-term chart (charts courtesy by http://stockcharts.com.)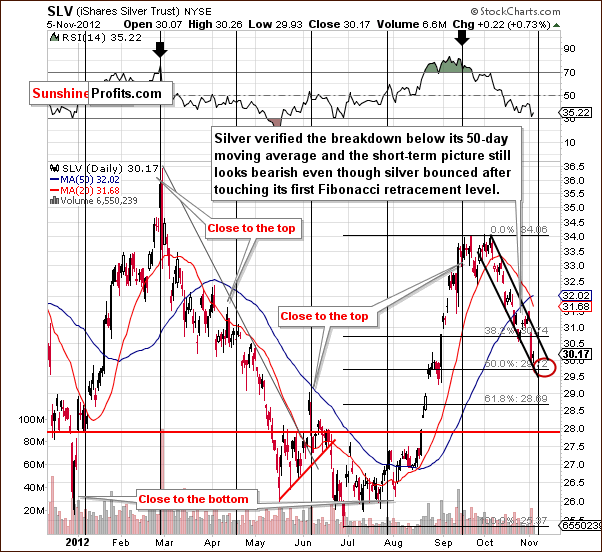 In the short-term SLV ETF chart, we have illustrated a declining trend channel. The declining resistance line has not been broken last week, and the target area remains unchanged. There is one significant difference, however.
We have fine-tuned the cyclical turning points to better correspond to recent tops and bottoms. It seems likely that this will improve the accuracy of future market calls and we should begin to see the fruits of our labor in a week or so, as this is where the next cyclical turning point is located.
So, have we just seen a bottom in silver? Most likely yes. Silver was about to move higher due to the cyclical turning point. It also reached our target area, so we believe it's now ready to rally once again.
Now, let's have a look at the white metal from the non-USD perspective to see whether the significant drop in silver's price that took place on Friday is visible in other currencies than the U.S. dollar. It is a non-USD silver chart, meaning a weighted average of silver priced in different currencies, other than the USD – the weights are as in the USD Index, so this charts is similar to the one featuring silver priced in euro.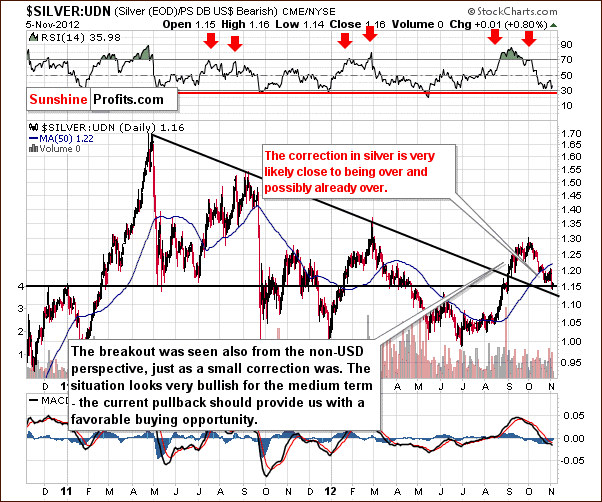 On the above chart, the final bottom also seems to have almost or already been reached. The implications are bullish.
While the decline in the white metal's price was significant indeed, we would like to draw your attention to the silver mining stocks chart, where we'll see that the corresponding decline was not at all that big.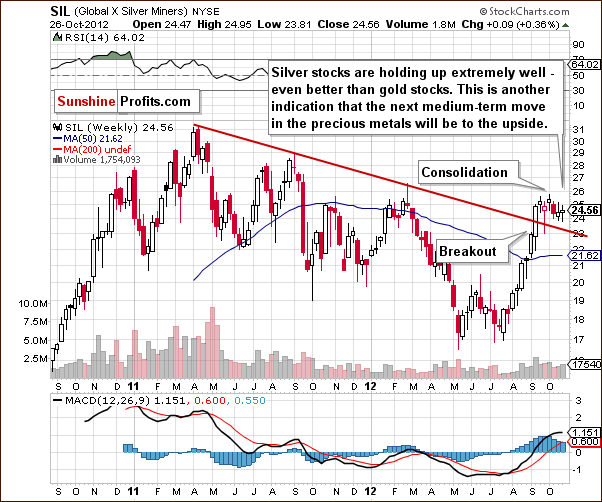 Today we again include the long-term Global X Silver Miners (NYSEARCA:SIL) chart. The rally seen last Wednesday was truly spectacular and so was the lack of decline on Thursday. Moreover, the drop in price on Friday was nowhere near the magnitude of the corresponding move in the underlying metal! This is an important achievement. The silver miners held their gains, being pretty much flat on Thursday when gold miners declined. There is exceptional strength in the silver stocks right now.
Perhaps we are close to the last call for purchasing silver stocks before the huge rally truly begins. While their price levels could move down a bit if gold and silver decline, it will probably be to a minimal degree. It seems that the rally will be significant and it appears too risky to wait for slightly lower prices.
Summing up, the white metal seems to have already bottomed and the rally seems to be just around the corner. Silver mining stocks continue to show exceptional strength and the outlook remains bullish.
In other news, we made the November 2nd, 2012 Market Alert available to you – you can see what our subscribers read 4 days ago. We sent out another Market Alert earlier today, but the above-mentioned one is still mostly up-to-date.
Thank you for reading. Have a great weekend and profitable week!
Related: Physical Silver Shares (NYSEARCA:SIVR), E-TRACS UBS Bloomberg CMCI Silver ETN (NYSEARCA:USV), Ultra Silver Fund (NYSEARCA:AGQ).
Written By Przemyslaw Radomski From Sunshine Profits
Interested in increasing your profits in the PM sector? Want to know which stocks to buy? Would you like to improve your risk/reward ratio? Sunshine Profits provides professional support for precious metals Investors and   Traders.  Apart from weekly Premium Updates and quick Market Alerts, members of the Sunshine Profits' Premium Service gain access to Charts, Tools and Key Principles sections. Click the following link to find out how many benefits this means to you. Naturally, you may browse the 
sample version
 and easily sing-up for a 
free weekly trial
 to see if the Premium Service meets your expectations.