volatility seems to have transpired to the metals market. Gold dived $25 on Wednesday, immediately triggering rumors of misplaced trades or technical errors. The CME Group denied this had been the case and theories of a large player selling gold off in the morning sprung up like mushrooms.
Regardless of what was the case of the drop, one is clear: these are volatile times and the end of November has proved to be no exception. The month ends almost at the same price level where it began, with substantial action along the way. From this picture comes one conclusion which might be reassuring for gold bugs: the beginning of November turned out to be a local bottom.
The (short-term!) slide in October and the mixed developments in November come as no substantial pain to those of you who had decided to implement some of the ideas we had outlined in our essay on gold and silver portfolio structure. With November almost behind us, precious metals investors turn to December with hope of gold regaining its glitter just as the shops are being decorated for Christmas. One thing that could ruin gold investors'€™ good mood is a repeat of what we saw during last December when gold declined approximately $200. Actually, gold trades very close to price levels that it traded at before the December 2011 decline begun.
To find out what might be in store for gold, let'€™s turn to currency charts (charts courtesy of http://stockcharts.com).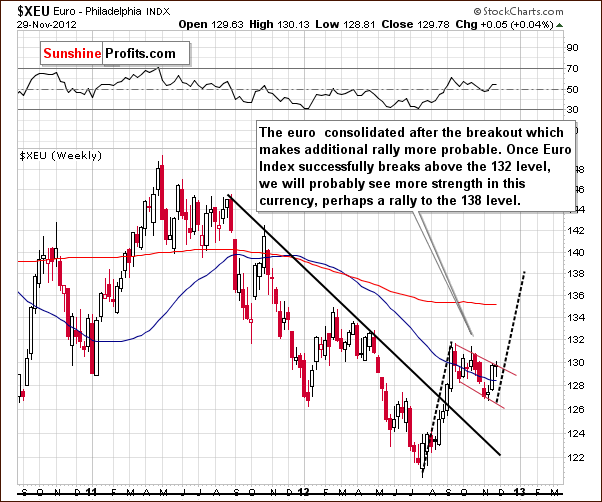 We begin with a look at the long-term Euro Index chart. We do this because the overall situation in the currency markets is much clearer from this perspective. There is a flag pattern seen here following a sharp rally which is also a post-breakout consolidation.
As soon as the euro rallies a bit more, an even bigger rally will likely be seen. While a move to 131 would be significant, we would prefer to see the index surpass the 132 level (September high) before declaring that a significant additional rally is very likely. The flag pattern, a form of consolidation, implies that higher index values are more likely than not.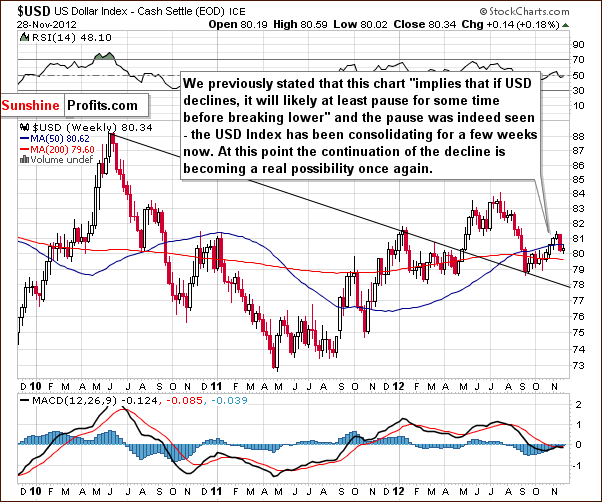 Turning now to the medium-term USD Index chart, a consolidation has been ongoing for over a month, and the index now appears ready to move lower. The decline and consolidation here are a reflection of the upswing and consolidation seen recently in the Euro Index.
All in all, the currency markets are likely to have positive impact on gold in the medium term.
Let's move on to the yellow metal itself -€" this time we decided to provide you with the look at gold from the Japanese yen perspective.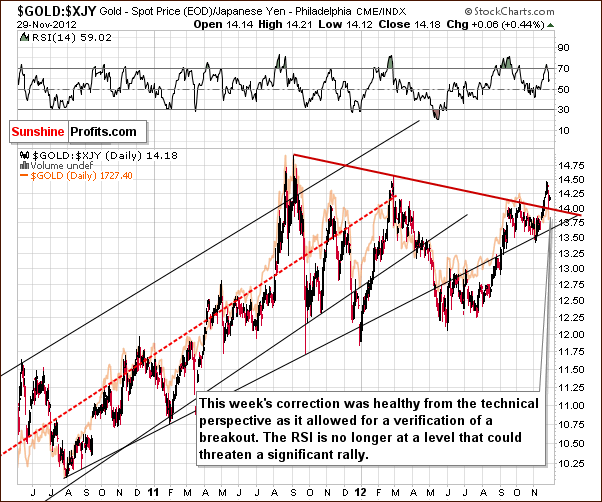 The most interesting thing visible on the above gold chart is that when gold declined recently, it allowed the price in yen to verify a move above its declining resistance line. This breakout was verified, and the RSI is no longer heavily overbought. The situation here is bullish.
Is a major bottom in? The recent signal from the SP Gold Stock Extreme Indicator #2 confirms this theory.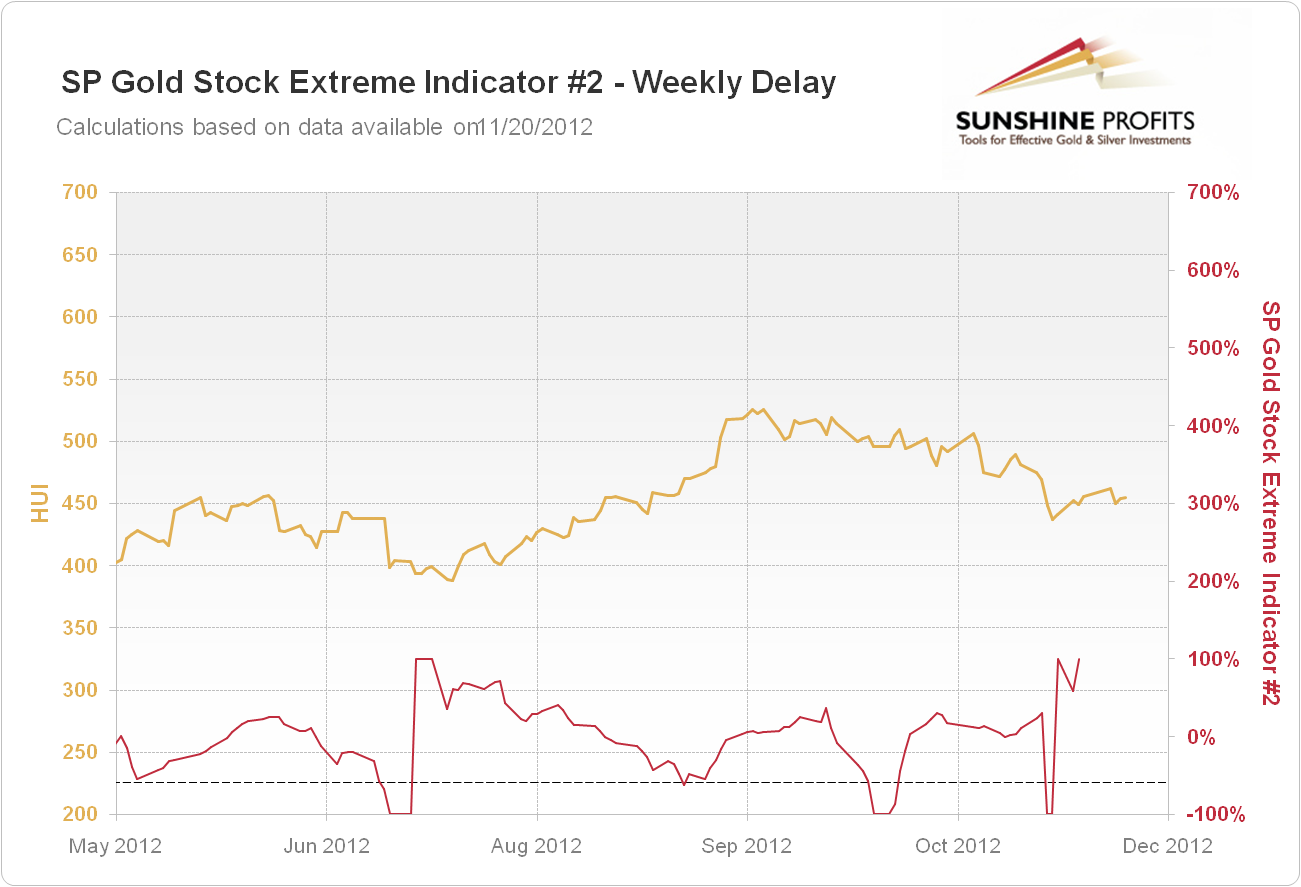 There was a strong buy signal seen earlier this month suggesting that the bottom is in. The rebound was seen and the outlook remains bullish as this indicator suggests at least a 2-week rally in gold, silver and mining stocks. Consequently, the bullish implications are still in place.
Summing up, the long-term Euro Index chart and the medium-term USD Index chart suggest that lower values might be more probable than not for the dollar in the medium term. Along with a bullish picture from the gold in Japanese yen chart, the implications here are medium-term bullish for precious metals.
However, please keep in mind that the short-term trend doesn't have to be aligned with the medium- or long-term one.
In the first part of December 2011 gold plunged more than $150 in just one week. Can you rule out something similar this year? Why test it with your own capital? Our subscribers are protected against such an outcome, while still being exposed to the enormous growth potential of the precious metals sector. How is this possible? Join them, find out, and apply the same strategy yourself.
Again, these are the final days of the one-dollar-for-first-21-days promotion. If you don't like what we offer you can always cancel before the subscription renews. You will also get access to our interactive gold stock and silver stock rankings, our ETF Ranking with over 100 funds, and you will receive Premium Updates and Market Alerts.
Important: here's what we promised in today's Premium Update:
As we like to over-deliver in our promises, we decided to keep sending you Market Alerts on daily basis at least until the end of December with the exception of Fridays, when Premium Updates are posted (we will issue an alert if what we wrote in the update becomes outdated on the same day it is posted, though).
Let's face it, if gold plunges here and your investments plunge as well, you will regret not investing $1 and less than a minute of your time to get to know our protection mechanism. Our $1 offer is about to expire – don't let that happen. This is the red-alert time of the year. Act now.
Related Tickers: Market Vectors Gold Miners ETF (NYSEARCA:GDX), SPDR Gold Trust (NYSEARCA:GLD), Goldcorp Inc. (NYSE:GG), Barrick Gold Corporation (NYSE:ABX), Kinross Gold (NYSE:KGC),  Yamana Gold (NYSE:AUY).
Thank you for reading. Have a great weekend and profitable week!
Written By Przemyslaw Radomski, CFA (PR) From Sunshine Profits
Przemyslaw Radomski, CFA (PR) is a precious metals investor and analyst who takes advantage of the emotionality on the markets, and invites you to do the same. His company, Sunshine Profits, publishes analytical software that anyone can use in order to get an accurate and unbiased view on the current situation. Recognizing that predicting market behavior with 100% accuracy is a problem that may never be solved, PR has changed the world of trading and investing by enabling individuals to get easy access to the level of analysis that was once available only to institutions.
High quality and profitability of analytical tools available at www.SunshineProfits.com are results of time, thorough research and testing on PR's own capital. PR believes that the greatest potential is currently in the precious metals sector. For that reason it is his main point of interest to help you make the most of that potential. As a CFA charterholder, Przemyslaw Radomski shares the highest standards for professional excellence and ethics for the ultimate benefit of society.