in the previously deadlocked negotiations:
While the White House objected to major parts of the proposal, senior Democrats described it as a tipping point that moves talks away from deadlock. Instead, it cleared the way for both sides to engage in nitty-gritty haggling over exactly where the new income threshold might be set and what should comprise the spending cuts.
The S&P 500 Index (INDEXSP:.INX) tacked on 16 points and closed near the high for the day. Investors and traders have been waiting for signs the stalemate in Washington was moving toward a framework for compromise. The Wall Street journal hinted at just that:
One Democratic official close to the talks described the offer as a "breakthrough" that allows negotiations to proceed. A GOP official, cautioning that no deal was done, said he believed that any agreement would look something like what Mr. Boehner had offered.
Bullish Credit Spreads
The market's shift back to "risk-on" Monday was supported by bullish moves in credit spreads; long-term Treasury bonds (NYSEARCA:TLT) closed near session lows, while "junk bonds" (NYSEARCA:JNK) closed at the high for the day – both support the bullish case. The move away from conservative Treasuries and toward lower-rated bonds signals decreasing fears of a cliff-induced recession.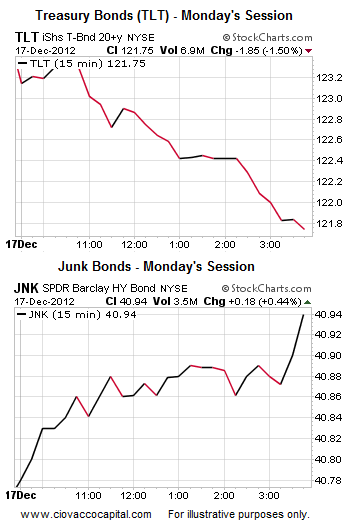 Small Caps & VIX Align With Risk-On
On Monday, small caps and the VIX showed an increasing appetite for risk assets and a reduction in cliff-related fears. Small caps (NYSEARCA:IWM) surged into the close. On the other end of the risk spectrum, the VIX dropped like a rock between 2:00 – 4:00 pm ET. We noted last Friday the performance of stocks relative to bonds was hinting at bullish outcomes. Monday's bullish moves in the credit markets, small caps, and VIX (NYSEARCA:VXX) provide additional support for further upside in stocks from a probabilistic perspective.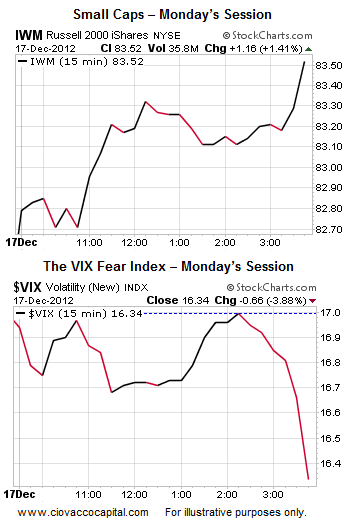 Big Picture Has Bullish Slant
The video below contains analysis of numerous markets, including the Dow, NASDAQ, S&P 500, and German DAX. The big picture, even prior to Monday's gains, continues to favor the bullish camp.
After you click play, use the button in the lower-right corner of the video player to view in full-screen mode. Hit Esc to exit full-screen mode.

Table Set For Cliff Negotiations
Monday's market action reaffirmed the market's obsession with the fiscal cliff. Similar to Wall Street Journal reports on Monday, the Washington Post also hinted at positive and bullish progress in the debt talks:
The speaker's preferred plan is to revise downward the annual inflation adjustment for beneficiaries of federal programs, including Social Security. The White House rejected that formulation, but aides in both parties said Sunday that it has set the table for deeper negotiations between the two sides.
Our approach has been and will continue to be to remain on the long side of the markets as long as the fundamentals and technicals allow. With egos and strong political views intertwined in the process to forge a broad framework to tame the federal debt, the odds of something going wrong must be respected. Therefore, flexibility and contingency plans for bullish and bearish outcomes are a must.
Written By Chris Ciovacco From Ciovacco Capital Management, LLC
Chris Ciovacco began his investment career with Morgan Stanley in Atlanta in 1994. With a focus on global macro investing, Chris uses both fundamental and technical analysis to assist in managing risk while looking for growth opportunities around the globe in all asset classes. If you are looking for an independent money manager or financial advisor, Ciovacco Capital is worth a look. Chris graduated from Georgia Tech with Highest Honors earning a degree in Industrial and Systems Engineering in 1990. His experience in the professional ranks began in 1985 as he began working as a co-op for IBM in Atlanta.
Ciovacco Capital Management, LLC (CCM) is an independent money management firm serving clients nationwide. By utilizing extensive research, disciplined risk management techniques, and a globally diversified approach, CCM prudently manages investments for individuals and businessowners. Our focus is on principal protection and purchasing  power preservation in an ever-changing global investment climate.