that were trading as of the end of 2012 and it is easy to see that if you were long the inverse products (XIV, SVXY, ZIV, etc.) and were able to hold on to these positions during volatility storms such as the Greek elections, yield spikes on the sovereign debt of Italy and Spain, the fiscal cliff, etc. (all of which required nerves of steel and a creative risk management approach), then 2012 was a very good year for you. If not, then let the performance ups and downs be a reminder that most of the VIX ETPs are not well-suited for mainstream investors.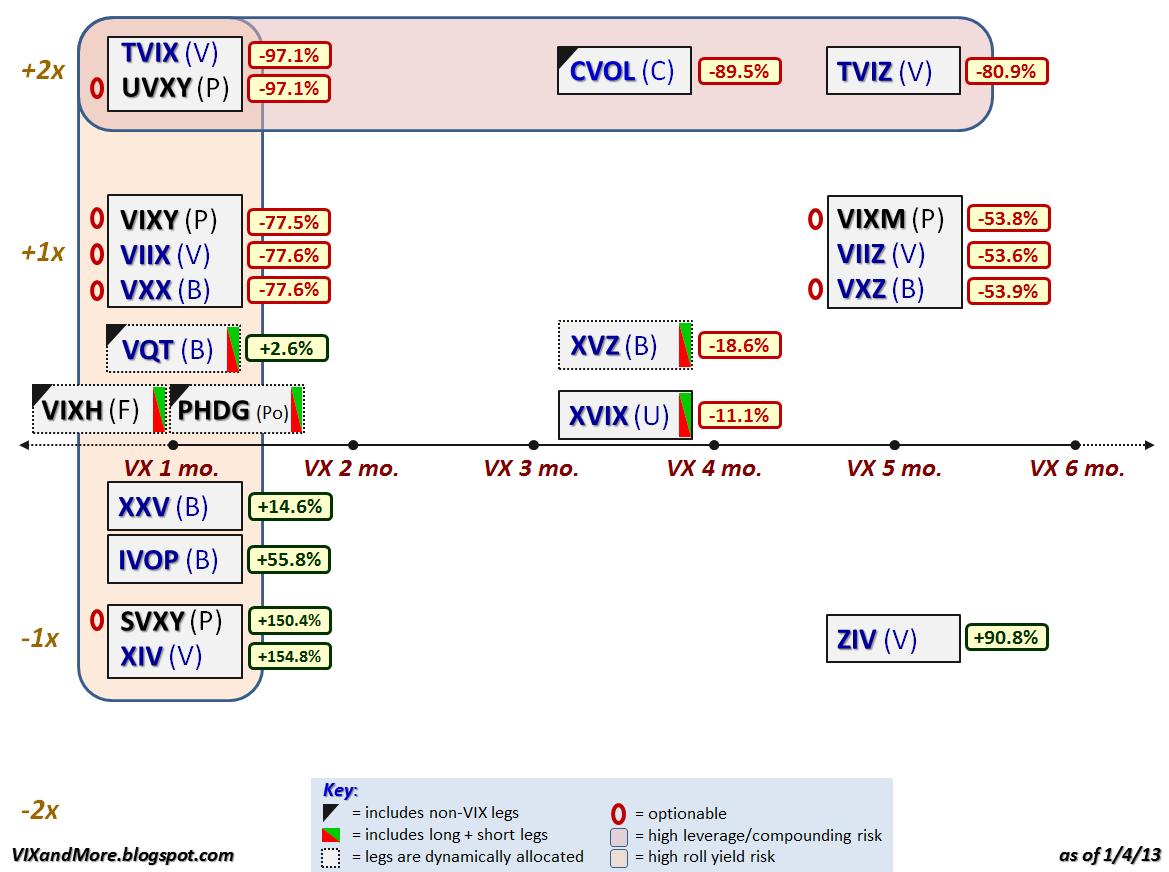 Instead of going into too much detail about the performance and reiterating much of what I have already said in the past, I encourage readers to investigate the links below, which include some predictions about future price moves and risk-reward ratios that have been borne out by the events of 2012.
If your new to this product space, perhaps the first place you should begin your research is with posts tagged with labels such as contango, roll yield and term structure – subjects that I have been writing about since the first VIX ETPs were launched, three years ago this month.
[Note that there are no performance numbers for VIXH or PHDG, as these products were launched during the year and have not yet accumulated full-year performance data.]
Related Tickers:  iPath S&P 500 VIX Mid-Term Futures ETN (NYSEARCA:VXZ), iPath S&P 500VIX Short Term Futures TM ETN (NYSEARCA:VXX), Proshares VIX ETN (NYSEARCA:UVXY), VelocityShares Daily Inverse VIX ETN (NYSEARCA:XIV), VelocityShares Daily 2x VIX Short Term ETN (NYSEARCA:TVIX).
Written By Bill Luby From The VIX and More   Disclosure(s): long XIV, SVXY and ZIV at time of writing
Bill is a private investor who also authors the VIX and More (http://vixandmore.blogspot.com/) blog and an investment newsletter from just north of San Francisco.  His  research and trading interests focus on volatility, market sentiment, technical analysis, and ETFs. Prior to becoming a full-time investor, Bill was a business strategy consultant for two decades and advised clients across a broad range of industries on issues such as strategy  formulation, strategy implementation, and metrics. When not trading or blogging, he can often be found running, hiking, and kayaking in Northern California.  Bill  has a BA from Stanford University and an MBA from Carnegie-Mellon University.