Today, we'll discuss the mining stocks sector and try to figure out whether this bullish outlook for stocks translates in any way into a bullish (technical) outlook for them as well. But before we move into this sector we'll have a look at the general stock market, using S&P 500 Index as a proxy (charts courtesy by http://stockcharts.com.)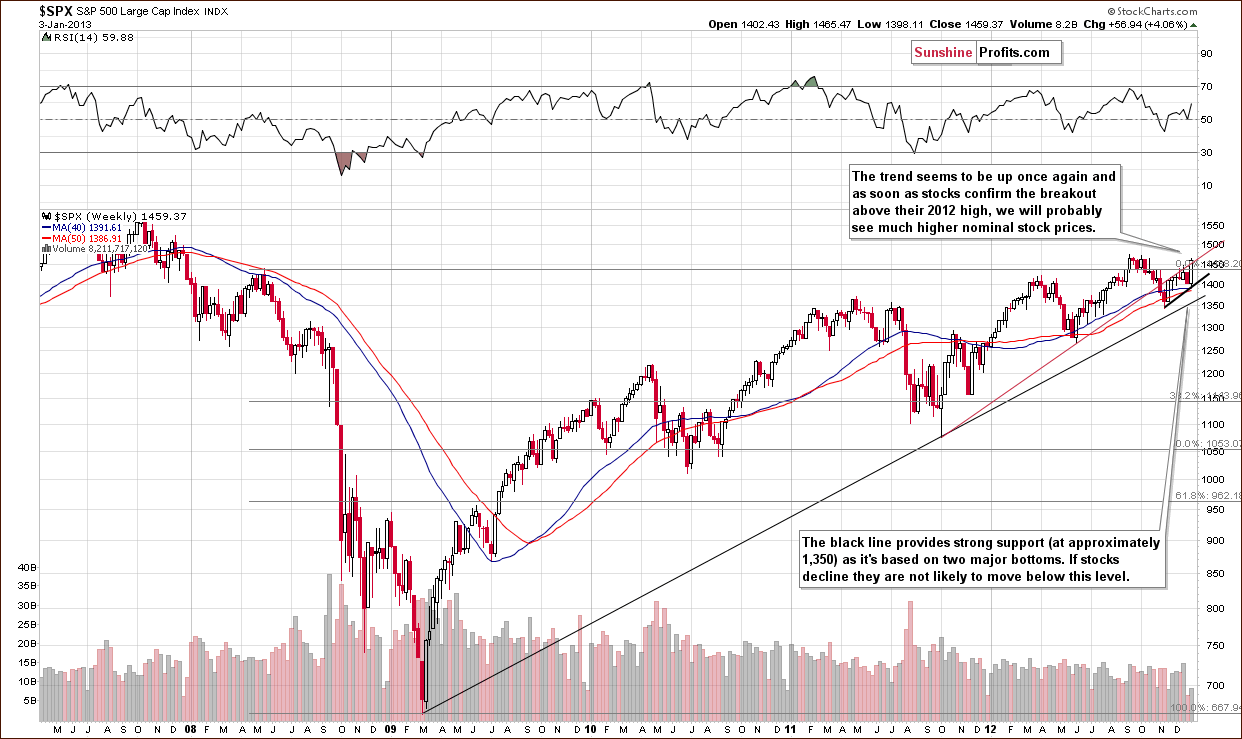 As mentioned above, we see that stocks rallied last week, almost reaching their 2012 high, and that the uptrend remains in place. Once the 2012 high is taken out, stocks will likely move to the 2007 high and then consolidate once again. This could bring stock prices up nearly 10% from current S&P 500 levels.
Let's now have a look at the intermarket correlations to see whether the above bullish picture could influence the precious metals sector in any way.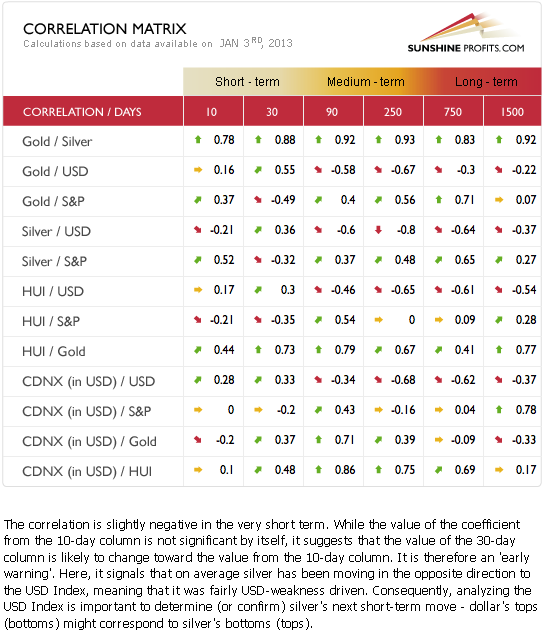 The Correlation Matrix is a tool which we have developed to analyze the impact of the currency markets and the general stock market upon the precious metals sector. We have recently written about the abnormal correlation values between precious metals, currencies and the general stock market. Fortunately for precious metals investors, in the very short-term 10-day column this week, we see that the correlations appear to be going back to normal.
The Silver / USD coefficient for the last 10 days is a bit more negative than not and if this tendency remains in place, the correlations that are more important (30-day column in this case) will change as well. Simply put, the implications here this week are more bullish than not and much more bullish overall for the precious metals sector than they have been in recent weeks, because last week we saw at least some signs of the return of the negative correlation between the USD Index and the precious metals market. The same thing can be said about correlation coefficients relating to gold and S&P 500 and silver and S&P 500, hence the above S&P 500 analysis bodes well for precious metals. As far as correlation between the general stock market and precious metals junior (CDNX) and senior (HUI) mining stocks is concerned, mild positive correlation is seen only in the medium and (very) long term. The values for the short term may change in the near future, however, just as with correlations between precious metals, the general stock market and currencies.
Now let us move on to precious metals stocks and see whether the outlook here is as bullish as in the general stock market. We'll start with an index that is a good proxy for junior mining stocks (NYSEARCA:GDXJ), as so many of them are included in it.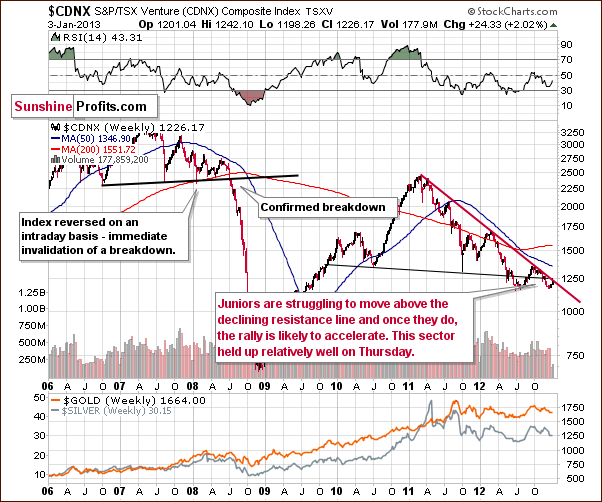 In the Toronto Stock Exchange Venture Index we see that the juniors held up very well last week. From the very long-term perspective, no decline is seen at all. Once more strength is seen here, the juniors will likely break above the resistance line and then catch up with other stocks.
Let's move on to silver senior mining stocks. This time we'll use an ETF – Global X Silver Miners ETF (NYSEARCA:SIL) – as a proxy for the whole sector.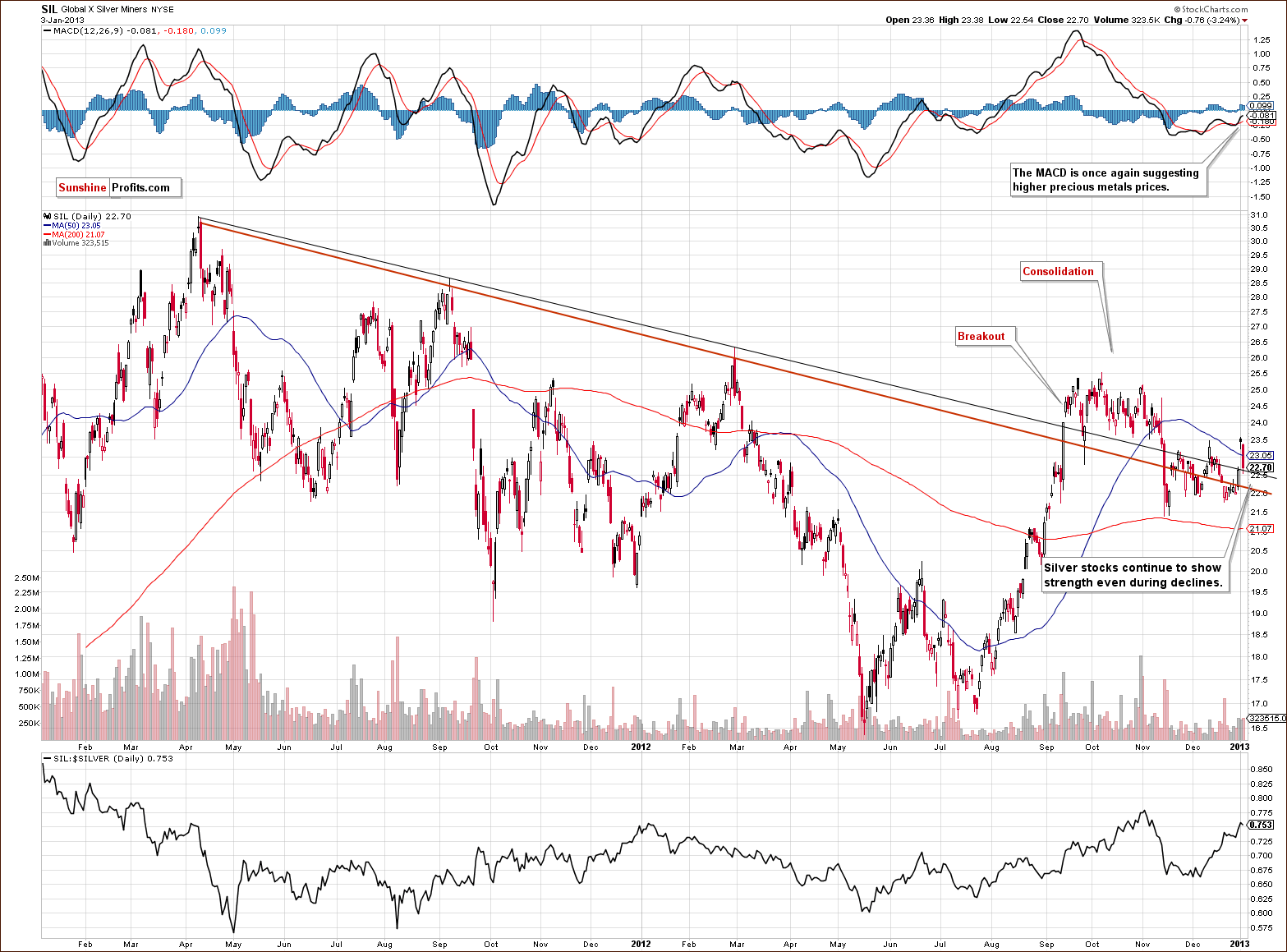 Silver stocks did not correct more on Thursday than they had rallied on Wednesday. Moreover, the MACD indicator suggests higher prices here in the near future.
All-in-all, the technical short term looks favorable. The silver stocks continue to show strength and we continue to favor them over gold stocks.
Finally, let's have a look at the whole senior mining stocks sector with Market Vectors Gold Miners ETF (NYSEARCA:GDX) as a proxy.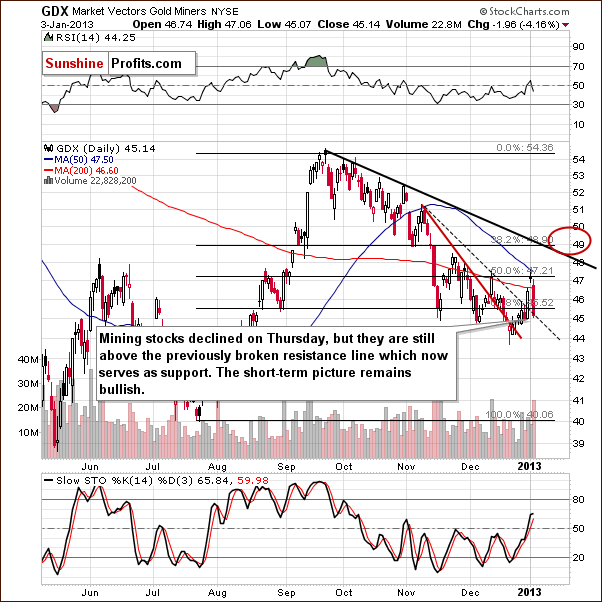 In the GDX ETF short-term chart, the price declined on significant volume. Prices did not move below the previously broken resistance line, however – at least not yet. The situation was not that bearish based on Thursday's closing prices, and it didn't really deteriorate on Friday as the miners actually closed higher – compared to the huge decline seen in gold before the markets opened and its final close lower that day.
Summing up, the general stock market looks ready to move higher, which could help gold, silver and other precious metals rally as well. The outlook for juniors and silver stocks looks quite favorable relative to gold stocks based on Thursday's and Friday's closing prices, but as far as performance of the whole mining stock sector for the short-term is concerned, the picture is still bullish. So, to answer the title question, precious metals mining stocks seem poised to move higher, but an additional spark may be needed for them to start a bigger rally.
Related Tickers: SPDR Gold Trust (NYSEARCA:GLD), iShares Silver Trust (NYSEARCA:SLV), iShares Gold Trust (NYSEARCA:IAU).
Sincerely,

Written By Przemyslaw Radomski, CFA (PR) From Sunshine Profits
Przemyslaw Radomski, CFA (PR) is a precious metals investor and analyst who takes advantage of the emotionality on the markets, and invites you to do the same. His company, Sunshine Profits, publishes analytical software that anyone can use in order to get an accurate and unbiased view on the current situation. Recognizing that predicting market behavior with 100% accuracy is a problem that may never be solved, PR has changed the world of trading and investing by enabling individuals to get easy access to the level of analysis that was once available only to institutions.
High quality and profitability of analytical tools available at www.SunshineProfits.com are results of time, thorough research and testing on PR's own capital. PR believes that the greatest potential is currently in the precious metals sector. For that reason it is his main point of interest to help you make the most of that potential. As a CFA charterholder, Przemyslaw Radomski shares the highest standards for professional excellence and ethics for the ultimate benefit of society.