With an important speech coming from Washington Tuesday, it remains to be seen if strength in European ETFs can see some follow-through Wednesday. From Reuters:
In the United States, a deal is yet to be reached to avoid the so-called "sequestration" spending cuts that would enter into force next month if no deal is reached on raising the debt limit. Investors will watch President Barack Obama's State of the Union speech later on Tuesday for clues on whether Republicans and Democrats can reach a budget compromise any time soon.
Technicals Mixed, But Improving
From a technical perspective, markets are extended but remain in bullish mode. The iShares MSCI EAFE Index, unlike the S&P 500 (SPY), recently experienced a 3% pullback. Consequently, the risk-reward ratio for EFA may be more attractive than an over-extended S&P 500. The chart below shows somewhat of a mixed bag for EFA as of Tuesday's close. MACD, a common measure of momentum, has started to turn back up, but has yet to experience a "bullish crossover" (black > red). On a positive note, EFA closed above the often-watched 8, 10, and 21-day moving averages Tuesday, which may bring further interest from traders. At the bottom of the chart, RSI is trying to hold above 50, which is a good sign.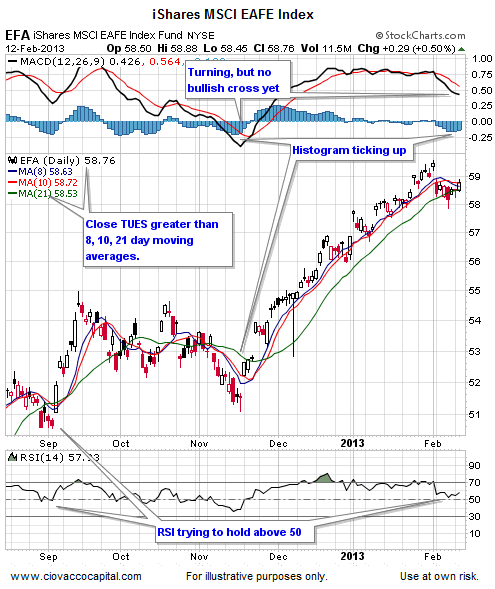 Spanish Scandal
On the fundamental front, Europe is dealing with two major concerns. From Reuters:
In Spain, investors fear a corruption scandal surrounding the ruling party could hit the government's already falling popularity ratings and hurt its ability to enforce further structural reforms.
Being Selective With Buy Candidates
Investing prudently requires the examination of upside potential vs. downside risks. At the 14:00 mark of the video below, risk-reward ratios are covered for all major ETFs.
After you click play, use the button in the lower-right corner of the video player to view in full-screen mode. Hit Esc to exit full-screen mode.


A Voice From The Past
Italy has never been used as an example of political stability. From Reuters on potentially market-moving developments:
In Italy, the rise in opinion polls of former Prime Minister Silvio Berlusconi's party ahead of this month's election raises concerns of a fragmented parliament that could hinder the reform efforts of the next government.
We have EFA on our radar, but have not seen enough yet to commit our capital. The reaction, or lack thereof, to the State of the Union address will also play a role in our decision-making process.
This article is brought to you courtesy of Chris Ciovacco from Ciovacco Capital.