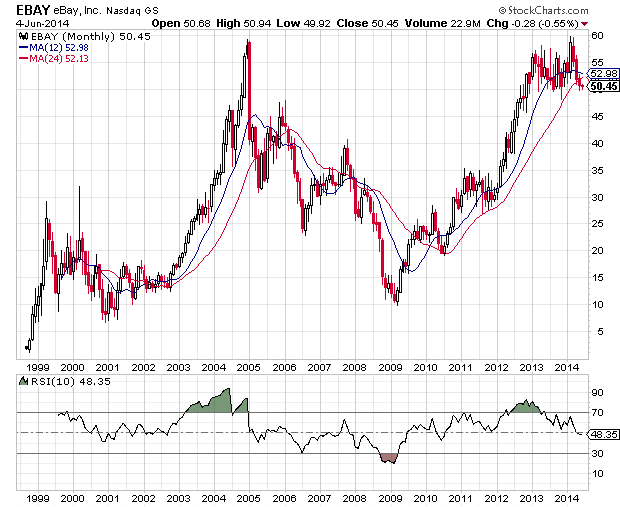 This chart has been adjusted for four different stock splits: a 3:1 split in March 1999 (less than six months from the IPO launch), a 2:1 in May 2000, a 2:1 in August 2003 and a 2:1 in February 2005.
Less than eight months after the stocks debut, it had gained over 1,000%. That's right, in less than eight months, investors that purchased the stock and held on to it had experienced what people in the industry like to call a 10 bagger. But then the bear market hit and the stock dropped and went through a consolidation period before taking off on another huge run from the low in October 2002 until the high in December 2004, the stock gained over 350%.
Unfortunately, the high reached in 2004 would stand for over nine years. It wasn't until this February that the stock eclipsed $59.21 and even then it was by the smallest of margins that it set a new high.
Looking at the weekly chart, we see that eBay stock has been range bound for over a year and a half now and all but one weekly close has been between $50 and $60. The more troubling part is that the 104-week (two years of weekly data) caught up to the stock while it has been mired in this range and now the stock is trading below the trendline for the first time since July 2010. And the last time the stock spent at least part of a week below the trendline for six straight weeks, like we are seeing now, was back in 2009 as it recovered from the bear market.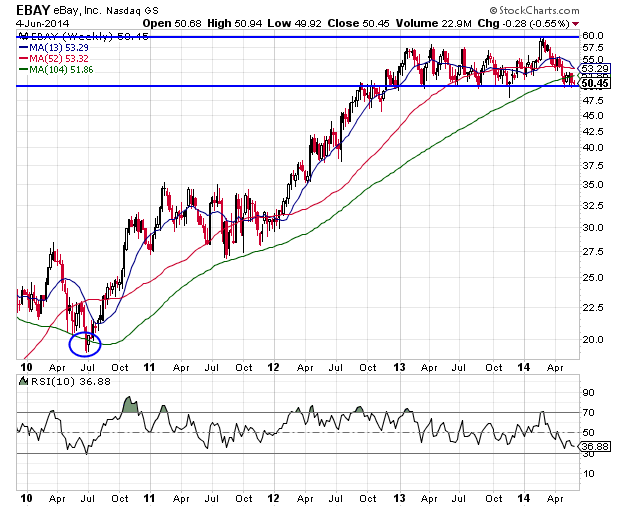 The sentiment toward eBay stock is pretty optimistic and that is a concern. The overall sentiment composite rating is 5.35 thanks to a short-interest ratio of 1.4 and a put/call ratio that is among the lowest 5% of readings in the past year. The analyst ratings are average with 25 "buy" ratings and 15 "hold" ratings.
So how do you play eBay stock at this point in time? Does the lower level of the range hold up, causing the stock to bounce back up to the $60 level? Or does the stock break below that lower boundary and head sharply lower?
With the sentiment being so bullish, I tend to lean toward the breakdown, but I wouldn't bet my life on that. What I would do is play a straddle at the $50 strike and I would make it at least three or so months until the expiration of the options. This will give things time to play out and the options shouldn't be so highly priced that you can't make money on a decent move.
This article is brought to you courtesy of Rick Pendergraft from Wyatt Research.