I was having a conversation the other day with a friend, and fellow investor, about the World Cup. More specifically we were talking about the biting incident from Uruguay forward, Luis Suarez.
Somehow the conversation turned into potential ways to invest in countries that are currently in the World Cup.
After doing some research I found that 23 out of the 32 teams participating in the 2014 World Cup offered an ETF.
For those of you who wanted to invest in Croatia, Cameroon, Ivory Coast, Ecuador, Honduras, Iran, Bosnia, Ghana, Algeria, Costa Rica or Uruguay, sorry, you are out of luck. There are no associated ETFs with those countries.
But as I said before, there are 23 nations with viable investment opportunities that offer some surprisingly nice yields.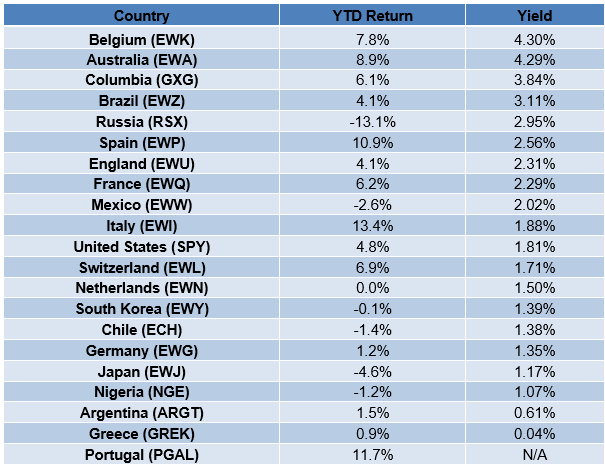 After sorting the country ETFs by dividend, you can clearly see that Belgium and Australia are the clear winners, with Belgium taking a slight edge.
#1 World Cup Dividend: iShares MSCI Belgium (NYSE: EWK)
The ETF has performed well over the past five years with an average annual return of 20.7%. The S&P 500 (SPY) has performed only slightly better at 21.1%. However, once you tack on EWK's 4.30% yield the overall performance in the Belgium ETF is substantially better.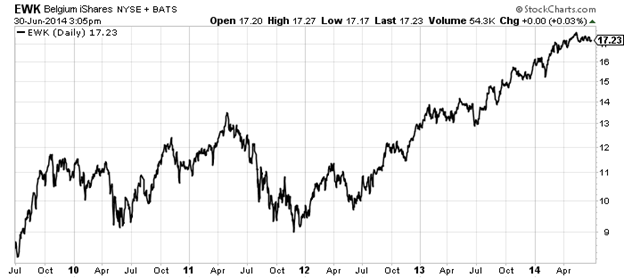 Investing in Belgium centers on one of the largest beverage companies in the world, Anheuser-Busch InBev (NYSE: BUD). The $180 billion beer giant makes up 23% of assets for this fund, which has been around since 1996.
Shares of the ETF trade near 52-week highs. The fund holds a total of 43 stocks. Financials make up 27% of assets. Consumer staples (24%), materials (12%) and health care (11%) make up the other large percentages.
An interesting way to play EWK is to buy shares and sell covered calls against the ETF. As an owner of the ETF you are already privy to the 4.3% yield. Through the use of covered calls you can immediately increase your yield 7% to an annual yield of approximately 11.3%.
This article is brought to you courtesy of Andy Crowder from Wyatt Investment Research.