Since a previous filing revealed that the fund would trade on the Nasdaq exchange, that would make the Winklevoss Bitcoin ETF ticker "Nasdaq: COIN."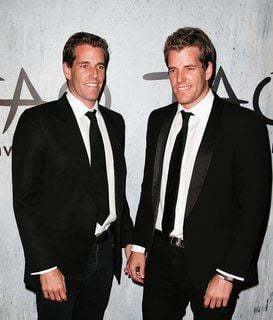 Formally known as the Winklevoss Bitcoin Trust, it's the brainchild of the Winklevoss twins, Cameron and Tyler.
The pair gained notoriety by successfully suing Facebook Inc. (Nasdaq:FB) founder Mark Zuckerberg for $140 million for taking their idea for a social network.
The fresh amendment naming Nasdaq: COIN as the ticker symbol was filed July 1, exactly one year after the initial filing of the S-1 form.
Despite the long process, the Winklevoss Bitcoin ETF appears to be on track for SEC approval, probably before the end of the year.
"Under the securities laws we are not permitted to discuss timing to launch or effectiveness," Cameron Winklevoss told The Wall Street Journal.
"However, identifying the ticker symbol and the exchange are two major events that further demonstrate that we are moving forward as expected."
The amended S-1 was also updated with recent changes in the global regulatory environment.
For instance, it now points out that Switzerland is moving closer to clarifying its stance on Bitcoin, while the Bolivian central bank recently banned the digital currency.
That the Winklevoss Bitcoin ETF was able to snag Nasdaq: COIN came as something of a surprise, as few believed that ticker to be available.
In fact, COIN was in use as recently as June of 2013, but the company using it merged with another and changed its ticker.
The Winklevoss Bitcoin ETF is intended to make investing in Bitcoin as easy as buying shares of stock, as the popular SPDR Gold Trust ETF (NYSE Arca: GLD) does for gold.
To duplicate the structure of GLD, the Winklevoss Bitcoin ETF will buy one bitcoin for every five shares of the fund.
With the current Bitcoin price at about $615, one share of the Winklevoss Bitcoin Trust would today trade for $123.
The Winklevoss Bitcoin Trust also has some competition brewing from SecondMarket's Bitcoin Investment Trust, a hedge fund currently open only to accredited investors.
But SecondMarket is seeking regulatory approval to open the Bitcoin Investment Trust to all investors, which should happen around the same time the Winklevoss Bitcoin ETF gets SEC approval.
Written By David Zeiler From Money Morning
We're in the midst of the greatest investing boom in almost 60  years.  And rest assured – this boom is not about to end anytime soon.  You see, the flattening of the world continues to spawn new markets  worth trillions of dollars new customers that measure in the billions;  an insatiable global demand for basic resources that's growing   exponentially; and a technological revolution even in the most distant  markets on the planet.  And Money Morning is here to help investors profit handsomely on this seismic shift in the global economy. In fact,  we believe this is where the only real fortunes will be made in the  months and years to come.