New York Spot silver was trading at $20.56 an ounce by 5:15 p.m. EDT yesterday (Monday), when silver trading halts temporarily until picking back up at 6 p.m. That price was a $0.16 decline from Friday's close. Comex silver for September delivery was also down $0.07 from Friday at the close of markets yesterday.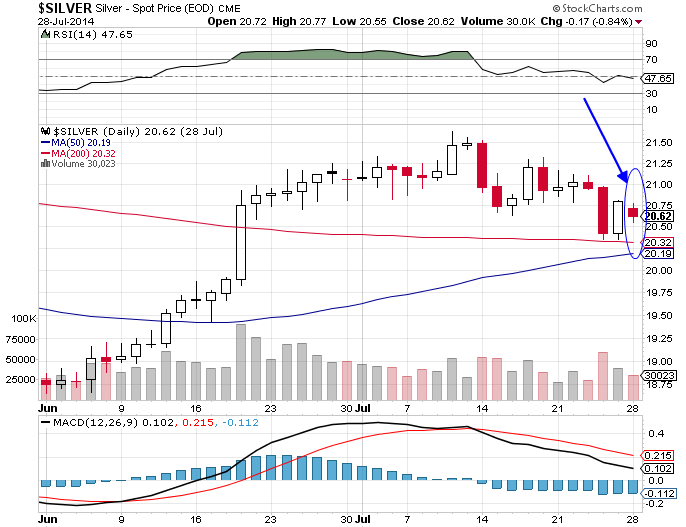 iShares Silver Trust (NYSE Arca: SLV), an ETF that tracks the performance of silver and holds physical silver bullion in London and New York, was down $0.06 at yesterday's close.
At 9:30 a.m. EDT Tuesday, spot silver was up slightly to $20.62, and was trading as high as $20.73 at 4:20 a.m. EDT, but as of 10 a.m. was back to $20.56.
This slight and momentary uptick comes after Israeli Prime Minister Benjamin Netanyahu signaled that tensions were going to escalate in Israel's clashes with Hamas in the Gaza Strip. This was after U.S. Secretary of State John Kerry went on a six-day diplomatic mission that only yielded a fragile humanitarian ceasefire that broke down after 12 hours on Saturday. This is after three weeks of fighting in Gaza.
Also, the U.S. and the European Union have made clear their intentions to level sanctions against President Vladimir Putin's Russia for supporting pro-Russian rebels in Ukrainian territory, and acting as a destabilizing force.
Silver, similar to gold, becomes a more sought after investment when there is uncertainty in the economy as well as on the global stage. Any perceived threats to the stability of the U.S. currency or to equity markets attracts investors to precious metals because they are looked on as a store of value and a hedge against trying economic and geopolitical times.
What's Behind Silver's Recent Performance?
Last week, silver saw some of its biggest declines since trading up six weeks in a row from early June to mid-July. Prices for spot silver opened up at $20.89 and dropped as low as $20.27 in intra-day trading during the week, before receiving a boost on Friday to close out the week at $20.72.
Behind the drop was lower volume trading going into the historically weak summer months, as well as profit-taking by investors looking to cash in on the early summer rally that drove silver prices up more than 14%.
"Looks to me like more profit-taking and typical summer weakness and volatility," said Money Morning Resource Specialist Peter Krauth. "In the grand scheme, not a very big deal, as that's less than 5%."
Silver also took cues from its sister metal, gold.
"Silver is once again following gold's lead," Krauth said last Friday. "So with gold down about $40 in the last 10 days, silver is tagging along, and is down about $1 over that same time."
This week could prove to be busy for silver prices, as the action in Gaza heats up and Russian sanctions set in. Additionally, the U.S. Federal Reserve's Federal Open Market Committee (FOMC) will release a statement tomorrow at 2 p.m. that will have precious metals traders contemplating the future picture for interest rates and inflation.
Written By Jim Bach From Money Morning
We're in the midst of the greatest investing boom in almost 60 years. And rest assured – this boom is not about to end anytime soon. You see, the flattening of the world continues to spawn new markets worth trillions of dollars; new customers that measure in the billions; an insatiable global demand for basic resources that's growing exponentially; and a technological revolution even in the most distant markets on the planet.And Money Morning is here to help investors profit handsomely on this seismic shift in the global economy. In fact, we believe this is where the only real fortunes will be made in the months and years to come.