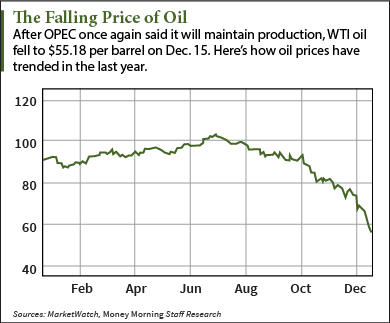 In fact, in mid-December, oil prices dipped as low as $56 a barrel, a level not seen since May 2009 during the worst of the "Great Recession."
But according to the 2015 oil price forecast by Money Morning Global Energy Strategist Dr. Kent Moors, the worst of the price crash is likely over.
"Oil," Dr. Moors says, "is very near a bottom."
"As the most fluid commodity in the world," Moors notes, "crude has the ability to quickly self-correct, which is why long-time oil veterans aren't worried about falling prices.
"In fact, the vast majority of them (including myself) actually expect oil prices to climb next year."
As a result, Moors now believes a modest rebound is now beginning to take shape, followed by a massive wave of mergers and acquisitions worldwide.
For investors, that spells a new wave of profits, even as OPEC threatens to drive prices lower.
Here's why: According to Dr. Moors, OPEC is fighting a battle it just can't win.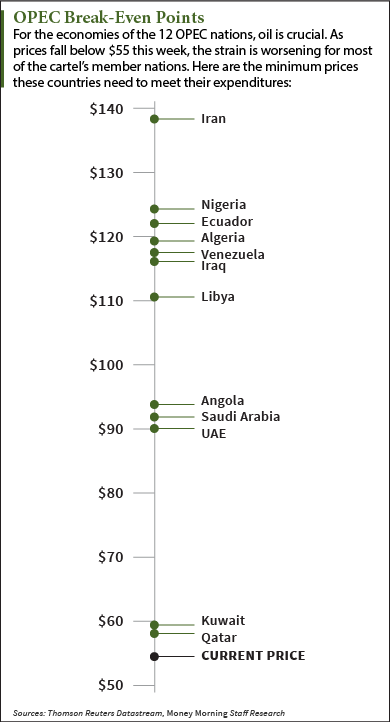 OPEC's War on Oil Prices Is Doomed to Failure
Of course, OPEC's recent decision to maintain current production levels in the face of falling profits has one overriding purpose: It's the opening salvo of a global oil war.
As designed by the Saudis, the battle has three targets.
One is certainly U.S. oil production, which is set to surpass Saudi production shortly. The second is the non-OPEC production from Russia, especially as it relates to competition over the Asian market. The third is simply to keep order in what is already a deepening rift within OPEC itself.
When it comes to the United States, OPEC fears the upcoming exports of crude, as the U.S. ban on exporting crude begins to loosen. But OPEC's actions are likely to backfire.
According to Dr. Moors, the oil war "is likely to give the new Congress added impetus to liberalize the very exports the cartel fears."
However, the bigger issue for OPEC is that its own members are also starting to break ranks.
Several of its members are ignoring the output quotas set by the cartel in a desperate attempt to keep their economies afloat in the face of declining oil prices. For a country such as Venezuela, with 40% of its revenue dependent on oil and an economy on the brink of default, there's no intention of limiting output to any sort of quota.
At best, Moors notes, OPEC is buying time.
"OPEC's major wall is 3 to 5 years away, tops. By that time, a combination of alternative production, renewables, and redirected trade will mean the effective end of OPEC's oil hegemony. Controlling about 40% of the world's oil is no longer the baseball bat it once was. So buying time is all that OPEC has left."
So while the current Saudi price cut will certainly have some very short-term impact, ultimately it will fail. And without the Saudis manipulating the market oil prices have nowhere to go but up.
One reason is the world's growing thirst for crude.
2015 Oil Price Forecast: There's No Supply Glut in Crude
According to the U.S. Energy Information Administration (EIA) worries of a world awash in oil are vastly overstated. On a long-term basis, the demand has nowhere to go but up.
As this consumption chart shows, explains Moors, "the projected demand for oil in terms of millions of barrels per day has done nothing but climb higher and higher since 2009. The EIA puts current global oil consumption at a massive 91.5 million bpd, or more than 5.5 million bpd higher than in 2007.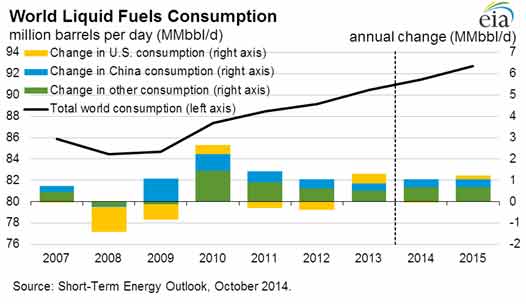 "What's more, going into 2015 the line climbs higher still to nearly 93.5 million barrels a day.
"At this very moment we are already experiencing the highest daily demand worldwide ever recorded. And to meet future demand it's literally going to require a record-breaking amount of production every year as far as the eye can see.
"Meanwhile, the current global oil supply is estimated at just 91.8 million bpd, which hardly constitutes the 'glut' the TV pundits keep harping on."
Halliburton Chief Executive Officer Dave Lesar has a slightly more nuanced view.
He recently told Bloomberg that there is a current "temporary supply-demand imbalance," but that he believes that oil prices will likely trade between $80 and $100 a barrel. That's roughly the same range oil has been trading in for four years now.
"Despite what people are thinking," Lesar said, "demand is creeping up, albeit at a lower rate than it has been." Much of that demand is coming from China, India, and other Asian countries.
Other oil analysts agree.
Standard Chartered Bank's oil analyst Paul Horsnell predicts that Brent will hit $98 during the first quarter of 2015, while Goldman Sachs predicts WTI at $75/barrel and Brent at $85 during the same time period.
How to Profit from Low Oil Prices: Focus on M&A
All of this spells one thing for investors: opportunity.
"There are going to be restructurings to do. There's going to be a fallout. It's going to be one of the best opportunities we've had in many, many years," Stephen Schwarzman, the chairman of Blackstone, said at a recent conference. That isn't just rhetoric. According toBloomberg, Blackstone is raising a second energy fund that's limited to $4.5 billion. Its first fund had $2.5 billion in 2012 and, as of Sept. 30, was returning 44%.
Dr. Moors agrees. "We're moving into a major cycle of mergers and acquisitions," he noted on Bloomberg TV while meeting with major energy financiers in London. "There are some vulnerable companies already. Size is not always the issue. The issue is high debt."
The most likely targets of M&A activity will be energy companies with attractive land leases, pipelines or other assets, high levels of debt, and declining cash flows. These types of companies could hand their shareholders a quick profit in 2015 if they get targeted.
Two companies Moors names as particularly likely to be takeover targets are Tullow Oil Plc.(OTCMKTS: TUWOY), Africa's leading independent oil company, and Cimarron Energy, an oil and gas company headquartered in Oklahoma which is owned by Curtiss-Wright (NYSE:CW).
The Bottom Line: Oil is near a bottom. As OPEC fails to drive prices lower, and demand continues to rise higher than supply, investors will be able to profit from increased M&A activity in the sector.
Written By The Money Morning Staff
We're in the midst of the greatest investing boom in almost 60 years. And rest assured – this boom is not about to end anytime soon. You see, the flattening of the world continues to spawn new markets worth trillions of dollars; new customers that measure in the billions; an insatiable global demand for basic resources that's growing exponentially; and a technological revolution even in the most distant markets on the planet.And Money Morning is here to help investors profit handsomely on this seismic shift in the global economy. In fact, we believe this is where the only real fortunes will be made in the months and years to come.