In early afternoon trading, WTI prices (the U.S. oil benchmark) were up $0.04, or 0.08%, to $48.69 a barrel. Brent crude, meanwhile, was lower by $0.25, or 0.49%, to $50.91 just after noon.
Brent crude oil prices today flirted with $51 a barrel early in trading. They dropped as low as $49.66 Wednesday, the lowest level since April 29, 2009.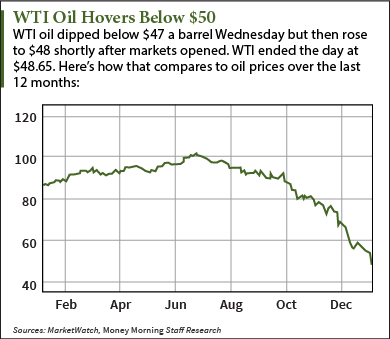 "We believe that the market is testing the water to find where the bottom of crude oil is and it seems, for now, $50 is the limit for Brent," Phillips Futures analyst Daniel Ang wrote in a daily note Thursday.
U.S. crude oil prices ended a four-day slide Wednesday when they gained 1.5% to $48.65. This bump came after data from the Energy Information Administration (EIA) showed U.S. oil inventories last week fell 3.1 million barrels. Expectations were for an increase of 880,000 barrels.
But the current crude oil price story is still ugly.
Current Crude Oil Prices Down 50%
Both Brent and WTI have seen their prices halved since June highs. One of the biggest factors has been the Organization for Petroleum Exporting Countries' (OPEC) refusal to cut output.
OPEC decided against trimming production output at its last meeting on Nov. 27. That's when Saudi Oil Minister Ali al-Naimi said the group needed to defend its market share against competing sources like U.S. shale oil production.
OPEC has forecast an increasing oil surplus in 2015. It cites mounting stockpiles outside its 12-member countries and tepid global demand growth. But it still has no plans to slash output.
OPEC maintains that lower prices will slow competing supplies, goose economic growth, and thus incite demand.
Furthermore, OPEC ministers and delegates blame non-OPEC producers – including Russia, Mexico, and Kazakhstan – as well as the U.S. shale boom for the oil market glut.
U.S. oil production has soared over the last six years. It's gone from around 5 million barrels per day to more than 9 million barrel per day. Credit goes to explosive shale oil output, mostly from North Dakota and Texas regions. In fact, shale production is expected to help the United States become energy independent by 2020.
Despite lower crude oil prices, U.S. crude production is projected to grow this year. The EIA expects U.S. crude oil production to average 9.3 million barrels per day in 2015, up 0.7 million barrel per day from 2014.
Not all investors fully understand the factors affecting current crude oil prices. According to Money Morning Global Energy Strategist Dr. Kent Moors, worries about a supply glut are vastly overstated. In addition, the worst of the price crash is likely over.
"Crude has the ability to quickly self-correct, which is why long-time oil veterans aren't worried about falling prices," said Moors. A modest rebound is taking shape, and for investors, that means a new wave of profits.
Written By Diane Alter From Money Morning
We're in the midst of the greatest investing boom in almost 60 years. And rest assured – this boom is not about to end anytime soon. You see, the flattening of the world continues to spawn new markets worth trillions of dollars; new customers that measure in the billions; an insatiable global demand for basic resources that's growing exponentially; and a technological revolution even in the most distant markets on the planet.And Money Morning is here to help investors profit handsomely on this seismic shift in the global economy. In fact, we believe this is where the only real fortunes will be made in the months and years to come.