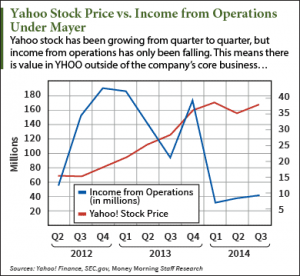 Especially since every small victoryYahoo Inc. (Nasdaq: YHOO) seems to secure is invariably greeted as evidence that Chief Executive Officer Marissa Mayer is successfully breathing new life into a struggling, once-great web portal and online services giant.
This was evidenced today (Thursday), when Bloomberg reported that Google is losing search market share. Analytics firm StatCounter released data showing that in December, the search behemoth's share fell to 75.2% from 79.3% the month before.
And Yahoo's search is up to 10.4%, from 7.4%.
But this is not the good news it appears to be. Here's the real story behind Mayer's most recent victory on search…
Yahoo's Unimpressive Search Market Growth
This added market share can be tied back to a move in November. Yahoo inked a deal with browser Mozilla Firefox to become its default home page. This was after ten years of Google's search platform fulfilling that role.
On its face, these headlines are exciting. They seem to suggest that Mayer is starting to challenge the dominance of her corporate alma mater, Google.
But that's hardly the case.
This jump is marginal, if not temporary.
"I doubt Google needs to worry. For one, that's probably the high water mark," Danny Sullivan, founding editor of Marketing Land & Search Engine Land, wrote in an e-mail toBloomberg. "Unless Firefox suddenly grows share, everyone who likely could get switched has been now. And Google might claw back even the small share gone."
We weren't thrilled with the Yahoo-Firefox deal when it happened. We still aren't.
Yahoo successfully wrestled from Google a property the latter never really needed in the first place. The two dominant browsers right now are Internet Explorer and Chrome. As they battle for the top spot, Mozilla is locked in at a distant third.
While not an acquisition in the traditional sense, the Firefox deal is representative of Mayer's tenure as CEO. Since 2012, she's notched 46 acquisitions. They have carried an almost $2 billion price tag. The only one of consequence was Tumblr; every other purchase is a virtual unknown.
And the return on investment? So far, these acquisitions have provided Yahoo with declining income from operations for nine of the last 11 quarters.
Eric Jackson of Ironfire Capital LLC, a large Yahoo stakeholder, summed it up eloquently in a piece for Forbes.com that he wrote in July. He characterized the typical Mayer purchase as spending "$30 million to hire 3 people from a dying company."
"Yahoo should not [be] responsible for bailing out VCs from their failed investments," Jackson wrote. "This isn't TARP."
To be fair, nobody's asking Yahoo to overthrow Google or Facebook in key business segments. They can continue to battle it out with Microsoft Corp. (Nasdaq: MSFT) for a distant fifth place in digital ad revenue share, or for third place in search engine market share. Shareholders would be content with growth in Yahoo's core business, which has yet to see a turnaround.
The problem right now is that the Yahoo turnaround may be grabbing headlines, but every indication seems to suggest a sloppy, scatterbrained effort on Mayer's part.
It's hard to pinpoint exactly what Mayer wants out of Yahoo. She's stated that she wants to grow mobile and display ad revenue, and her laundry list of acquisitions and new hires attest to this. This would pit her up against Google and Facebook, however futile that fight may be.
But what's troubling is she also apparently wants to build a big media presence for the company. Reports in the last week indicate she had an interest in spending billions to purchase CNN from Time Warner Cable Inc. (NYSE: TWC).
Yahoo's desire to build out into the cable network space should be the most troubling sign for Yahoo shareholders looking to hold it for the long haul.
Yahoo Can't Have It All
Mayer got the CEO job back in 2012 largely because the board was less than enthralled about interim CEO Ross Levinsohn's plan for the company.
Levinhson wanted to take a different direction.Business Insider'sNicholas Carlson wrote in his unauthorized biography of Mayer that Levinsohn's plan was to consolidate Yahoo's digital efforts, abandon the competition with Google, and focus more on media segments. Levinsohn wanted to take on Time Warner and their ilk, and abandon the fruitless attempts to flourish in a segment already dominated by much stronger players.
It didn't get him very far. He lost out to Mayer. So why is Mayer pursuing this media route when it is clear that the Yahoo board didn't like it the first time?
At least Levinsohn proposed shrinking headcount to lessen overhead costs. Mayer's only been adding to headcount, in addition to spending $2 billion on unproven acquisitions.
Mayer can't fight this battle on two fronts. Either she can continue her spending spree on ailing tech startups and try to build, at best, a powerful third place contender in the digital ad space. Or she can break into media.
And at this point, she's at the point of no return. She's made her choice, and shareholders don't want to hear that she's having second thoughts.
Despite all of this, there's still reason to buy Yahoo stock.
Here's the one saving grace for YHOO…
Why Buy Yahoo Stock?
Yahoo stock is a rare case. It's one of the only stocks to buy where the underlying company is worthless.
That's because it holds a 15% stake in Alibaba Group Holding Ltd. (NYSE: BABA). That stake is currently worth more than $40 billion, and that cash pile will only expand with Alibaba's inevitable growth in a booming Chinese e-commerce market.
"Yahoo as a standalone business is just about worthless. I've felt that way for a long time," said Money Morning Chief Investment Strategist Keith Fitz-Gerald. "But that doesn't mean the stock is worthless. The value infused by the Alibaba deal is a huge windfall for Yahoo shareholders and Yahoo management."
In 2015, Yahoo stock is poised to grow purely because of its BABA stake. It is effectively another way investors can buy Alibaba stock.
That's why you should buy Yahoo stock. Not because Mayer has this turnaround figured out, but because Yahoo has a big windfall coming its way when it does monetize its Alibaba stake.
"Mayer still believes the core business can succeed. I think she's full of beans, but with Alibaba serving as her training wheels, I'm willing to go along for the ride," Fitz-Gerald said.
When that's gone, Mayer will no longer have those "training wheels."
At that point, investors will be essentially holding stock in a company where a CEO with a penchant for reckless spending is holding a bag of cash. That's when Mayer will have to face the tough questions.
"Are these guys really going to be able to afford to buy the assets they need to transform their business and stay relevant?" Money Morning Executive Editor Bill Patalon said. "Or in doing so are they really going to fritter away this one opportunity to make sure their shareholders are well compensated?"
Bottom Line: Buy Yahoo stock. Now is the best time because it will grow with Alibaba regardless of Mayer's troubles. You can assess and evaluate the turnaround after that 15% stake is gone and decide whether you want to place your bets on Mayer, but right now you're essentially placing all your bets on Alibaba. And as Money Morning Technical Trading Specialist D.R. Barton has said recently of Alibaba, right now is "the best risk-to-reward opportunity to get in."
Written By Jim Bach From Money Morning
We're in the midst of the greatest investing boom in almost 60 years. And rest assured – this boom is not about to end anytime soon. You see, the flattening of the world continues to spawn new markets worth trillions of dollars; new customers that measure in the billions; an insatiable global demand for basic resources that's growing exponentially; and a technological revolution even in the most distant markets on the planet.And Money Morning is here to help investors profit handsomely on this seismic shift in the global economy. In fact, we believe this is where the only real fortunes will be made in the months and years to come.