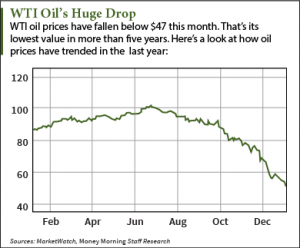 But Money Morning's Global Energy Strategist Dr. Kent Moors says oil price sare near a bottom.
"As the most fluid commodity in the world, crude oil has the ability to quickly self-correct. That's why longtime oil veterans aren't worried about falling prices," Moors said. "In fact, the vast majority of them (including myself) actually expect oil prices to climb in 2015."
One of the biggest rebound signs is the increase in U.S. and global oil demand.
"I think we're about to go into a golden period not unlike the 1940s and 1950s when energy prices to GDP were similar and we had rapid growth and a rapid appreciation in equity prices," former Chief Executive Officer of Gulf Oil Joe Petrowski said on Squawk Box last month. "You're just starting see the benefit on the consumers' wallet."
Chasing profits from the future turnaround in oil prices can be expensive and risky for investors. But there is a safer way to play this trend, with oil ETFs.
How to Profit from Oil ETFs in 2015
There are several oil ETFs that closely track changes in the price of oil. Unlike an oil futures contract, they can be bought and sold just like a stock through a broker. The cost of 100 shares can be much lower than the price of an oil futures contract.
But not all oil ETFs are alike.
Almost two dozen funds trade on American and Canadian stock exchanges. However, many of them are too risky because they are volatile, new, or thinly traded.
That's not the case with these four oil ETFs.
These have enough daily volume to allow easy entry and exit points. Three track the oil price while one taps into profits from fracking and other "unconventional oil" plays.
And because the price of oil is near a bottom, these ETFs trade at a huge discount now. Take a look…
The Four Best Oil ETFs for 2015 
2015 Best Oil ETF No. 1: United States Oil Fund LP (NYSE Arca: USO) is the most popular of the oil funds, with an average trading volume near 11 million shares. This ETF is actually a limited partnership rather than a true ETF, though it trades like a stock (as ETFs do). USO's managers invest the partnership's pooled assets in a variety of vehicles, from oil and gas futures contracts to cash-settled energy options. The goal is to match the performance in percentage terms (less expenses) of the spot price of WTI crude.
With $858 million in assets, USO's shares currently trade at a modest premium (0.14%) to their net asset value (NAV). Due to the steep decline in the price of oil, shares are currently near the low end of their 52-week range of $20.53 to $39.44. USO has declined by 40% year-to-date, again mirroring the price of crude. However, USO's costs are low at 0.72%. That's among the lowest in the sector. USO's share price should rise with oil in 2015.
2015 Best Oil ETF No. 2: PowerShares DB Oil ETF (NYSE Arca: DBO) tracks the price and yield performance of the Deutsche Bank Liquid Commodity Index using futures investments over various time frames. The index mirrors the percentage change in WTI crude prices. DBO has an average daily volume of just over 1.3 million shares, so it is highly liquid.
The fund's assets total around $239 million, and DBO has traded within 0.5% of its NAV lately. Its expenses are reasonable at 0.75%. DBO was down 44% in 2014, and it's still trading near the low end of its 52-week range. At that discount, DBO can offer more upside than other funds when oil starts to rebound.
DBO opened today at $14.09.
2015 Best Oil ETF No. 3: ProShares Ultra DJ-UBS Crude Oil (NYSE Arca: UCO) tracks the Dow Jones UBS Crude Oil Sub-Index, which also reflects the price of WTI crude oil. However, it uses leverage in the form of swaps, forward contracts, options, and futures to seek percentage results roughly twice as large as the changes in crude itself.
This is the most popular of the leveraged funds, with an average daily volume of 2.8 million shares. The effects of the leverage are evident in the more volatile trading range, which can rise and fall 10% or more in a day. USO has $331 million in assets, and expenses are 0.95%.
UCO opened today at $8.47, and has a 52-week range of $7.97 to $40.17.
2015 Best Oil ETF No. 4: Market Vectors Unconventional Oil & Gas ETF (NYSE Arca: FRAK) seeks to replicate the performance of the Market Vectors Global Unconventional Oil & Gas Index. The index is made up of companies involved in the exploration, development, extraction, and/or production of unconventional oil and natural gas. That includes coal bed methane, coal seam gas, shale oil, shale gas, tight natural gas, tight oil, and tight sands.
With just over $62 million in assets and a daily trading volume of 66,000, this is the smallest oil ETF on our list. Unlike the others, it has a small yield of 0.62% and rock bottom fees (0.54% net, due to a 0.5% waiver that expires May 1, 2015). It currently trades at a small premium of 1.44% to NAV. In 2014, the fund was down nearly 23%. It opened today at $21.08.
The Bottom Line: These oil ETFs will be the biggest winners as crude oil prices rebound in 2015. Because of the dip in the price of oil, they trade at huge discounts, for now.
Written By The Money Morning Staff
We're in the midst of the greatest investing boom in almost 60 years. And rest assured – this boom is not about to end anytime soon. You see, the flattening of the world continues to spawn new markets worth trillions of dollars; new customers that measure in the billions; an insatiable global demand for basic resources that's growing exponentially; and a technological revolution even in the most distant markets on the planet.And Money Morning is here to help investors profit handsomely on this seismic shift in the global economy. In fact, we believe this is where the only real fortunes will be made in the months and years to come.