But the daily chart didn't really make me all that enthusiastic about Merck stock being a great bullish candidate. However, rather than just look at the daily chart, I also looked at the weekly chart and it was more promising.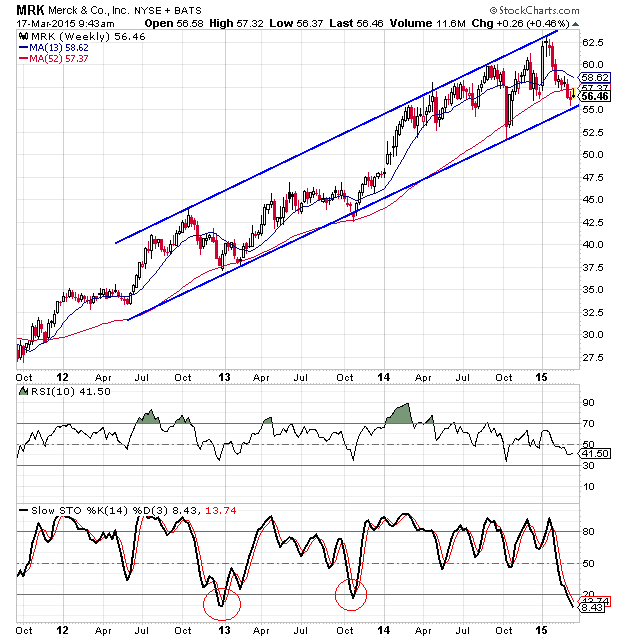 As you can see, Merck has been in an upward-sloped trend channel for several years now. In fact, if I expanded the chart out to look at the last four years, you would see that the channel starts at the beginning of 2011. But I didn't want to expand the chart out that far, as we wouldn't be able to see some of the detail of the last few years.
Given the chart above, there are two prominent drivers behind a bullish trade as far as I am concerned. The first is the trend channel, and the fact that the stock is sitting just above the lower rail of the channel that has dictated the direction of the stock's movement for over four years now.
The second item of note is the oversold level reached in the weekly slow stochastic readings. The stock is the most oversold it has been in over two years, but as the old saying goes, oversold can become more oversold.
I don't think that will be the case with Merck. I don't think oversold will become more oversold. I look at the last two times the stochastic readings were in oversold territory as my reasoning.
We see that the stock hit or came close to the lower rail of the channel in late 2012 and again in the fall of 2013. Both times the stock hit the lower rail, the stochastic readings hit oversold levels as well.
But look at what happened after the stock hit oversold territory. From the low in December 2012, the stock gained 26% in the next six months. From the low in October 2013 through the high six months later, the stock gained 36%.
Seeing 26% and 36% gains in six months on a blue chip name like Merck is somewhat unusual. Mature pharmaceutical companies don't usually see these kinds of moves, but I think the stock is getting ready to make a similar move.
I would look to buy Merck below $57.50, and I would target a gain of at least 25% over the next six months. I would set a stop-loss near the $53 level,  because if it drops that far below the lower rail of the channel, it could be a sign that trend channel is no longer valid.
This article is brought to you courtesy of Rick Pendergraft from Wyatt Research.