Altria Group Inc. (NYSE:MO) stock had an amazing run from February 2014 to March of this year. In those 13 months, Altria stock shot up 64%. But since then the tobacco giant's shares have slid 9.4%.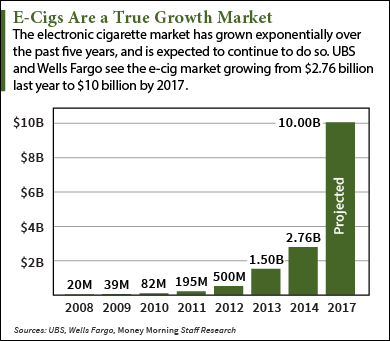 The strong performance of Altria stock may seem surprising, given that smoking has declined in the U.S. as regulations have tightened and health concerns have grown.
But increased tobacco sales abroad and Altria's ability to raise prices have kept revenue rising.
And yet Altria, like other Big Tobacco companies, knows that traditional cigarettes won't be able to provide future growth.
Wells Fargo & Co. (NYSE: WFC) has projected that Altria's revenue from traditional cigarettes will drop in half from $14.8 billion this year to just $7.4 billion in 2023.
That's why the Richmond, Va.-based company jumped into the e-cig market in 2013 when its Nu Mark subsidiary launched its MarkTen brand of e-cigs. Altria raised its bet on e-cigs last year when Nu Mark acquitted the e-vapor business of Green Smoke Inc. for $110 million.
It's a good thing – check out how much growth analysts see for the e-cig market by 2017…
The E-Cig Market Has Huge Growth Potential
After a slow start about a decade ago, the e-cig market has picked up speed and is now growing rapidly.
According to data from UBS and Wells Fargo, e-cig sales were just $82 million five years ago. Last year the e-cig market had grown to $2.76 billion, with sales projected to hit $10 billion by 2017.
BIS Research has forecast that the e-cig market will grow to $39.6 billion by 2024. That translates to a compound annual sales growth rate (CAGR) of 27.3% – impressive for any industry.
And that growth will be fueled by traditional smokers looking for an easier way to kick the habit or – more likely – a healthier way to maintain their habit. E-cigs heat a nicotine liquid with a battery, generating a vapor that exposes users to far fewer toxins than traditional cigarettes.
"You have an available worldwide market of $780 billion from smokers that are buying things they're addicted to that is known to cause harm to them. And you have an alternative product that, from my perspective, is safer," cardiac surgeon Dr. Gopal Bhatnagar told CBC News.
And apart from the tremendous market potential, these other pieces have started to fall into place that will allow Altria stock to get a big lift from the e-cig revolution…
What E-Cigs Will Mean for Altria Stock
Right now the e-cig market is dominated not by the Big Tobacco companies like Altria and Reynolds American Inc. (NYSE: RAI), but by a host of smaller players.
It's played out that way for two reasons: the Big Tobacco companies initially stayed away from the market and e-cigs so far are much more lightly regulated than traditional tobacco.
Big Tobacco is actually pushing for more regulation of the e-cig industry, which Washington no doubt will happily oblige. While that might seem odd, the strategy is designed to deter the smaller players in the industry with fewer resources to deal with stricter rules.
The Food and Drug Administration (FDA) has proposed a rule that would require that agency's approval of e-cig products. Those types of reviews can cost hundreds of thousands or even millions of dollars. Smaller competitors could be forced out of business.
"More regulation, broadly speaking, works to Big Tobacco's benefit. Right now there are no barriers to entry," Wells Fargo tobacco analyst Bonnie Herzog told The Wall Street Journal.
E-cig regulations may also include age restrictions on who can buy them as well as restrictions on where they are displayed in stores.
By backing such rules, Big Tobacco will also achieve a secondary goal – insuring themselves against future legal woes should e-cigs prove to cause any health problems. The tobacco industry is still smarting over the 1998 settlement that forced the top companies to pay $206 billion over 25 years.
Altria Knows Innovation Is What Counts Now
Altria will need to be nimble in this brave new world, however. Sales of its Nu Mark products slowed in the first quarter of 2015 as "vape shops" gained in popularity.
Vape shops don't sell the slim, cigarette look-alike e-cigs from the Big Tobacco companies like Altria. Instead, they offer larger, re-usable "vaporizers" that give users control over things like wattage and temperature. They also offer a variety of flavored nicotine liquids, further enhancing the experience.
That means Altria and the other Big Tobacco companies will need to invest in some R&D to make the vaping products people want. Altria may already be doing that.
Altria already touts the innovation of its "Four-Draw" technology, and seems to understand that the tobacco industry of the twenty-first century will look very different from the one that's thrived through the previous four centuries.
"Part of our focus is meeting and exceeding adult tobacco users' expectations with our products," Altria spokesman Bill Phelps told The Street. "Our research shows that about half of those who smoke are interested in alternatives to cigarettes. We offer a variety of products that will evolve as those preferences evolve."
Investing in vaping technology will make Altria a market leader in the e-cig industry. And that will keep Altria stock on an upward trajectory.
Altria stock closed Thursday at $52.60. MO stock also features a generous dividend yield of 4.1%.
The Bottom Line: Just when Altria stock is in need of a new catalyst, e-cigs have come along. Altria is making all the right moves to be a major player in this rapidly growing market. The rise in profits e-cigs will generate will keep Altria stock a buy for years to come.
Written By David Zeiler From Money Morning
We're in the midst of the greatest investing boom in almost 60  years.  And rest assured – this boom is not about to end anytime soon.  You see, the flattening of the world continues to spawn new markets  worth trillions of dollars new customers that measure in the billions;  an insatiable global demand for basic resources that's growing   exponentially; and a technological revolution even in the most distant  markets on the planet.  And Money Morning is here to help investors profit handsomely on this seismic shift in the global economy. In fact,  we believe this is where the only real fortunes will be made in the  months and years to come.