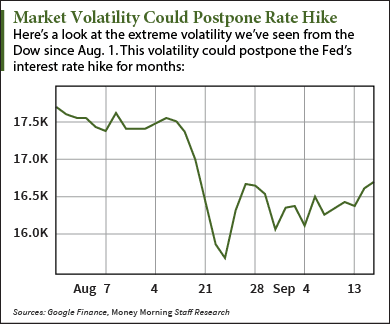 And even though we're just a day away from Janet Yellen's press conference – which will take place Thursday at 2:00 p.m. – we're still in the dark about whether an interest rate hike is coming.
Fed officials have now entered their self-imposed blackout period, when they cut off communication with the media ahead of the press conference.
It looked like we were destined for the first interest rate hike in almost 10 years until extreme volatility hit the markets in August.
A stock market crash in China sent ripples through global stock markets, and the Dow Jones fell 13.4% from July 20 through Aug. 25. The Nasdaq and S&P 500 were down 13.5% and 12.2% in the same time frame, respectively.
Now many economists believe a rate hike will be postponed until the FOMC meeting in October or December. Some believe it could be pushed back until 2016.
According to a Wall Street Journal survey, just 46% of economists polled expect the Fed to raise rates this week. In August, that number was 82%.
Barclays' analysts have also pushed back their estimate on the next Fed interest rate hike. The investment bank previously expected the U.S. central bank to boost rates this week. Now their call for the first increase has been pushed out to March 2016.
According to Money Morning Chief Investment Strategist Keith Fitz-Gerald, this is not the time for Janet Yellen to raise rates. But as he points out, there's no telling whether the Fed will actually make the right decision…
Why Janet Yellen Could Still Raise Rates
"I think it would be irresponsible of the Fed to raise interest rates now, but that doesn't change the fact that they've ignored data and reality for so long that I think they're going to go ahead and raise rates," Fitz-Gerald said. "The Fed's models don't reflect what is happening to the middle class, which is getting eviscerated."
If the Federal Reserve and Janet Yellen do decide to raise rates, Fitz-Gerald says investors can expect more volatility from the markets. Many investors may decide to take profits and take some money out of the markets for the time being.
But don't panic if Janet Yellen raises rates and market appears choppy.
"There shouldn't be too much of a market reaction to a rate hike," Money Morning Capital Wave Strategist Shah Gilani said. "A rate increase of 0.25% in the Fed funds rate has already been talked about for so long that it's mostly baked into prices now."
As Gilani points out, any raise in the interest rates will be a small one – likely 0.25%.
"And beyond that 0.25%, there's no need to hike further," Gilani said. "The Fed isn't going to destroy the wealth effect it's engineered by doing something stupid to trounce stocks. That said, there is a chance investors could look at a rate hike as a profit-taking opportunity and sell stocks. But this won't be a market buster."
Brought To You Courtesy of Kyle Anderson
We're in the midst of the greatest investing boom in almost 60 years. And rest assured – this boom is not about to end anytime soon. You see, the flattening of the world continues to spawn new markets worth trillions of dollars;new customers that measure in the billions; an insatiable global demand for basic resources that's growing exponentially; and a technological revolution even in the most distant markets on the planet. And Money Morning is here to help investors profit handsomely on this seismic shift in the global economy. In fact, we believe this is where the only real fortunes will be made in the months and years to come.