And yet in 2014, Google raked in $14.44 billion in profit on $66 billion in revenue.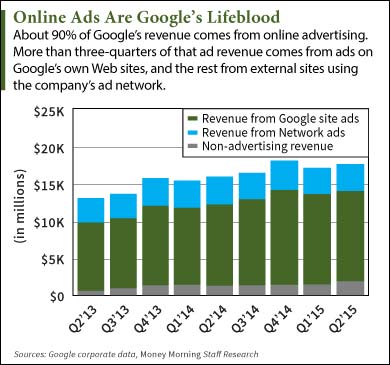 That's a lot of money, and it had to come from somewhere. So how does Google make money?
The short answer is online advertising. That's where about 90% of Google's revenue comes from.
Google's two main sources of advertising are ads that run on its own websites and ads that run on external websites that use Google's ad network. Ads on Google's own sites account for about 77% of the ad revenue, the network ads for the rest.
Here's how it works:
The main Google ad business is called AdWords. Advertisers bid on highly searched keywords to get their business to appear at the very top and to the right of the search results (with a yellow box with the word "ad" in it).
Typically these ads only appear in searches that could result in some sort of commerce. (So no ads in a search for "Hitler's bunker.")
The more likely the search will result in some sort of sale, the higher the bidding for those words – and the higher the revenue for Google.
The most expensive AdWords tend to have to do with insurance. The word "insurance" by itself goes for $26.81, but the phrase "car insurance quotes" is worth $60.83.
That's because people searching for "car insurance quotes" are looking to buy insurance right then and there. That's exactly the target audience an auto insurance company wants.
And the fees are "cost per click" (CPC). So every time a person clicks on an AdWords listing, Google gets paid the current value of the AdWord. You can see how that would add up quickly.
Of course, the user also finds what they're looking for, so everybody wins.
Here are Google's other ways of making money…
How Does Google Make Money Besides AdWords?
Another source of online ad revenue for Google is YouTube videos. Google bought YouTube back in 2006 for $1.65 billion.
Google doesn't break out YouTube's numbers in its earnings, but The Wall Street Journal estimated earlier this year that the video sharing website generated about $4 billion in revenue, although most, if not all, was reinvested back into content, as well as upgrading YouTube's equipment.
Then there's AdSense, which accounts for about 22.5% of Google's online ad revenue. AdSense also uses the AdWords system, but distributes those ads to partner websites, who get a share of the revenue.
As you might have guessed, ads are not placed randomly. Instead, Google algorithms determine which ads to place based on the content of the website.
Sometimes Google also uses a method called "retargeting," which uses cookies placed in a user's web browser by other websites. So if you visit a retailer's website and click on a bunch of shoes, you'll soon notice ads for those very same shoes showing up on many websites that you visit.
Google targets the rapidly growing mobile device market with its AdMob platform, essentially a mobile version of AdSense that can deliver ads to Apple Inc.'s (NASDAQ:AAPL) iOS devices, as well as those running Google's own Android operating system.
By the way, that's one reason Google licenses Android to mobile device makers for free. It's just another way to extend the reach of Google's apps and services, and hence its advertising platforms.
The strategy has worked. According to IDC, Android powers more than 80% of the world's smartphones, ensuring Google's position in mobile.
What about the 9% of revenue from the "other" category? How does Google make money there?
How Google Makes Money Outside of Online Ads
Here are five ways Google makes money other than advertising:
The Google Play Store: Just as Apple does with its App Store, Google serves as a conduit for Android apps and takes a 30% cut of the revenue.
Google Apps: While Gmail, Google Drive, and the other cloud-based apps are free to individual users, businesses and large institutions pay Google per user for access to this software.
Google Cloud: The Google Cloud Platform offers cloud services for businesses, similar to Amazon.com Inc.'s (Nasdaq: AMZN) Amazon Web Services and Microsoft Corp.'s (Nasdaq: MSFT) Azure. It provides remote storage, infrastructure, and database tools. Analysts believe Google Cloud pulled in $1.6 billion in revenue in 2014.
Google Fiber: This is Google's fiber optic broadband Internet service. While only available in a few cities for now, such as Kansas City, Kansas, Austin, Tex., and Provo, Utah, it has the potential to grow into a much bigger business.
Hardware Products: Google also sells smartphones and tablets under its Nexus brand, Chrome OS notebooks, and its Chromecast Wi-Fi media streaming device, which plugs into the HDMI port of a TV.
Written By David Zeiler From Money Morning
We're in the midst of the greatest investing boom in almost 60  years.  And rest assured – this boom is not about to end anytime soon.  You see, the flattening of the world continues to spawn new markets  worth trillions of dollars new customers that measure in the billions;  an insatiable global demand for basic resources that's growing   exponentially; and a technological revolution even in the most distant  markets on the planet.  And Money Morning is here to help investors profit handsomely on this seismic shift in the global economy. In fact,  we believe this is where the only real fortunes will be made in the  months and years to come.