By the numbers, Microsoft Corp. (NASDAQ:MSFT) stock rose 25% in 2014, part of a 34% rise that started in August 2013, when former CEO Steve Ballmer announced he would retire from the company.
In 2015, MSFT stock is up less than 3% and has zig-zagged a lot along the way. But don't be fooled. The Microsoft rebound is far from over.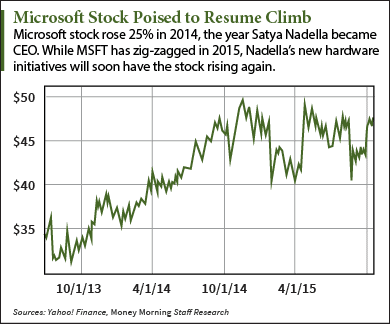 That's because the Redmond, Wash.-based tech giant has adopted a new, promising strategy – one it borrowed from the tech legend it grew up with.
"At the New York City press event on Oct. 6, Microsoft took a page out of Steve Jobs' winning playbook," said Money MorningDefense & Tech Specialist Michael A. Robinson. "What we saw was a series of new hardware products coming from a company that is renowned as one of the biggest software firms on the planet."
Of course, Microsoft also just released Windows 10, the latest version of its venerable operating system. It's the one element that ties Microsoft's ecosystem together, as all the new hardware is optimized for it.
Robinson likened Microsoft's new focus on hardware to Apple Inc.'s (NASDAQ:AAPL) strategy of building an entire "ecosystem" of hardware, software, and services that work together to give the customer a better experience while encouraging them to buy more of your products.
The Apple ecosystem has made Apple the biggest company (by valuation) in the world.
"The ecosystem approach means you'll be able to rely on Microsoft for all your computing hardware needs – a fitness band/watch, a smartphone, a tablet, a laptop, even a virtual reality headset," Robinson said. "Really, this is some of the most exciting and potentially profitable news we've ever had from Microsoft."
Here's how the evolving Microsoft ecosystem will generate billions of dollars in value for investors…
How an Ecosystem Strategy Will Drive Microsoft Stock
Microsoft unveiled four new or updated pieces of hardware at its New York event that will play a major role in strengthening the company's ecosystem.
Microsoft Stock Catalyst No. 1: The Surface Book
The Surface Book laptop is the first laptop Microsoft has ever made, and it definitely impressed the crowd. The lid/screen detaches to become a standalone 13.5-inch tablet, and it comes with a stylus that magnetically attaches to the edge.
And power-wise, the Surface Book is a match for any PC. MSFT says it's twice as fast as a MacBook Pro, a claim many tech heads are eager to test. It also has an NVIDIA graphic chip powerful enough to play games like a desktop PC.
The tablet and PC markets are both declining, but the hybrid market – of which the Surface Book is the ultimate incarnation – is growing.
"With the addition of the Surface Book, Microsoft now has a range of quality machines running the best version of Windows the company has made in several years," Robinson said.
Microsoft Stock Catalyst No. 2: The Surface Pro 4 Tablet
The original Surface tablet in 2012 did not fare so well. But a low-end version flopped, and dissatisfaction with Windows 8 hurt it as well.
That misstep allowed the Apple iPad and tablets running Alphabet Inc.'s (formerly known as Google) (Nasdaq: GOOG, GOOGL) Android operating system to dominate the tablet market.
But Microsoft is known for its perseverance, and with the Surface tablet, it has paid off.
"This time around, Microsoft has made a tablet that can compete with the iPad Pro in all areas, including price and performance," Robinson said.
Research firm IDC predicts that Microsoft will double its tablet market share from the current 7% by 2019.
Revenue from the Surface tablets is already approaching $1 billion, and in the June quarter, sales more than doubled.
Microsoft Stock Catalyst No. 3: The Lumia 950 Smartphone
It's hard to stand out in the smartphone universe, but Microsoft's new Lumia 950 and Lumia 950XL will raise some eyebrows. Not only does it run Windows 10, but it has the graphics juice to run a separate display. Plug it into a Microsoft display dock along with a keyboard, and it works just like a PC.
Nadella has made the best of Ballmer's questionable decision to buy Nokia Corp.'s (NYSE: NOK) devices unit. The new Lumia phones give Microsoft their best shot in years to make an impact in the smartphone market.
"Apple and Android devices account for about 95% of the smartphone market," Robinson noted. "So there is plenty of opportunity for Microsoft to grow from its recent global market share of less than 3%."
Microsoft Stock Catalyst No. 4: The Wearables – Band 2 and HoloLens
Microsoft also touted an upgrade to its wearable tech, the Microsoft Band 2. Sleek and curved, the Microsoft Band 2 can access alerts from Uber, RunKeeper, Twitter, Facebook, Starbucks, and more – as well as the entire Microsoft Health platform.
But Microsoft's most important foray into wearable tech is the HoloLens augmented reality headset. The HoloLens demo at the New York event basically stole the show, with monsters bursting through walls while a Microsoft employee blasted them with a holographic handheld weapon.
Developers will get their hands on the HoloLens next year, and a consumer version could arrive as early as the end of 2016, although 2017 is more likely.
While gaming is the most obvious use for this tech, its ability to place 3D holographic objects in a real world environment represents a whole new way of using computers – one with vast potential.
Transparency Market Research says global VR gaming alone will grow by 39% a year through 2019. That's going from a $466 million market in 2012 to a $5.8 billion industry in just four years.
HoloLens is destined to become a key part of the growing Microsoft ecosystem,
"This may be only the beginning of a profit stream investors can expect from this new tech ecosystem play," Robinson said. He believes Microsoft stock will gain 25% to 30% over the next 28 to 30 months. That would put the Microsoft stock price in the $60 to $62 range.
We'll get a better idea of just how well this strategy is going Thursday after the market close when the 2016 Q1 Microsoft earnings are released.
According to Yahoo! Finance, Wall Street forecasts earnings of $0.59 a share on revenue of $20.97 billion. The earnings number is an increase of 9.26% over the same period last year, while the sales number is 9.6% lower.
The Bottom Line: Recognizing that much of Apple's success is built on the strength of its ecosystem, Microsoft is now adopting a similar strategy. With its new Windows 10 operating system as a connecting thread, Microsoft has introduced new tablets, smartphones, wearable tech, and an innovative laptop-tablet hybrid. Creating a tech ecosystem is a proven strategy that will drive Microsoft stock higher over the next two years or so.
Written By David Zeiler From Money Morning
We're in the midst of the greatest investing boom in almost 60  years.  And rest assured – this boom is not about to end anytime soon.  You see, the flattening of the world continues to spawn new markets  worth trillions of dollars new customers that measure in the billions;  an insatiable global demand for basic resources that's growing   exponentially; and a technological revolution even in the most distant  markets on the planet.  And Money Morning is here to help investors profit handsomely on this seismic shift in the global economy. In fact,  we believe this is where the only real fortunes will be made in the  months and years to come.