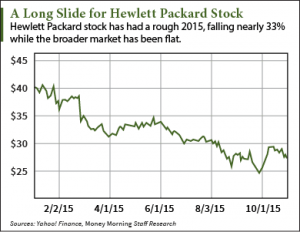 Today (Monday) was their first day of trading as two separate companies. Investors like HP Inc. better so far, pushing HPQ stock up 12.5% in mid-day trading. HP Inc. consists of the consumer businesses of printing and PCs.
Shares of Hewlett Packard Enterprise, the company that will focus on enterprise equipment, software, and services, were flat.
Prior to the HP company split, investors had soured on HPQ stock, which had plunged nearly 33% in 2015.
The HP company split has created two businesses of roughly equal value, with HP Inc. expected to have revenue of $50 billion and HPE expected to have revenue of about $53 billion.
"We're turning around an icon … that lost its way," HPE CEO Meg Whitman toldUSA Today. "We're trying to set the company up for the next chapter by laying the pipes and remodeling the house."
While the HP company split has the potential to result in two smaller, more nimble companies better able to compete in a tough tech environment, investors have reason to be skeptical.
The HP Company Split Follows a Tortured History
Hewlett Packard has made a lot of big moves over the past 15 years, and several have been disastrous, particularly the $13.9 billion purchase of EDS in 2008 and the $11 billion purchase of Autonomy in 2011.
HP blew $1.2 billion to buy Palm in 2010, and a year later started dismantling the business due to poor sales.
The wisdom of the $25 billion merger with PC maker Compaq in 2001 is still debated today.
Instability at the top hasn't helped, either. From 1999 to the present, HP has had six CEOs, two of them interim. One, Leo Apotheker, lasted just one year, during which rumors broke out that he was thinking of selling off the PC business.
In that context, the HP company split easily could been seen as an act of desperation by a company that has struggled to find a strategy for the 21st century.
But luckily for HP Inc. and Hewlett Packard Enterprise, past performance is no guarantee of future results.
Here's the case for both companies thriving as separate entities…
How the HP Split Could Boost the Stock Prices of Both
CEO Whitman has been adamant about the solid prospects of the split HP companies. She is now CEO of HPE, while Dion Weisler takes the reins of HP Inc.
"The old HP got very, very big and moved slowly. Two companies make it more nimble, responsive, competitive and innovative," Bob Dutkowsky, CEO of Tech Data, told USA Today.
Hewlett Packard Enterprise will have far more employees than HP Inc. – 252,000 to 50,000. HPE also has a much bigger addressable market than its consumer-oriented sibling, $1 trillion to $600 billion.
HPE also faces bigger competitors, such as International Business Machines Corp. (NYSE: IBM), Cisco Systems Inc. (Nasdaq: CSCO), and Oracle Corp. (NYSE:ORCL).
Already a plan to compete head-on with cloud offerings from the likes of Amazon.com Inc.  (Nasdaq: AMZN) and Microsoft Corp. (Nasdaq: MSFT) has morphed into a less ambitious but smarter strategy. Now HPE plans to help businesses run their own private clouds.
"The truth is that Amazon and Azure are way out in front in the public cloud, and our view was, is there a way to partner with them while we provide the hybrid environment. It's the classic where to play and how to win, and we decided we had a better chance of being the leader in private cloud," Whitman told CNBC.
Whitman said HPE would look to grow through smallish acquisitions in the $1 billion to $3 billion range.
But the size of the new Hewlett Packard Enterprise makes it a prospective takeover target itself, which would presumably carry a payoff for HPE stock investors. And consolidation in the business services area of tech has been running hot lately. For example, Dell Inc. bought data storage equipment and software maker EMC for $67 billion just last month.
As for HP Inc., it starts life as one of the top PC makers in the world matched with a healthy printer business. The challenge for this company will be how to offset the shrinking PC business with new printing technologies, particularly in the area of 3D printing.
"The split will be good," Paul Teich, principal analyst at high-tech research and advisory firm Tirias Research, told USA Today. "It will allow them to focus on product development, infrastructure software and help redefine (PCs and printers). They can legitimize 3D printing, for example."
It's too soon to predict how well the HP company split ultimately will work out. But it's clear the lumbering behemoth that Hewlett Packard had become faced a dark future without a radical change.
The Bottom Line: The long-anticipated HP company split of HP Inc. and Hewlett Packard Enterprise is now official. Both face challenges, but as smaller, more focused companies, they have a better chance of overcoming those challenges than did the unwieldy conglomerate that the old Hewlett Packard had become. Stay tuned.
Written By David Zeiler From Money Morning
We're in the midst of the greatest investing boom in almost 60  years.  And rest assured – this boom is not about to end anytime soon.  You see, the flattening of the world continues to spawn new markets  worth trillions of dollars new customers that measure in the billions;  an insatiable global demand for basic resources that's growing   exponentially; and a technological revolution even in the most distant  markets on the planet.  And Money Morning is here to help investors profit handsomely on this seismic shift in the global economy. In fact,  we believe this is where the only real fortunes will be made in the  months and years to come.