As usual, most of the reports focused on Apple Inc.'s (NASDAQ:AAPL) iPhone sales, and particularly its iPhone sales in China.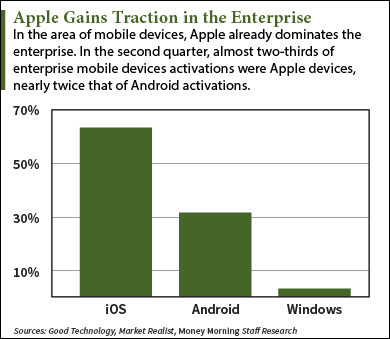 Granted, the iPhone dominates Apple's business these days, and China is no doubt a major contributor to the company's recent success.
But one of the subplots in every Apple earnings story is where the Cupertino, Calif.-based company will find future growth. And that leads to worries about the Apple stock price.
The media and Wall Street analysts just need to open their eyes. For example, last week we explained why Apple's China growth story still has years to play out.
And it's important to keep in mind that Apple is always working on new projects that could give it access to new markets – and new sources of revenue.
But the Apple stock news that almost everybody missed is a trend already under way – AAPL's growing beachhead in the enterprise.
Why the Enterprise Is the Apple Stock News That Matters
In the Q4 Apple earnings conference call, CEO Tim Cook said that the company's enterprise business had raked in $25 billion for the fiscal year 2015. But more importantly, it had grown 40% year over year.
"The enterprise business is not to be underestimated," Cook said, calling it a "major growth vector for the future."
Some have dismissed Apple's enterprise business as too small to matter – it made up just under 11% of Apple's FY 2015 revenue. But remember, this is Apple.
That $25 billion "slice" is higher than the total annual revenue of such well-known companies as Northrop Grumman Corp. (NYSE: NOC), Union Pacific Corp. (NYSE:UNP), and GlaxoSmithKline Plc. (NYSE: GSK).
But Apple clearly intends to become a major player in the enterprise, which will allow it to snag a much bigger portion of this $3.8 trillion market.
Here's how Apple plans to do it – and what that will mean for AAPL stock…
AAPL Stock Has a Huge Catalyst in Its Enterprise Business
Historically, Apple was agnostic on selling to the enterprise. If businesses bought Macs, fine.
But Apple had no enterprise sales staff, and its legendary secrecy meant IT departments had no idea what the company's product road map looked like. Plus, many companies relied upon Windows-based software, which Macs couldn't run.
But then along came the iPhone. When the iPhone debuted in 2007, Apple had already licensed the Exchange ActiveSync technology from Microsoft Corp. (Nasdaq: MSFT) so people could use their work email on it.
When the iPhone became a hit, people started bringing it to work. IT departments resisted supporting it at first, but when the C-suite crowd started bringing their iPhones to the office, the argument was over.
Apple began planning to exploit the opportunity.
"We started many years ago, but kept it quiet, building enterprise features into our software because we realized that people don't want to carry two phones with them," Cook said at the BoxWorks 2015 conference in September.
The arrival of the iPad in 2010 gave Apple another way to reach into the enterprise market. But in the past year, Apple has stepped on the accelerator.
Enterprise a Recurring Theme in 2015's Apple Stock News
Last year, Apple announced a partnership with International Business Machines Corp. (NYSE: IBM) in which Big Blue is developing business software for the iPhone and iPad. Apple also gets the benefit of IBM's corporate sales team.
And in September, Apple announced a partnership with Cisco Systems Inc. (Nasdaq: CSCO) to work on better integration of Apple's devices into corporate networks, which run mostly on Cisco hardware.
Those two deals are part of a larger trend. In the Q4 earnings conference call, Cook said that Apple had increased its total number enterprise partners to 70 from 40 a year ago.
The iPad Pro, with its powerful processor and large 12.9-inch screen, is targeted much more at the enterprise market than Apple's traditional consumer market. It goes on sale this week.
Apple has also made a lot of headway on the IT support front. A survey last year by JAMF software showed that 91% of businesses support the iPhone, 89% support the iPad, and 60% support Macs.
Yes, Macs. Apple's answer to the PC has been gaining market share for years and will play a role in Apple's enterprise strategy. IBM, for example, already has deployed 30,000 Macs, with 1,900 more getting added every week. And IBM claims those Macs are saving it $300 per machine in IT support costs.
Apple has also beefed up its support for business customers, having created AppleCare for Enterprise as part of the IBM deal.
The pieces are falling into place. But Apple's enterprise push already has scored some wins.
In the second quarter of 2015, Apple's iPhones and iPads made up nearly two-thirds of all enterprise activations of mobile devices, almost double that of Android.
That leaves the question of just how much enterprise sales will boost Apple stock.
What This Means for Apple Stock
It's not easy to quantify, because all three of its major hardware businesses will benefit to some degree. But given Apple's progress so far, I would expect the company's enterprise sales to double within the next two to three years.
That would be $50 billion in revenue and about another $1 billion in earnings. But the best part is the enterprise segment could experience strong growth for years since Apple is starting from a relatively small footprint.
It's the kind of Apple stock news that will have a real impact on the AAPL stock price, which has moved up almost 9% over the past month to $121.
"Apple's enterprise play is a long-term movement," Patrick Moorhead, president and principal analyst of Moor Insights and Strategy, told TechTarget. "They are dominant in premium smartphones, premium tablets and premium consumer PCs, and are looking for profitable growth areas where they believe they can bring a completely new experience. They believe they can reshape the enterprise."
The Bottom Line: It's not getting much attention, but Apple has a long-term strategy for growing enterprise sales that has already started to pay off. AAPL has invested heavily in tailoring both hardware and software to fit enterprise needs, and has been forging partnerships to open more doors. Already a $25 billion a year business, enterprise sales will likely double within the next few years.
Written By David Zeiler From Money Morning
We're in the midst of the greatest investing boom in almost 60  years.  And rest assured – this boom is not about to end anytime soon.  You see, the flattening of the world continues to spawn new markets  worth trillions of dollars new customers that measure in the billions;  an insatiable global demand for basic resources that's growing   exponentially; and a technological revolution even in the most distant  markets on the planet.  And Money Morning is here to help investors profit handsomely on this seismic shift in the global economy. In fact,  we believe this is where the only real fortunes will be made in the  months and years to come.