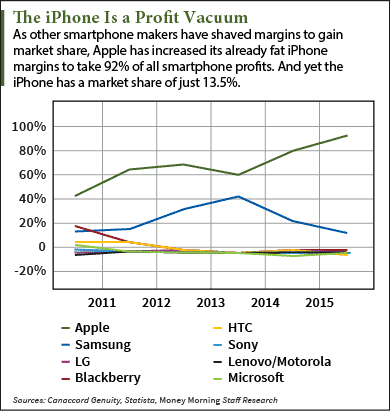 According to data from Canaccord Genuity, Apple Inc. (Nasdaq: AAPL) has gobbled up 92% of all the profits of all the smartphones sales in the world so far in 2015.
The first iPhone went on sale in June 2007. Since then, AAPL stock is up 556% – mostly due to the iPhone's profitability. These days, the iPhone accounts for about two-thirds of Apple's profits.
The only other smartphone manufacturer making money right now is rival Samsung Electronics (OTCMKTS: SSNLF), which has snagged 14% of 2015's smartphone profits.
If you're wondering why that adds up to 106%, it's because most of the rest of the smartphone makers have lost money in 2015.
What makes Apple's achievement all the more remarkable is that it's taking all those profits without dominating sales.
Looking at the smartphone market share pie, you'd never suspect that AAPL is eating up most of the profits.
Fat Margins Keep Apple Stock Healthy and Rising
According to the latest numbers from research firm IDC, Samsung led Q3 in sales with a market share of 23.8%. The iPhone was second, with a mere 13.5%. Phones running the Android operating system account for more than 80% of all smartphones sold.
Apple's ability to take most of the profits is a relatively recent development. Back in 2010, the iPhone was taking just over 40% of all smartphone profits.
What happened was only partly due to rising iPhone sales, however. The many Android handset makers, without much to differentiate their products, have been reduced to competing on price. The race to bottom has left them with flat or negative margins.
The iPhone, on the other hand, is a premium product. And it's the only way to gain access to Apple's best-in-class ecosystem of software and services. Apple doesn't need to compete on price or cut into its margins.
So the iPhone gets more profitable every year, adding billions to AAPL's bottom line and pushing Apple stock relentlessly higher.
It's one reason why several of Money Morning's experts see the AAPL stock price reaching $200 in the next couple of years.
Money Morning Chief Investment Strategist Keith Fitz-Gerald put a $200 price target on Apple stock back in April. He said AAPL stock would get there in two years.
In May, Money Morning Defense & Tech Specialist Michael A. Robinson predicted Apple would become a $1 trillion company by Labor Day 2018, less than three years from now. That would put the Apple stock price at $175.44.
And in August, Money Morning Options Trading Expert Tom Gentile did an analysis that showed Apple stock would hit $200 in just 12 months.
Written By David Zeiler From Money Morning
We're in the midst of the greatest investing boom in almost 60  years.  And rest assured – this boom is not about to end anytime soon.  You see, the flattening of the world continues to spawn new markets  worth trillions of dollars new customers that measure in the billions;  an insatiable global demand for basic resources that's growing   exponentially; and a technological revolution even in the most distant  markets on the planet.  And Money Morning is here to help investors profit handsomely on this seismic shift in the global economy. In fact,  we believe this is where the only real fortunes will be made in the  months and years to come.